Thu., March 13, 2014, 5:02 p.m.
City To Move 10 Commandments
An outcry arose Wednesday following word that a Ten Commandments monument may be removed from Farmin Park today. Several local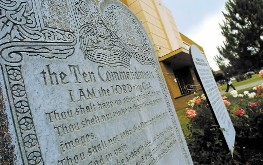 residents plan to stand vigil in the park at 2 p.m. today after word spread on the Internet that the monument was scheduled to be removed. As word trickled through news feeds and phone calls, interest — and outrage — grew with each telling. "If I still lived in Sandpoint I would have every person of faith there to surround and prevent the removal," Harry Landers wrote under one post. "File suit regarding the removal and push hard to prevent this from ever happening again!"/Cameron Rasmusson, Bonner Daily Bee. More here. (AP file photo of a Ten Commandments monument for illustrative purposes)
Thoughts?
---
---