Thu., Aug. 2, 2012, 2:32 p.m.
SpokaneSucks.com linked to Post Falls
A new website emerged today that questions the safety of the City of Spokane and the staffing levels of the Spokane Police Department.
Fliers advertising S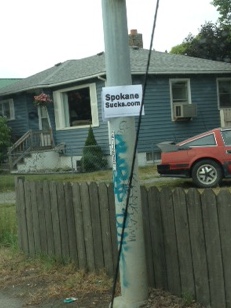 pokaneSucks.com appeared this morning throughout the city.
The website is linked to Jared Bartlett, 28, of Post Falls. Bartlett, a former Gonzaga University student, has not yet responded to requests from The Spokesman-Review for comment.
The website's creator paid to keep his or her name off registration information, but Bartlett's name, age and town of residence are included in the site's coding.
Bartlett is a poker player who's active on poker websites. He posted on a site's "off topic" discussion board Tuesday and asked "if it is possible to buy a domain name and not have other people know you own it?"
"...I am going to make this site quit contraversal and would prefer if no one else would be able to figure it out," Bartlett wrote. "That includes the local media."
Bartlett wrote Wednesday that he plans to create a political action committee, along with the website. "I'm SICK and TIRED of the...crime in spokane (the city I used to live in, and own my rental property in)," the post reads.
Related:
Dec. 11: Violent crime up, property crime down in Spokane County
---
---