Fri., Oct. 4, 2019
Long-term packing needs different than short getaways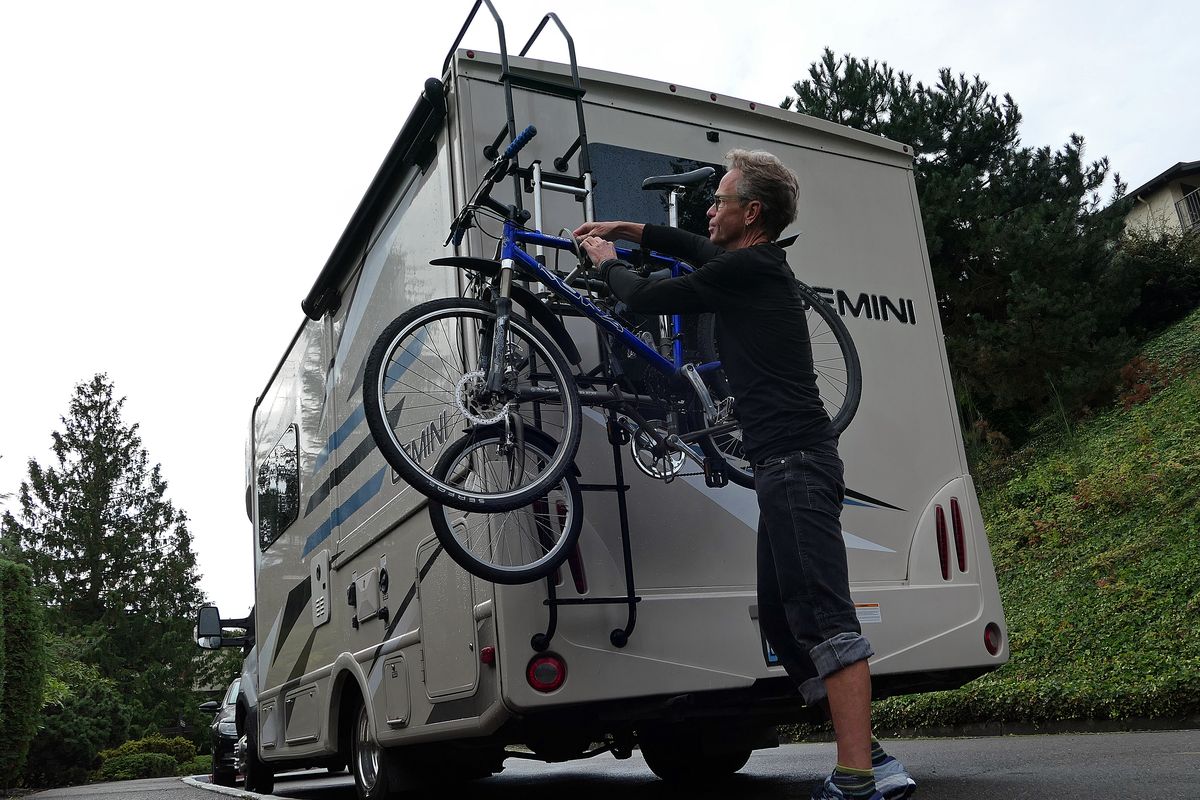 Loading up the bikes as we depart on a major trip down the West Coast. (John Nelson)
Heading down the highway on another RV adventure is thrilling. Packing for a seven-month road trip? Not so much.
We've been loading up our rig for the upcoming exploration of the West Coast, and it's prompted so many stress-inducing questions: Just how many cute/practical outfits are we going to need? How can we pare down the robust selection of kitchen utensils to eliminate clutter? Does John really need to bring his ski helmet?
After lots of fits and starts, we've finally dialed it in and we feel good enough about our re-org strategy that we're going to share a few packing tips.
Bins for the win: We had such success organizing kitchen pantry items in a series of bins that we decided to extend that solution to the outside storage compartments. We've tucked away our new George Foreman grill in a bin and set aside another bin to hold everything needed for outdoor camping. There's also an odds-and-ends bin for miscellaneous stuff like bungee cords.
Hang in there: We realized our closet was only half full on our last epic journey, so this time around, we're putting more hangers into play. By hanging most of our clothing -- yes, even T-shirts -- more space has become available in drawers. That extra room allows us to bring a mix of cozy fall gear and warm weather threads for our extended stays in sunny climes. Palm Springs, we'll see you in December!
Coffee caddy: We've set up a separate space for making our morning pot of dark roast and that calming evening herbal tea. Keeping an electric kettle and our sturdy stainless French press in a crate near our couch offers us a spot to make hot beverages, freeing up space in the kitchen.
Road food: Before leaving our home base, Leslie spent a few days cooking some meals to make the first few days of travel less stressful. First up, we're stopping to visit family on our way to Cape Disappointment, and we're bringing Bavarian Meats bratwurst and sauerkraut for lunch. Then, there's an already-prepared paella for dinner after we arrive at our first destination. The fridge is well-stocked, but not too stuffed. We love picking up delicious discoveries along the way.
Narrowing down those kitchen essentials: We've ditched some of the gadgets and tools that were barely used during our last trip. Don't think we're going to miss the lemon zester, that oyster knife or the three corkscrews that found their way into the utensil drawer. The spatula and long tongs definitely made the cut, though. In the pots and pans department, we're down to one cast iron skillet -- instead of two -- and have upgraded our covered saute pan. We're tickled the new, extra small slow-cooker fits well in the space under our couch.
Always a work in progress: We admire the RV traveler who's really figured it out, possibly after many years on the road. One lesson we've learned is that being flexible makes for a much smoother trip. There's no doubt we'll be fine-tuning how best to organize all our belongings in this tiny space. That's part of the process we've found surprisingly satisfying.
This week's Going Mobile question
As we confessed above, we're feeling semi-good about how we've packed up our gear and clothing for the long road trip, but we're seriously interested in hearing from seasoned pros. Please shoot us suggestions at goingmobile@spokesman.com on how to be even better at being organized.
---
---