Fri., July 29, 2022
We're thinking about an upgrade, so let the shopping begin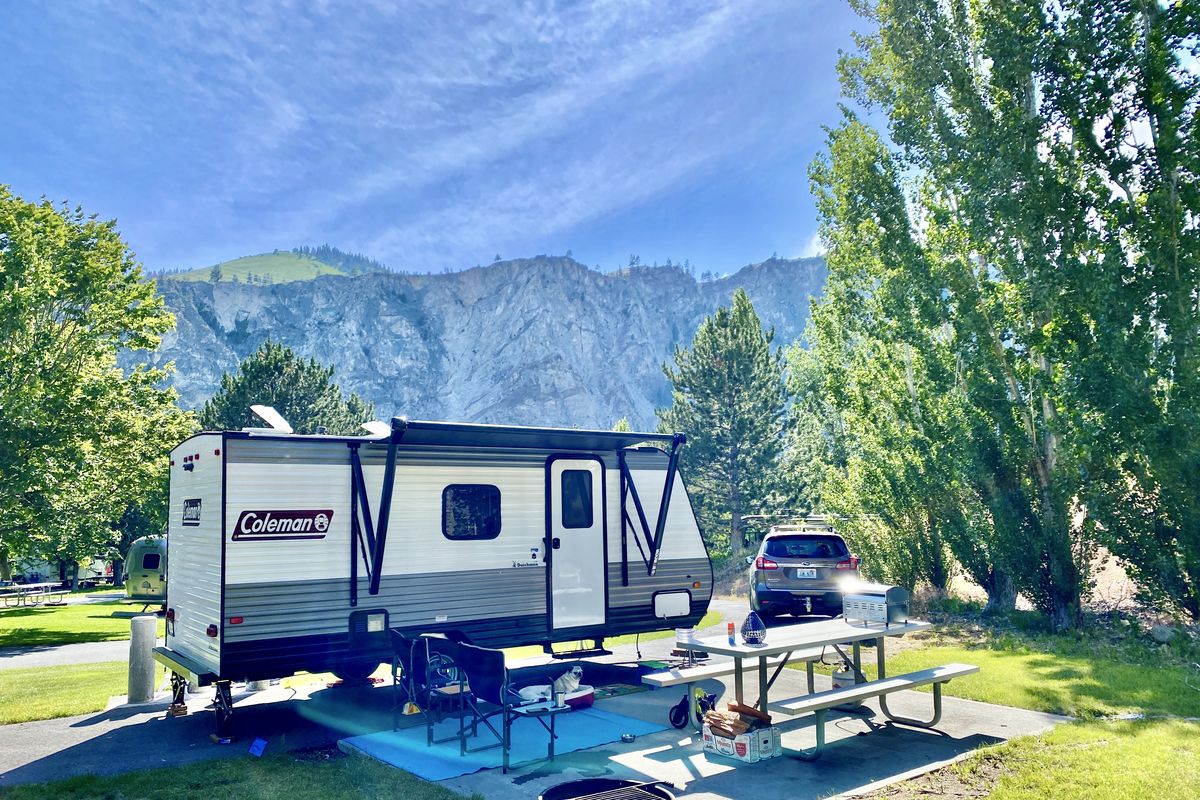 Ann Peavey of Leavenworth won a Coleman Lantern from Camping World. (Courtesy of Ann Peavey)
It's hard to believe we've had our Thor Gemini for nearly four years. That's a whole lot of memories and miles and maybe, just maybe, we're thinking about trading up.
If we were going to downsize, it would be to a tiny teardrop like the Alto or a sleek van like the Airstream Interstate or the Pleasure Way, but we're still in the market for something that can accommodate our long hauls and semi-full time RVer state of being.
So, mostly just for fun at this point, we've started shopping around online, watching videos and reading reviews. Here's what we're currently crushing on:
Tiffin's Wayfarer: We like the spacious interior and the neutral colors in the clean design. It's a little bit longer than our 23-foot rig, but has a lot more room. For instance, there's an optional bunk over the cab. And the twin beds in the back can be converted to a king. The hitch? Like many other loaded Class C's, this one lands firmly in the six-figure category.
Thor ACE: Our friend, Soojin, and her husband, Mark, upgraded from a travel trailer to this "short" Class A about a year ago and we're just a little bit jelly. Especially when we saw the roomy kitchen in action. Soojin is an excellent cook and we had a picnic last summer at Bayview State Park near Anacortes. When we asked Mark about how the vehicle handled, he admitted it's like wrestling with a bus. Maybe we could hire a driver? At least for the backing up portion of the trip.
Entegra Cornerstone: As long as we're treading into the go-big-or-go-home category, why not consider the ultra-luxe diesel coach that feels like a McMansion? You've got to love the faux fireplace and comfy home-theater seating options. The double sink in the bathroom has us swooning. And a bedroom door that shuts? Oh, yeah, that's the stuff sweet dreams are made of.
Forest River Sunseeker: We see a lot of Sunseekers out on the road and have always been tempted to ask for a quick peek inside. What we'd likely see is a good looking interior with a couple of comfy armchairs and a convertible couch in the back. There's a kitchen that's teeny but perfectly adequate and a bathroom that'll do. In other words, it's a lot like our Gemini. Except that instead of the skylight, there's a bunk over the cab. Definitely nice, but probably gonna pass.
In fact, the more we looked around, the more we were convinced that our Gemini's just fine. Maybe it's not perfect, but it does feel like home. For now.
And we have a winner
Yes, RV dreams do sometimes come true. Our friend, Ann Peavey, recently won a Coleman Lantern travel trailer in a social media contest teed up by Marcus Lemonis of Camping World. The tweeting force of nature who has more than 21,000 followers entered by declaring on Twitter that if she won, she'd venture everywhere, make new friends and write about it on her blog, Seattle Maven. High fives on the big score, Ann!
Already, she and her husband have hit up several spots they'd never visited: "I've never stayed at a state park until we got this trailer. Now, we've been to three in a month. It's been incredible."
So far, so good. Though, there have been a few minor fixes they've needed to DIY. No biggie, says Ann: "I joined a Facebook group dedicated to Coleman trailers. It's been so helpful. We've picked up so many good tips."
So cool! We can't wait to see where the Leavenworth-based couple heads off to next, trips sure to go more smoothly since they recently upgraded their truck to tow the new trailer.
---
---