Best of the campsites so far on this slightly bumpy ride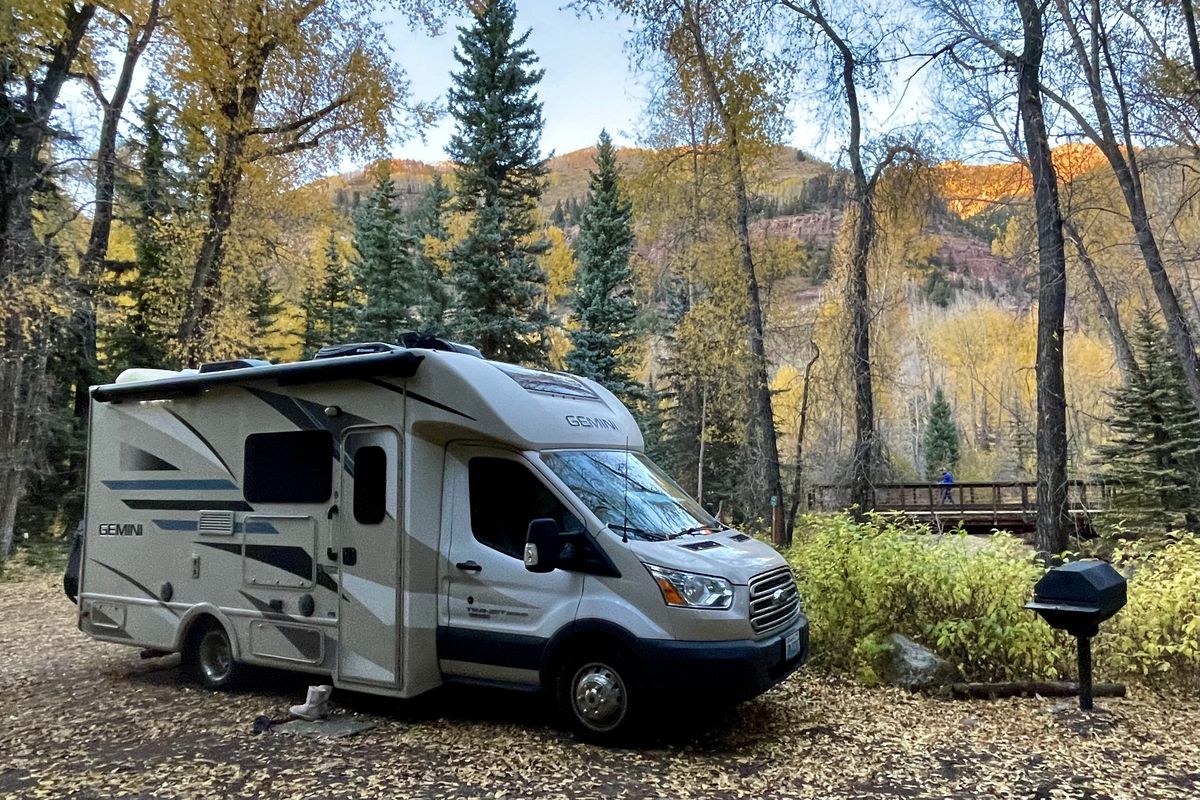 Our sixth year of wandering around the West hasn't exactly gone off without a hitch. The "check engine" light, a possible government shutdown of the national parks and a twisted ankle have challenged our mission.
Yet, we persist in the pursuit of sweet campsites along the way. Here are a few of the places we've enjoyed:
One and done: Quick overnighters serve the purpose of getting us down the road. While it's a hassle to set up, then pack up, one-and-done stops have their purpose. Our journey began with a rainy stop at Lake Pleasant RV Park in Bothell followed by a day of driving to the Phoenix RV Park in Salem, where the level concrete pads, workout room and tree-lined property were most welcome.
We also appreciated Waterwheel RV Park in Chiloquin, Ore., especially the riverside site, New Frontier RV Park in Winnemucca, Nev., and Westview RV Resort in Cortez, Colo., with its excellent amenities including a u-pick veggie garden and on-site salon.
Morefield Campground at Mesa Verde National Park offers some full hookups, a rarity at national parks. Our private site provided a peaceful place to recover from a self-guided bike tour of the park's stunning archaeological sites.
Coolest city park: While we thoroughly enjoyed our trip to Aspen, a stay in Telluride sent us over the harvest moon. We'd been trying for years to snag a reservation at the popular Telluride Town Park and finally locked in a night in early October.
The joy in pulling into our site on a beautiful stream was tempered only by the wonky parking spot, which had our 23-foot motorhome at an extremely tippy angle. It's fortunate we have an expert leveler on the team. John strategically placed a stack of blocks and took care of that off-kilter issue.
From the prime location, we walked into town and had lunch at the venerable Floradora Saloon, reminiscing about when we used to visit this historic town back in the 1980s when we lived in Grand Junction. Unlike Aspen, Telluride retains its considerable charm.
Our old stomping grounds: And speaking of Grand Junction, we made a detour to our old hometown to try and fix the engine issue. That meant leaving our tiny home on wheels at the Ford dealership overnight.
So, Leslie found us a fun place to stay at Hotel Maverick in the heart of town. We rode our bikes to this stylish accommodation on the campus of Colorado Mesa University and checked in. Very, very nice.
Soon, we were back on the street on separate missions to explore our old stomping grounds. Miraculously, Leslie remembered our address and hoofed it over to Ouray Avenue. Another minor miracle: The old place where we paid $280 a month was still standing. Meanwhile, John rode the bike path along the Colorado River and spotted the intriguing Camp Eddy RV park, which offers guests the chance to stay in Airstreams in a prime location. We're adding it to our list for next time.
After a lovely dinner at The Devil's Kitchen in the hotel and a restful night, we got the call nobody wants. The parts had failed to make it out of Denver, so no repairs were going to happen. Boo! We're still looking for a garage to take our rig as we head into New Mexico.
Please follow along on Facebook and Instagram. Leslie's also been writing Google reviews of the RV parks we visit.
---
---