 Stalks rising: Trade deals almost spoiled Washington's asparagus industry. But, slowly, farmers made a comeback.
Sun., May 21, 2017 | By Adriana Janovich
YAKIMA VALLEY, Wash. – Maribel Teran works quickly and methodically. She doesn't like to take breaks. The faster she works, the more asparagus she cuts. The more asparagus she cuts, the more money she makes.
But the basket on her hip weighs about 15 pounds when it's full.
"It's heavy," she said.
The first couple of weeks, she really feels it. In her legs. In her back. Her muscles are stiff from stooping. "You get sore," she said. "Many people, they quit."
Harvesting asparagus hurts. Each spear is hand-cut with a quick jab of a long knife that ends with a notched "V" tip designed to clip stalks below the soil. So asparagus cutters spend most of the harvest with their backs bent in fields throughout the Columbia Basin and Yakima Valley.
Teran is one of the best cutters at Inaba Produce Farms, which owns asparagus fields west of Wapato. The company supplies the fresh-cut tender green shoots to high-end grocers, such as PCC Natural Markets in the Seattle area and New Seasons Markets in Oregon, California and the West Side of Washington.
Sometimes, as her knife slices through the base of a single spear, Teran said she wonders, "Who's going to eat this asparagus?"
Washington is one of the nation's largest asparagus growers. Fresh-cut spears from Adams, Benton, Franklin, Grant, Walla Walla and Yakima counties end up in grocery stores throughout the U.S. and Canada. Frozen spears from the same fields also are delivered to doorsteps across the country through companies such as Schwan's. And asparagus that's been cut and pickled outside Pasco can be purchased in 16- and 32-ounce jars at Costco.
Production has been on the rise in recent years, and there are reasons for optimism about the future of asparagus farming in Washington. New technology and growing practices are making it more efficient at a time when Americans are eating more fresh asparagus.
The industry, said Alan Schreiber, director of the Washington Asparagus Commission, seems to be on the cusp of what could be considered a new age for Washington asparagus.
"We are not like any other crop," he said. "The way it's handled. The way it's grown."
And, perhaps more importantly, "No one else has the quality Washington has."
Yet the Washington asparagus industry remains a shadow of its former self. Production is about 80 percent less than what it was in 1990, when Washington was the world's leading producer of green asparagus.
Today, the crop faces competition from foreign markets that weren't major players three decades ago – Peru and Mexico, in particular – as well as ever-present concerns about rising labor costs and a shrinking labor force.
While the demand for fresh asparagus is rising, industry experts agree Washington asparagus production will never return to previous levels, when canning was king.
At the industry's peak in 1990, Washington produced 102 million pounds of asparagus grown on 30,000 acres. A year later, the U.S. enacted the Andean Trade Preference Act, allowing Peruvian asparagus – heavily subsidized by the U.S. government – to enter America tariff-free. Canneries closed and moved to Peru.
Today, Washington grows 22 million pounds on 4,400 acres.
The numbers, Schreiber said, "are pretty stunning." They show, he said, the collapse of an industry. The low point was 2013, when Washington asparagus farmers produced 15.8 million pounds, or about 15 percent of what was grown in 1990.
"There's no comeback for canned asparagus," Schreiber said. "I doubt we will see Washington ever returning to being a largely processed-asparagus industry. We're not going to go back to the way it was."
The focus now is on fresh.
The same year Washington asparagus growers hit an all-time low in production, Schreiber, in his annual state-of-the-industry address, encouraged them to plant more.
"We are not planting enough asparagus to make our industry as competitive as it needs to be," he said that year. "It is time to start planting asparagus."
If they didn't plant more and change things, Schreiber told the growers, the Washington asparagus industry "would no longer be viable."
Now four years later, it's working.
Growers are switching to new varieties and trying different planting techniques. They've adopted more intensive management methods, as well as increased automation in packing sheds. And, for the first time since 1990, Schreiber said, they're "planting more than they are taking out."
Washington asparagus is emerging as a "more competitive" industry with "more aggressive" marketing, he said. Yields are increasing. One new acre now can produce double what an old acre produced.
"No one has the yields we have," Schreiber said, noting this year's harvest is projected to be more than that of either Michigan or California.
"Buyers recognize Washington quality," Schreiber said. "We get paid a premium over everybody else," including Peru and Mexico, Michigan and California.
"In a sense, the Washington asparagus (industry) is back," Schreiber said. "But it is not your father's asparagus industry."
It even has its own hashtag: #GetFreshWithUs.
Crowning glory
Once classified as a lily, asparagus thrives in well-drained, sandy, alkaline soil. It evolved around the Mediterranean Sea, growing from Spain to Syria and dating to ancient times. Ancient Greeks, Romans and Egyptians ate fresh asparagus.
It's difficult to pinpoint when asparagus farming started in Washington. Schreiber, head of the state asparagus commission since 2002, said it's been cultivated in the Columbia Basin for at least the past 110 years. He knows this, he said, because he has a photo that's dated 1907 and portrays Columbia Basin farmers with the delicate, quick-growing crop.
Asparagus can grow anywhere from 5 to 7 – and even 9 – inches in one day during warm weather. To keep up, cutters must harvest spears daily. Harvest is done entirely by hand. Cutters bend at the waist, positioning their knives at a 45-degree angle, pivoting between rows at a quick clip, sharpening their blades on the go and watching where they step. They must take care to not damage the spears.
The perennial plant has a short shelf life and is best enjoyed while it's young. Once the tips start budding, or "ferning out," the stalks quickly become tough and fibrous.
The season is short but intense. It generally starts in early April and runs through mid-June. This year, because of cooler weather, it began about two weeks late.
Harvest typically runs 65 to 70 straight days. "It's not religious," Schreiber said. "It does not observe the Sabbath."
Cutters harvest spears one by one until they have a handful. They trim the woody ends with a single slash of their long-handled knives and tuck the spears into the box at their hips.
"It's stoop labor. It's hard work," Schreiber said. "I'd like to see you finish a row."
Teran, 27, cuts on a two-person crew with her boyfriend, Nivardo Santiago, 26. Together, they tackle 72 half-rows, or the equivalent of 31 regular rows. Most cutters harvest 12 to 16 full rows, or about 2 acres, in a four- to six-hour workday.
Crews of generally two to five or six people – often fighting the darkness with light from headlamps – cut out morning glory, thistle and other weeds as they care for the same section every day.
"Everybody has their own number and their own area," said Norm Inaba, who owns this farm with his family. "The way you cut dictates what the next day will be. A good cutter makes the asparagus better. A bad cutter will make the asparagus bad."
'It just shoots up'
Teran and Nivardo are two of his best. They're in his organic field near Harrah by 5 a.m., sometimes earlier, to start cutting before the break of dawn, when it's still cool. They must assess every spear, deciding – based on length and appearance – whether to cut, cull or leave it for tomorrow.
Long and straight spears are prized. Crooked ones are culled. So are the skinny ones, which pull nutrients from the wider, weightier and more desired spears.
It's difficult to keep up, especially when the weather's warm.
"You return the next day and it looks like a different field," Inaba said. "It just shoots up."
Cutters empty their baskets as they go, placing spears into larger boxes set at the end of their rows. Those boxes are picked up by truck and taken to a packing line. Inaba packs his own. But most farmers take their asparagus to a nearby plant for packing or processing into pickled or frozen products.
About two dozen growers bring asparagus – anywhere from 20 to 1,200, even 1,500, boxes a day – to Johnson Foods in Sunnyside, where spears are washed, weighed, measured, graded and sorted by size: jumbo, extra large, large, medium and small.
Within three days, the spears ship throughout the Pacific Northwest and as far away as New York. They leave the plant, bound for shelves at Fred Meyer, Safeway and Costco – and, eventually, people's plates.
Teran thinks about them sometimes. She wonders if they ever think about who cut the particular spears they're consuming.
After a four- or five-hour stint in the organic field at Inaba Produce Farms, where they're paid by the pound, Teran and Nivardo move onto a conventional field at the same farm, where they're paid an hourly wage. Many asparagus cutters work double shifts to make more money during the fierce but fleeting season.
Fast cutters like Teran can make $28 to $30 an hour, which is about 30 cents per pound. The industry average, Schreiber said, is $15 to $20. At the very least, farmworkers make minimum wage, which in Washington is $11, one of the highest in the country.
Teran moved to the United States from Mexico City when she was 15. None of the faces in the fields where she works are white. Cutters here have varied ethnic backgrounds: Mexican, Guatemalan and Haitian are common.
Like Teran, many work other crops within Washington's rich agricultural industry. Apples, sweet corn, green beans and grapes need people for the harvests throughout the summer and fall. Asparagus, which she's been harvesting since finishing high school, is hardest. But it's her favorite. "I make more money here."
After two or three weeks in the asparagus fields, her body becomes used to the bending, and, she said, "I feel nothing."
Still, asparagus season takes its toll. Teran usually loses weight during harvest, "maybe 10 pounds," she said.
She finishes in the fields around 2 or 3 p.m. and is usually in bed before 10 p.m.. She wakes around 3:30 a.m. to make lunch – sometimes tacos or tortas or tostadas. She likes asparagus, too. Her preparation of the slender, tender, labor-intensive vegetable is simple. She likes it with eggs or with butter, cooked "just in the microwave."
Inaba encourages Teran to save money for college. She wants to go. Or, maybe, beauty school. But she's also saving money to support her mom, who was in a car accident on her way to come to work in the fields.
The same fields drew Inaba's grandfather from Japan in 1907. He sees a comparison between the workers in his fields and his own immigrant ancestors. Whether they arrived 110 years ago or in the recent past, Inaba said, "Everyone came here for one reason: for a better life."
Deep roots
Inaba and his two older brothers and business partners, Lon and Wayne, are third-generation farmers with deep roots in the Yakima Valley, once the epicenter of asparagus production in Washington.
When they were growing up here in the 1960s and '70s, they would hunt for errant asparagus spears, sprouted from seeds spread by birds and the wind. "My grandmother and I and all us kids would pick it on the ditch bank," Norm Inaba said.
The Inaba brothers didn't get into asparagus until 1988, beginning with about 20 acres. "A lot of other people were growing it, and we wanted to grow something different," Norm Inaba said.
Today, he and his brothers farm 250 acres of asparagus. It accounts for about one-sixth of all of their crops. It also takes three or four years to mature.
Planting is Year Zero. In Year One, a grower generally gets five to 10 days of cutting, Inaba said. Year Two, maybe 10 to 30. Year Three usually yields a full or nearly full harvest. Year Four is a mature crop.
It's an investment that takes time, money and patience to earn a return. The plant's root masses, or crowns, are typically planted in March beneath 7 to 9 inches of soil and 60 inches apart. Farmers need about 2,600 crowns per acre. At a cost of about $100 per 1,000 crowns, that's $2,600 per acre. Add in the cost of field prep and labor, and it's about $3,500 just to plant 1 acre of asparagus, Schreiber said.
Lately, farmers have been experimenting with tighter rows, planting crowns 40 inches apart, for larger yields. Some also have started direct seeding and trying new varieties, such as Guelph Millennium – which, "right now is the rock star," Schreiber said.
Inaba also sees opportunity in the organic market. He has 50 acres of organic asparagus, plus another 40 acres in transition to become organic. In all, Schreiber estimated, Washington has some 200 acres of organic asparagus.
People are experimenting with purple, too. There are about four farmers in the state growing a combined total of about 20 acres of purple asparagus, Schreiber said. People pay more for it because it looks dramatic and quantities are limited. But that might change, just like the industry.
These days, some 70 percent of Washington's asparagus growers are located in the Columbia Basin, which is closer to Walla Walla and Dayton, where the canneries once processed the harvest. It's also where bigger fields with larger capacities for production were available.
Gourmet Trading Co., the biggest fresh asparagus plant in America, spans 85,000 square feet outside Pasco, where the company has about 445 acres of asparagus.
Phil Clouse, 73, oversees them.
"I really think that Gourmet has really added some stability to the fresh market in this state," he said, rolling through the company's uniform, undulating fields in the 2011 red Ford F-150 he refers to as "my office."
The soil is sandy loam and the yields are way above average. Farmers are shooting for 15,000 pounds per acre or more, or three times the average. And cutters here are making more than $20 per hour.
"Asparagus has probably sent more kids to college than any other crop," said Clouse, who's been in the business more than 40 years.
"People just go crazy for it," he said. "It's a sign of spring."
Gourmet's operation is a sign of something, too.
"This is the future of asparagus," Clouse said. "Right here."
Schreiber, sitting in the cab of Clouse's truck, agrees. "I'm very much in awe of this operation. I have a lot of respect for it. But part of me doesn't want this to be the future of asparagus. This is a multi-national corporation. It's going to be very hard for the littler grower to keep up."
'Fresh is better'
To help the entire industry, the commission launched a limited marketing campaign in 2015, including starting a Facebook page. Today, it has more than 800 "likes." More concentrated efforts started last year.
"Growing asparagus has gotten more challenging," said Inaba, who's a board member for the commission. "It's kind of an experiment. If you can't adjust, you die. You have to adapt."
The Inabas' first full asparagus crop was ready right around the same year the trade agreement took effect, crushing the state's canned asparagus industry and flooding the fresh market. Farmers plowed under asparagus fields. Some replanted with other crops. Others walked away.
"I saw a lot of friends and other people who had to leave when the Del Monte plant and the Green Giant plant closed," Inaba said. "I don't think we'll see 30,000 acres again. I just don't. There's just a few growers now."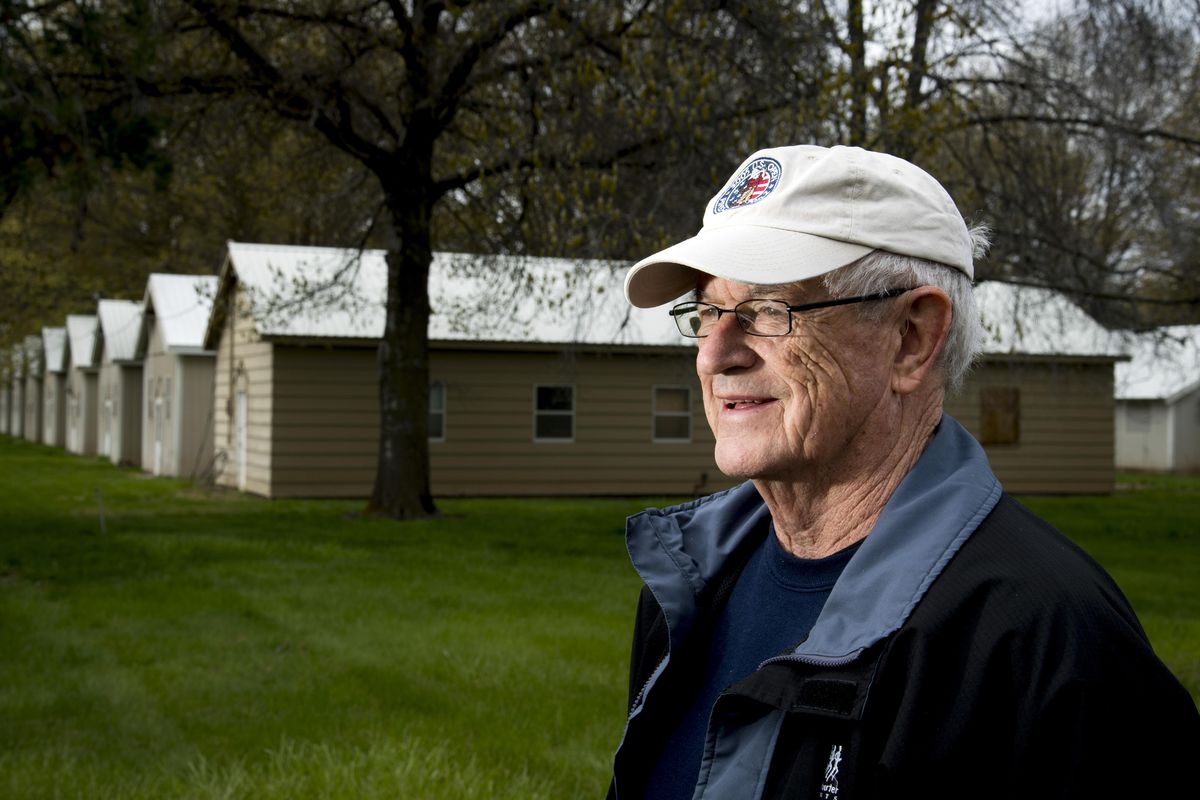 Duane Dunlap, 79, stands at the now closed Green Giant housing facility in Dayton, Wash., were he managed migrant farm workers until he retired in 2002. They gutted the plant of all those machines and sent them to Peru, said Duane Dunlap, the plants former personnel manager. (Colin Mulvany / The Spokesman-Review)Buy a print of this photo
Inaba encourages consumers to support the ones who are left. He advises them to check labels for "Washington grown." He also advises them not to buy asparagus on sight alone.
"It will tell you when it's old," he said. "Pick it up and smell it. If it doesn't smell good, put it back and walk away."
Inaba likes his asparagus grilled with olive oil and Johnny's Seasoning Salt. His wife prefers Montreal Steak Seasoning. She also prepares it with butter, garlic salt and Parmesan.
Either way, "It's hard to beat fresh asparagus," he said. "Fresh is better."
Lead photo credit: Growing asparagus stalks emerge from the dusty soil of the Yakima Valley on Friday, April 28, 2017. It's the start of asparagus season in the Yakima area, an approximately two-month period where the plant must be harvested seven days a week to produce a very perishable crop for the fresh and frozen markets, plus some for pickling. There is a competition among growers for good cutters who can make good money at the back-breaking task of cutting the stalks at the right size, cut with care to protect the younger stalks and with delicate handling to protect the final product. (Jesse Tinsley / The Spokesman-Review)