Tue., Dec. 13, 2011, 2:50 p.m.
End Notes: Vodka, Bourbon For Dead
Our column today talked about how to acknowledge, during holiday celebrations, a child who has died. Cathy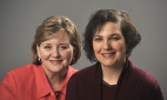 has some good suggestions here. We have a long tradition at our house of honoring the deceased elders by placing their favorite alcoholic drink in front of their photos on the kitchen counter. So it's bourbon for my dad, Papa Joe, scotch for my brother-in-law Adam and and vodka for Hollis, my mother's late-in-life boyfriend who died three years ago. We take sips of the drinks during the family gatherings/Rebecca Nappi, End Notes. More here.
Question: How do you remember departed family members are Christmas holiday gatherings?
---
---