Wed., Feb. 22, 2012, 10:10 a.m.
Constitutionalist Eyes Sheriff's Post
Sheriff candidate Dave Resser thought he understood the sworn oath of office for elected officials. After attending a conference in Las Vegas last month, he said he has a clearer picture of what it means to be a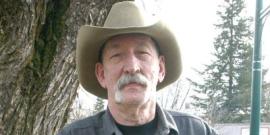 constitutional sheriff and what that would look like should he be elected sheriff. "The sheriff, the sheriff's deputies and other elected officials take an oath to protect and defend the Constitution of the United States and the state of Idaho to the best of their ability," Mr. Resser said. "A constitutional sheriff will make sure that what is done in his county to his people abides by the constitution." A constitutional sheriff is an official who protects and upholds the constitutional rights of his constitutes, the people he serves. He will not allow anyone to conduct business inside of his county that is unconstitutional/Summer Crosby, St. Maries Gazette Record. More here.
Question: Should a sheriff be the one to decide what is constitution and what isn't within his county?
---
---