Fri., Jan. 20, 2012, 1:01 p.m.
Edit: Primary Move To August Wrong
Kevin Richert/Idaho Statesman pulls the curtain back on the attempt by state Rep. Tom Loertscher, R-Iona, to move the primary election to August: "Don't think for a minute that this has been proposed in the interest of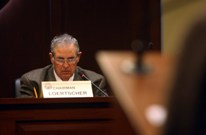 good public policy. This is a cynical ploy. Self-preservation is usually a top-of-mind matter for politicians — and this is a particularly brazen example. Truth is, some lawmakers don't like filing for re-election in late February or early March. After all, they are in Boise in the midst of a legislative session, while primary challengers can get the jump on campaigning. This timetable works best for voters, though, because it allows them to vote in a primary before the start of summer vacation season (and, while the actions and inactions of the most recent legislative session are fresh in their minds)." More here. (Joe Jaszewski Statesman photo of Rep. Tom Loertscher at today's anti-Occupy Boise hearing)
Question: Richert adds that a summer primary will further depress voter turnout, favoring the ideological few who will vote come hell or high water. Which a closed primary system also does. Do you get the impression that hardline Republicans want to ensure that only ideologically "pure" partisans are elected?
---
---