Tue., July 30, 2013, 8:19 a.m.
Clark: Tempest In A C Cup
Some pervert sent me photographs of nubile, near-naked young women. Wait a second. This email did not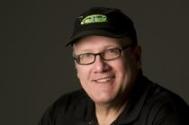 come from a pervert. This email came from the office of Spokane City Councilman Mike Fagan, who wanted to brief me on the fleshy activities at the XXXtreme Espresso stand on Northwest Boulevard. This may be a new low in City Hall correspondence. Not to dance on former Mayor Jim West's grave. But for all his peculiarities, Mayor West always had the decency to use the telephone whenever he asked someone out for a naked swim. Ah, but I know what Fagan is up to, of course. This is all part of the great Anal Cleft consternation that Fagan stirred up while I was away. I had never heard of the term "anal cleft" until Fagan exposed me to it. Then again, why would I? As a lifelong musician, I spend my time pondering the treble clef/Doug Clark, SR. More here.
Thoughts?
---
---