Tue., Oct. 8, 2013, 8:53 a.m.
To Speak Out — Or Not?
Councilwoman Deanna Goodlander took some heat from commenters at HucksOnline Monday for sharing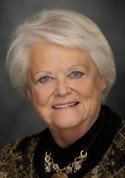 her opinion re: the McEvers/Copeland/Hebert council race. I noticed on Facebook today that Councilman Mike Kennedy shared his opinion and support for Amy Evans who is running against Chris Fillios for his council seat. Some of you don't like the fact that the incumbents are weighing in on these important Coeur d'Alene City Council mayoral and council elections. Frankly, I appreciate it. The four incumbents have been pounded for years in newsletters, online comments, OpenCDA.com blog posts and at various council forums by mayoral candidate Mary Souza. They have been subject to a recall effort by Souza and her ReclaimCDA supporters. If they don't speak out now RE: their experience and insights (from years of serving this community), when should they speak out?
Question: Do you want to hear from Mayor Sandi Bloem and retiring incumbents on the Coeur d'Alene City Council re: this fall's municipal races in Coeur d'Alene?
---
---