Fri., Aug. 12, 2011, 6 p.m.
Confession of a former Doomsday snob
Before moving to Spokane in the late '80s, I spent decades scoffing at others' self-assessed Cold War risk rankings.
Having spent a fair share of my childhood reading comic books and trading baseball cards just a few miles away from row after row of B-52s lined up wing-tip to wing-tip at Wright-Patterson Air Force Base, I figured I didn't need a hotline to the Kremlin to know where I stood should international tensions get ouf of hand.
And years later, I took a perverse pride in having grown up on the front lines, so to speak. So perhaps you can imagine how frustrating it was to discover that practically everybody thought their hometown was high on the Soviets' first-strike target list.
I know it was insane to get miffed and say things like "Are you kidding? You would have survived for months where you grew up. I would have been vaporized on Day One."
Once or twice I paraphrased a line from "Dr. Strangelove"..."You wouldn't even have gotten your hair mussed."
It was a crazy kind of bragging, I realize. But what can I tell you? This was a competition I figured I had already won. Then I discovered that nobody else understood the rules.
As a young adult, I had a friend who had grown up in Indiana. She made the mistake of telling me that her family had lived with the certain knowledge that they would be among the first to get it in a nuclear slugfest because her hometown, South Bend, was the location of Notre Dame University.
That still makes me sigh. (I suggested that, unlike Purdue and Michigan State, Soviet launch command probably didn't feel threatened by the Fighting Irish.)
Anyway, then I moved to Spokane. And I realized that people who were kids here in the 1960s grew up near USAF bombers AND missiles. To those Cold War survivors, I tip my cap.
Next time I watch a "Twilight Zone" rerun with a nuclear war theme, I will hoist a frosty mug and offer a toast.
I freely admit that you, too, would have been Day One targets. And I'll bet none of you thought it was because of proximity to Gonzaga.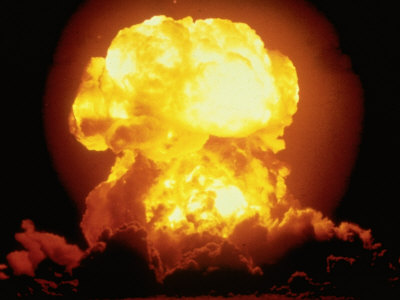 www.allposters.com
---
---