Tue., Oct. 18, 2011, 4:35 p.m.
Even the most rabid Coug has to…
...love these dogs. And just to be clear, I am referring to the actual canines.
According to a UW site, King Chinook -- the mascot about 50 years ago -- once ran out on to the field during a game and stuck his nose into the Illinois huddle.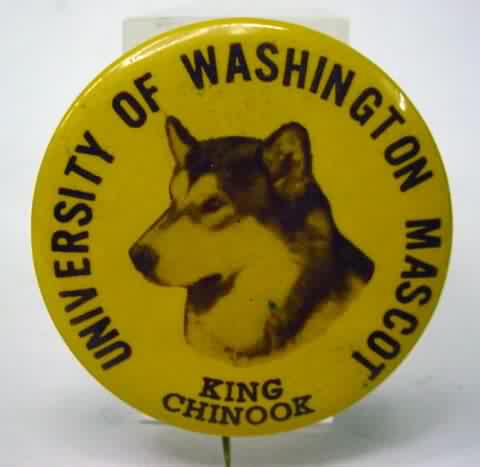 I suppose the dog's handler went out and retrieved him and that was that.
But that's not how it would play out in the movie version of that moment. Not, at least, in a Slice Studios release called "Leashless in Seattle."
When the big dog runs out onto the field, the predictable laughter and cheering from the crowd is noticeably absent. That's because everyone knows the spirited mascot has simply gotten to be too much for his handler, everybody's favorite campus codger, Bud MacDougall. And it's understood that this incident will embarrass the beloved white-haired gentleman.
But then something happens that turns the somber mood into smiles.
The Illini quarterback, Chip Royko, gets down on one knee and strokes the top of King Chinook's huge head. Then, with a gentle hand on the mascot's collar, Chip walks the big dog back toward the UW sideline.
Bud MacDougall's beautiful granddaughter, a UW sophomore named Fiona, trots out to meet Chip and King Chinook.
The two young people exchange shy smiles as King Chinook looks back and forth at their blushing faces.
The Seattle crowd has been taking this in silently. But Chip's good-natured response to the interruption of the hard-fought game wins them over. And by the time the visiting team's signal-caller is headed back to his teammates, a smattering of applause has turned into a thundering ovation.
Fiona's brother Robert, captain of the Husky defense, steps across the field and meets Chip on his way back to the huddle. They shake hands.
On the sideline, King Chinook lets loose with a wolf-like howl. Bud MacDougall thows his own head back and roars with laughter.
And somehow everyone knows that Chip and Fiona are bound to wind up together.
In love, in Washington, and surrounded by oh so many puppies.
---
---