Finding the perfect campground site can be a skill and an art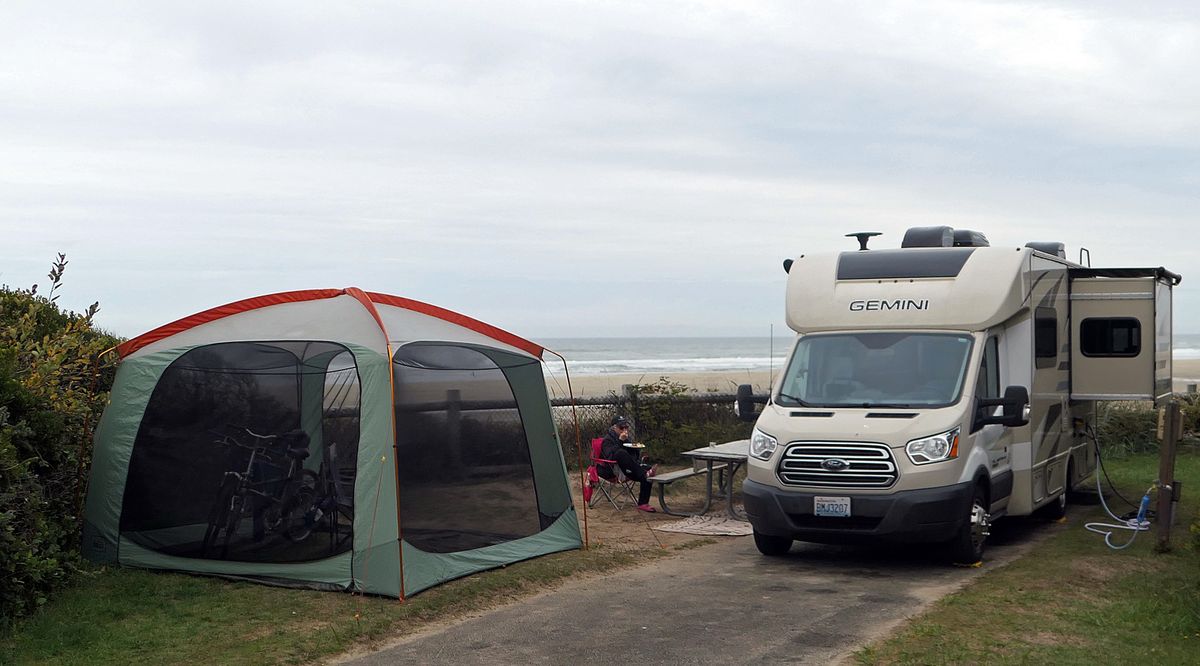 John is the MVP of our team when it comes to the all-important task of selecting a site, unseen, when making online reservations. He scrolls through endless photos online, studies bare-bones maps and then blindly makes choices that often work out well.
Here are a few suggestions that might help campers find that sweet spot.
With reservations: As we've all learned during the pandemic, it's absolutely essential to book sites well in advance. There's just no such thing as first-come, first-served in the age of COVID-19. When booking online, most state and national parks allow you to select a site. This is where the process can get bogged down.
When studying the map of available sites, we always gravitate to those spots that have some privacy built in. We look toward the end of a row or something tucked up against a mountain or hill.
We recently scored a lovely site at Fort Worden State Park that turned out to be even better than anticipated. The pull-through space -- No. 46 -- had a generous and private "living room" that was framed by towering pine trees against a steep hillside. Our tiny home on wheels served as a privacy shield from the road running through the campground and we took full advantage of the coverage. There was a truly memorable meal by the campfire with grilled salmon on the menu and the World Series on our outdoor TV screen. Score!
Other considerations to keep in mind: Is it a full hookup? Does it have a concrete or gravel pad? How long is the driveway? Is it close enough to the bathroom? Will the space accommodate your rig? It's important to click through all of the fine print before booking.
If the final choice is challenging when studying the map, a quick Google search of "best campsite at Yosemite" can sometimes yield helpful info. And the website, Campsitephotos.com is invaluable in choosing a site at many campgrounds.
There are also a number of Facebook groups like RV Parks and Campground Reviews dedicated to sharing tips about places to park. Most of the advice is geared towards "best campgrounds," but there's an occasional recommendation about particular sites.
When there's an actual person answering the phone at an RV park, we always try to ask for suggestions, sharing what we're looking for. Those conversations have resulted in some amazing park spots.
When finding a keeper, try to remember to keep records of those all-star sites. That's a practice we need to improve. Recently, when trying to retrace our steps and secure the site we absolutely loved at the Jumbo Rocks Campground at Joshua Tree National Park, we could not nail it down. It didn't really matter in the end because that popular campground was already full months in advance, so we'll be down the road at Cottonwood.
Here's hoping the site we settled on, based on the photo accompanying the description on Recreation.gov is as sweet as it looks. We'll report back on that when we visit that park next month.
Here are a few sites we'd give 5-stars:
Beachside State Recreation Area, site No. 63, enjoys the best ocean view we've experienced on the Oregon Coast. No surprise that it's the state's most popular campsite, hands down.
When it comes to water views, it's tough to beat No. 59 at Icicle River RV Resort in Leavenworth. Leslie celebrated her birthday there last fall, the sounds of the rushing water providing the soothing soundtrack.
We had a deep appreciation for No. 35 at Rancho Sedona because it was adjacent to the park's antenna pulling in and sending out the WiFi. It was also just steps away from the awesome charcoal barbecue.
High-fives to the planners who landscaped the excellent Sunset Bay State Park campground near Coos Bay, Ore., where we appreciated the greenery surrounding the spacious A3 site.
Have a favorite site suggestion? We'd love to hear from you at goingmobile@spokesman.com.
---
---