2020 Cadillac CT4: GM's luxury division makes another run at the entry-level sport sedan segment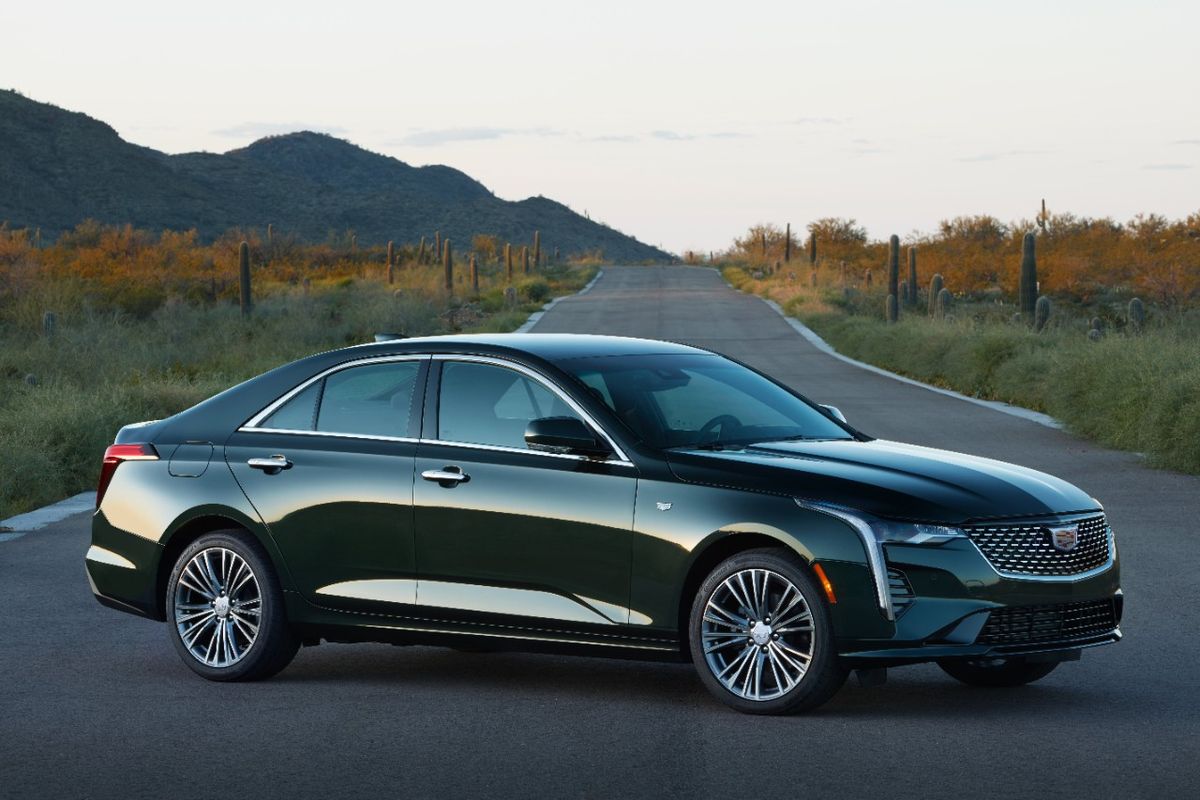 Like every automaker, Cadillac sells boatloads of crossovers but struggles to move sedans.
GM's luxury division has complicated the task by targeting its four-doors at the luxury sport segments where German cars dominate.
This year, Cadillac takes a fresh run at the entry-level subcompact gang. The 2020 CT4 ($33,990) replaces last year's ATS. It's built on the ATS's rear-drive platform and has the same 109.3-inch wheelbase.

The ATS went up against the compacts — the BMW 3 Series, Mercedes-Benz C-Class and Audi A4. The CTS is priced and configured to compete with their subcompact siblings, BMW's 2 Series, M-B's A-Class and the Audi A3.
Lower price of entry
Accordingly, Cadillac drops its price of entry $2,500.
The CT4 is the only RWD car in a segment where FWD platforms rule. All-wheel drive is available on all models.
The CT4 also brings to the fight new sheet metal, a redesigned cabin and new powertrains.
Handling is crisp. Steering is quick, accurate and nicely weighted.
The CT4's sheet metal is sharp-edged and angular. Its cabin is tight but ergonomically sound. Its ride is stable and compliant.
Three levels of power
The CT4 is available in four trims: Luxury $33,990), Premium Luxury ($37,495), Sport ($39,590) and V-Series ($45,490).
All CT4s are equipped with keyless entry and ignition; remote start; LED headlights and taillights; dual-zone automatic climate control; power-adjustable front seats; an 8-inch touchscreen; Apple CarPlay and Android Auto; and active noise cancellation.
A 237-hp 2.0-liter four powers the Luxury, Premium Luxury and Sport models. A turbocharged 2.7-liter four is standard in the V-Series and optional for the Premium Luxury. It makes 325 hp in the V and 309 hp in the Premium Luxury.
The 2.0-liter engine is mated to an 8-speed automatic, the 2.7-liter to a new 10-speed automatic.
Cadillac sent us a Premium Luxury tester fitted with the larger engine.
The Premium Luxury also fetches leather upholstery, 18-inch wheels and automated emergency braking with pedestrian detection.
Fun begins with V-Series
With the 2.7-liter, my tester was plenty quick, with smooth power delivery and an inoffensive four-cylinder rasp. The 10-speed gearbox was mostly cooperative but stumbled occasionally in low-speed stop-and-go driving.
All CT4s run the 0-60 sprint in a cluster around the 5-second mark.
The fun really begins with the V-Series. Its sport-tuned suspension and Bosch steering system deliver a lively and engaging experience. V-Series RWD models get GM's Magnetic Ride Control, an active damping system that reacts in real time to changing conditions. It sharpens handling and improves ride quality.
CT4 cabin dimensions are snug, even a bit smaller than the outgoing ATS's. Enlarging the cabin would require a longer wheelbase, not a realistic option here.
I easily found a comfortable driving position in a firm and supportive seat. Modest side bolstering leaves room for large drivers.
Thigh support is adequate for all but the tallest drivers, who also may find their knees rubbing on the center console.
Some bending required
Infotainment controls are well-organized and close at hand. Cadillac's infotainment system has grown increasingly user-friendly, with simpler menus and knobs for the audio controls.
Scant casual cabin storage will have riders scrambling to find room for their water bottles, coffee cups and cell phones.
Accessing the cramped rear seating area requires some folding and bending. The rear seats are not suitable for adult use.
Cadillac ups its subcompact bid next summer with the 2022 V-Series Blackwing. The 450-hp Blackwing should retail at around $55,000 and will make a serious noise in the entry-level luxury sport segment.
2020 Cadillac CT4 Premium Luxury
Vehicle base price: $33,990
Trim level base price: $37,495
As tested: $50,265 (includes destination and handling)
Options: 2.7L engine; 10-speed automatic; AWD; Bose audio; navigation; wireless charging; automatic cruise; heated and ventilated front seats; heated steering wheel; 4-way adjustable lumbar support; head-up display; adaptive headlights; lane-change alert with blind-spot warning; lane-keeping assist; rear cross-traffic alert w/reverse automatic braking; metallic paint
EPA rating: 23 combined/20 city/28 highway
Premium gasoline specified
---
---