Fri., Feb. 25, 2022
Pismo Beach feels like going home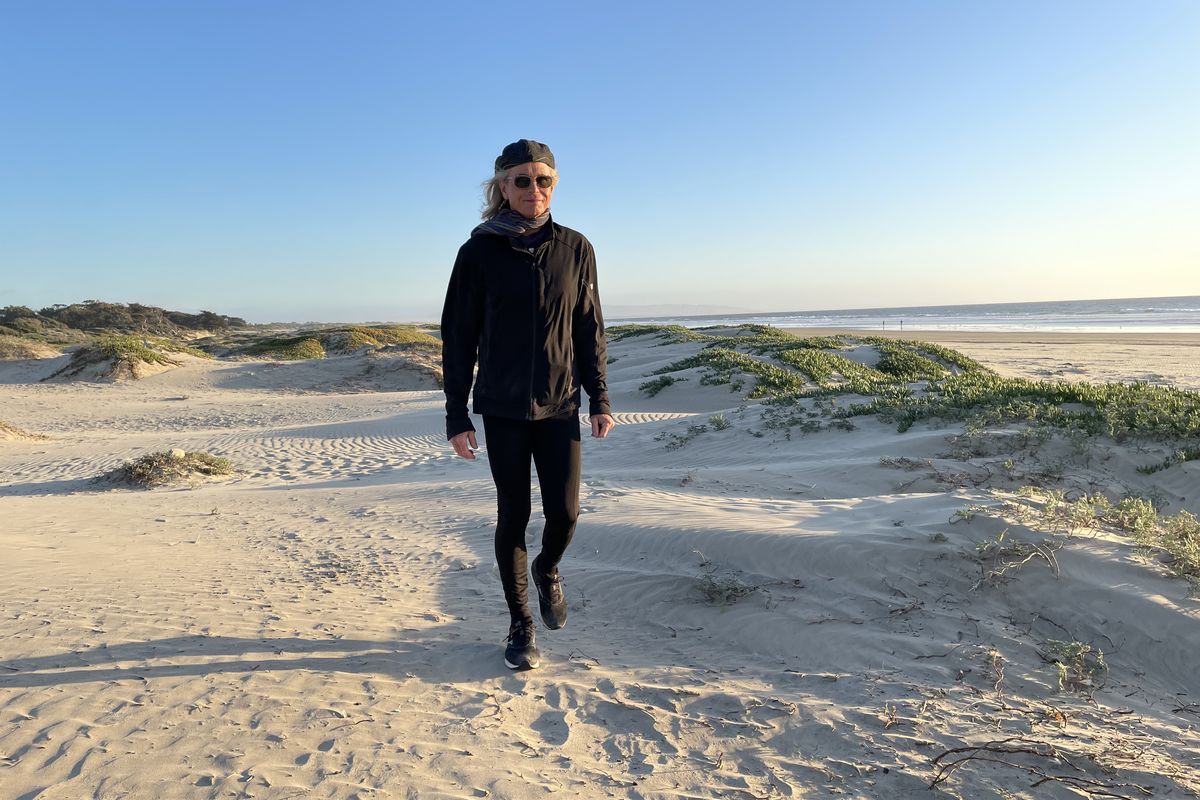 Pismo Beach on the Central California coast has a broad strand and dunes to explore. (Leslie Kelly)
Pismo Coast Village is an RV park unlike any other.
It's become one of our favorites in the Golden State and on a recent visit, we asked ourselves: Could we see calling this place home for part of the year? Maybe.
But first, a few of the reasons we like this spot:
It's not L.A., Not the Bay: That's what the folks in the 805 area code proudly proclaim on bumper stickers and beer cans and it's definitely true. Pismo Beach definitely has its own chill vibe.
The surfers who ride waves near the historic pier bring a lot of positive energy. We've watched in admiration as surfers of all ages grab their boards and run toward the ocean looking to catch those perfect curls.
Pismo's beach is broad and long, so it rarely feels crowded. And if you really wanted some alone time, there's always the rolling dunes on the edge of the wide open stretch of sand. We've tucked in between a couple of those dunes to get out of the wind and watch the sunset.
Location, location, location: We also appreciate the park's central proximity to so many fun things. It's a quick walk or bike ride into the town center. John's taken longer rides on his road bike, heading south to explore… while Leslie goes in search of the best tacos. Oh, and wow, is that a bacon-topped goodie at Old West Cinnamon Rolls? Hey, we've got our priorities, straight!
Speaking of food: The expansive RV park has an on-site restaurant, which specializes in Santa Maria-style tri-tip steak cooked over an oak fire and other classic steakhouse fare. A popular dining destination is not something we've seen at any other RV park.
There's also a huge laundry room and a gift shop that sells beer, wine and groceries. The resort has one of the nicest swimming pools we've ever jumped into. It's lap-swim only in the morning, which is something we appreciate.
Sites vary in size and view. We were a little jealous of the trailer parked at No. 4, its creekside location looking out at the Pacific beyond. Maybe next time. They open up reservations six months in advance and those hot spots go quickly.
Looking to buy in: So, maybe we should look into ownership? The sales office was closed while we were there, but Leslie later checked in and guess what? Pismo Coast Village has no shares available.
Unlike organizations such as Thousand Trails, Pismo Coast Village is owned by shareholders. But it's not a timeshare. When it first opened in 1975, 1,800 shares were sold and a small corporation formed. Shares occasionally become available, but it's pretty rare. These days, they're going for around $47K.
Nightly visitors are welcomed because they help pay for the park's upkeep. Owners are entitled to 45 days a year and storage is included. We saw trucks hauling away trailers and fifth wheels that had been used by the owners, which is a pretty cool option.
More amenities: Another excellent option is an on-site repair service. We've been wanting new coach batteries for a while and when we made a call asking if that was possible, they were delivered and installed the next day. This purchase has proven to be a game-changer for comfortably camping when we're not plugged in.
We've certainly experienced some quality RV parks on our travels around the West. The ones we tend to like best have that hard-to-explain sense of community where kids ride bikes while the parents visit.
Go team: The Super Bowl was on during our stay and a group of friends had circled their trailers near our campsite. While we watched on our outdoor screen, we got a kick out of the Rams fans cheering and jeering each play. By the time it was over, that party fizzled quickly. Everyone was exhausted by the wild ride.
On the day after, there was another flurry of activity as residents packed up their gear and left their rigs behind. That's a winning strategy we could get behind. Maybe someday we'll buy in.
---
---