Armed protests in U.S. statehouses that preceded U.S. Capitol riot
When President Trump-supporting insurrectionists stormed the U.S. Capitol in an attempt to overturn the presidential election on Wednesday, Jan. 6 2021 the nation was shocked, but not unwarned. A series of dress rehearsals of sorts have played out in statehouses in Michigan, Oregon, Idaho and elsewhere in recent months, with armed protesters forcing their way into buildings.
Section:Picture story
Thu., Jan. 7, 2021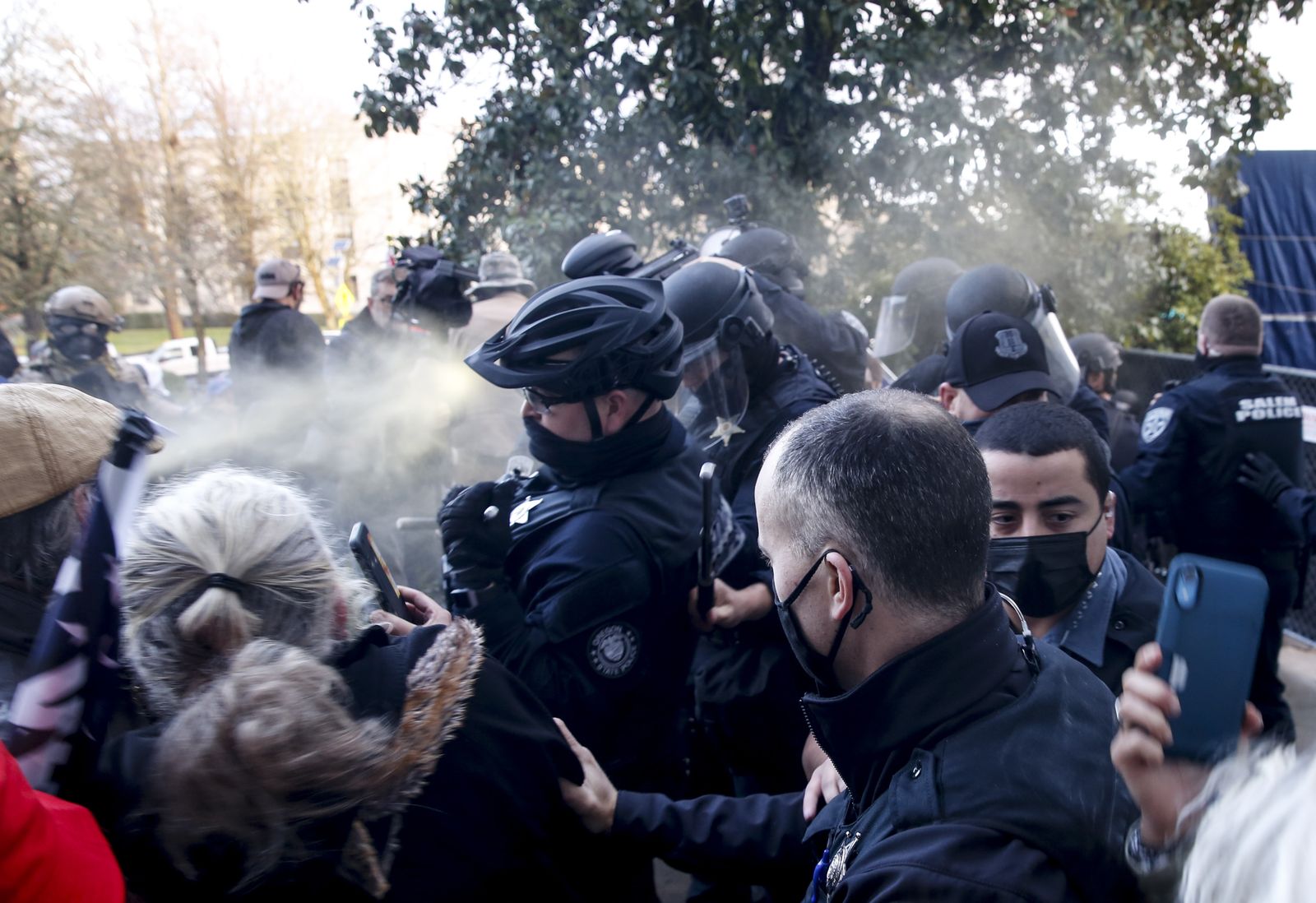 ---
State police declared an unlawful assembly at Oregon's Capitol building Dec. 21, 2020 as far-right protesters opposed to COVID-19 restrictions attempted to force their way in during a one-day special legislative session, with some demonstrators toting guns and others attacking authorities with bear spray. Inside the Capitol, Lawmakers passed four bills, which includes $800 million in relief to people struggling from the pandemic and wildfires, extending an eviction moratorium through June and allocating funds for renter and landlord relief. "Make no mistake, if we do not pass this bill thousands of families will lose their homes in January and it will be on us," Rep. Julie Fahey, a Democrat from Eugene, said to her colleagues.
SARA CLINE Associated Press
---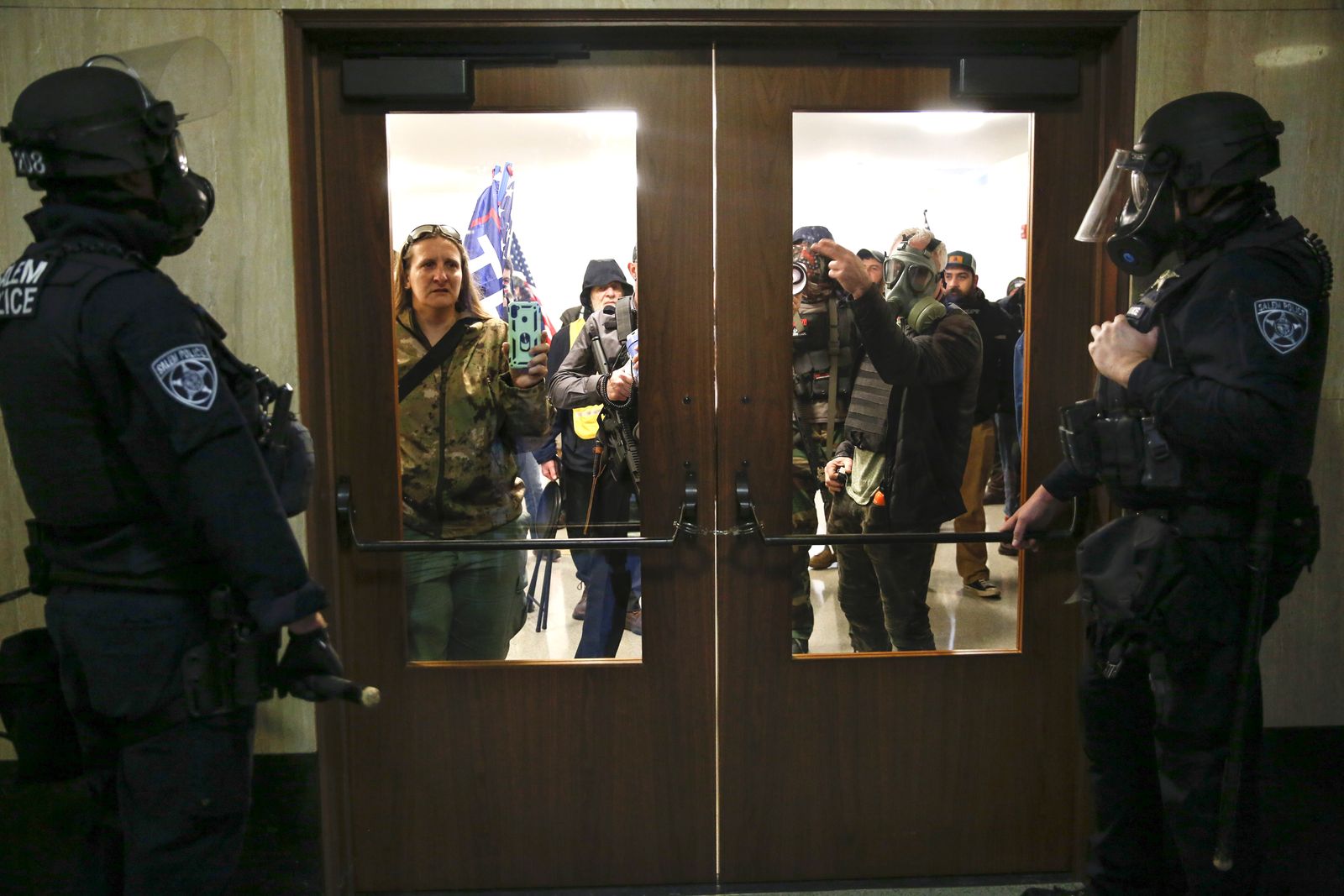 ---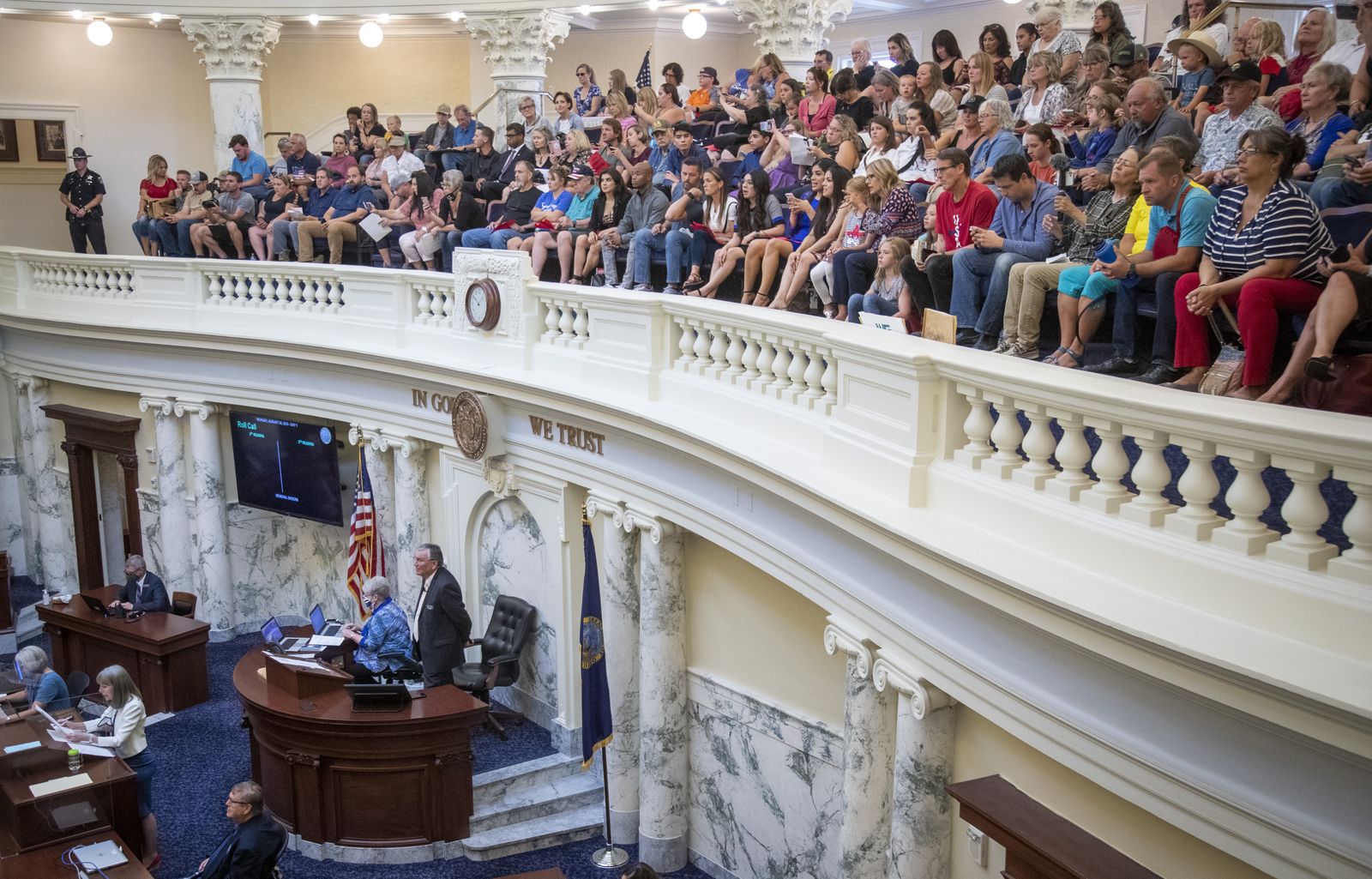 ---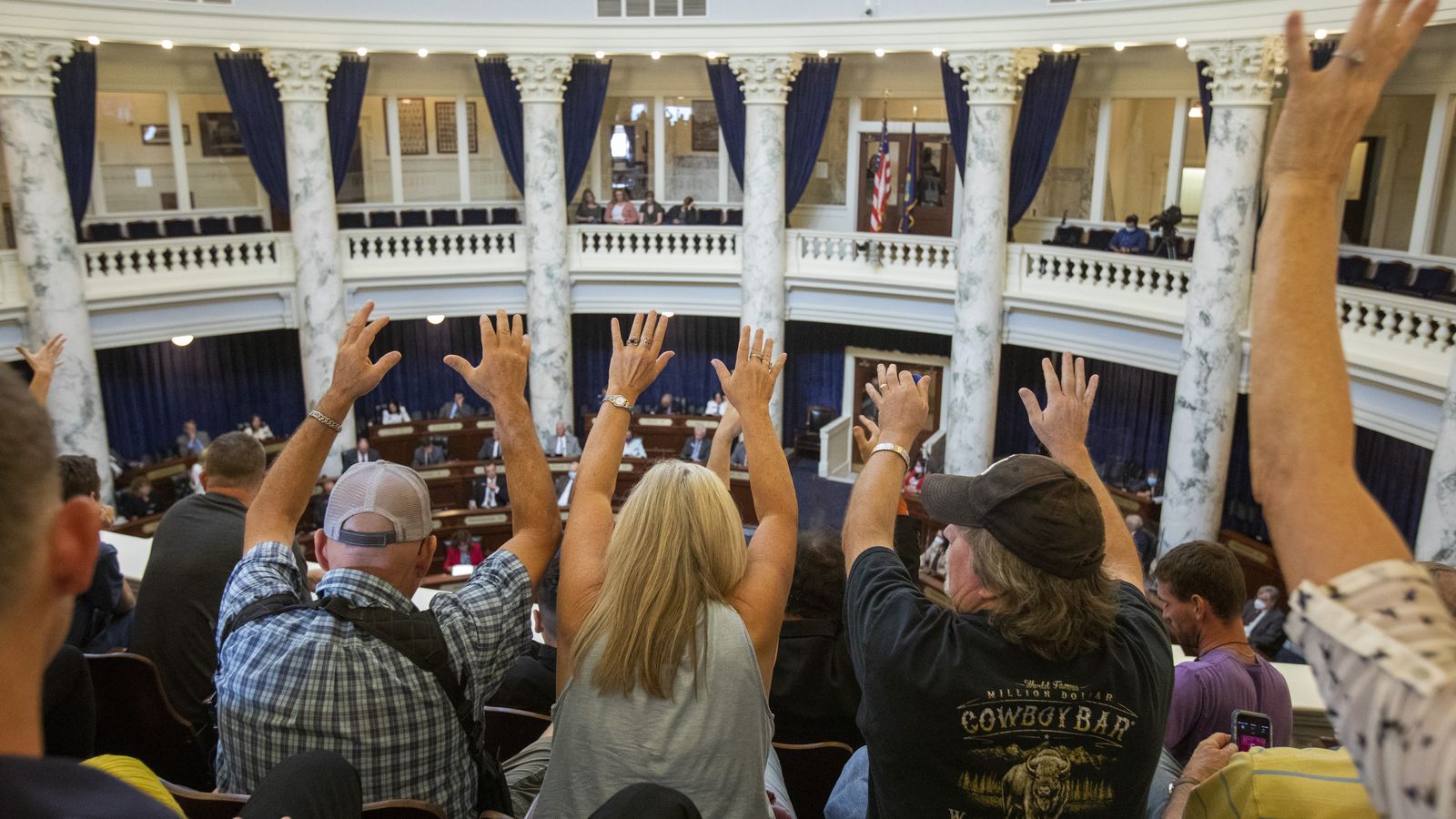 ---
Authorities on Aug. 26, 2020 arrested anti-government activist Ammon Bundy at the Idaho Statehouse after he refused to leave a meeting room where a few hours earlier angry protesters forced out lawmakers. Bundy didn't respond to a reporter's shouted questions as he was wheeled into an elevator in a chair he apparently refused to get out of. At least two others were also arrested after police cleared the room, and they also refused to follow police commands to leave. Another person was taken into custody earlier in the same room where protesters shouted down lawmakers. The incident follows another on Aug. 24, 2020 when angry protesters forced their way into the Idaho House gallery that had limited seating because of the coronavirus pandemic, the window of a glass door getting shattered as protesters jostled with police. Protesters were ultimately let in when Republican House Speaker Scott Bedke stepped in, seeking to avoid violence.
KEITH RIDLER Associated Press
---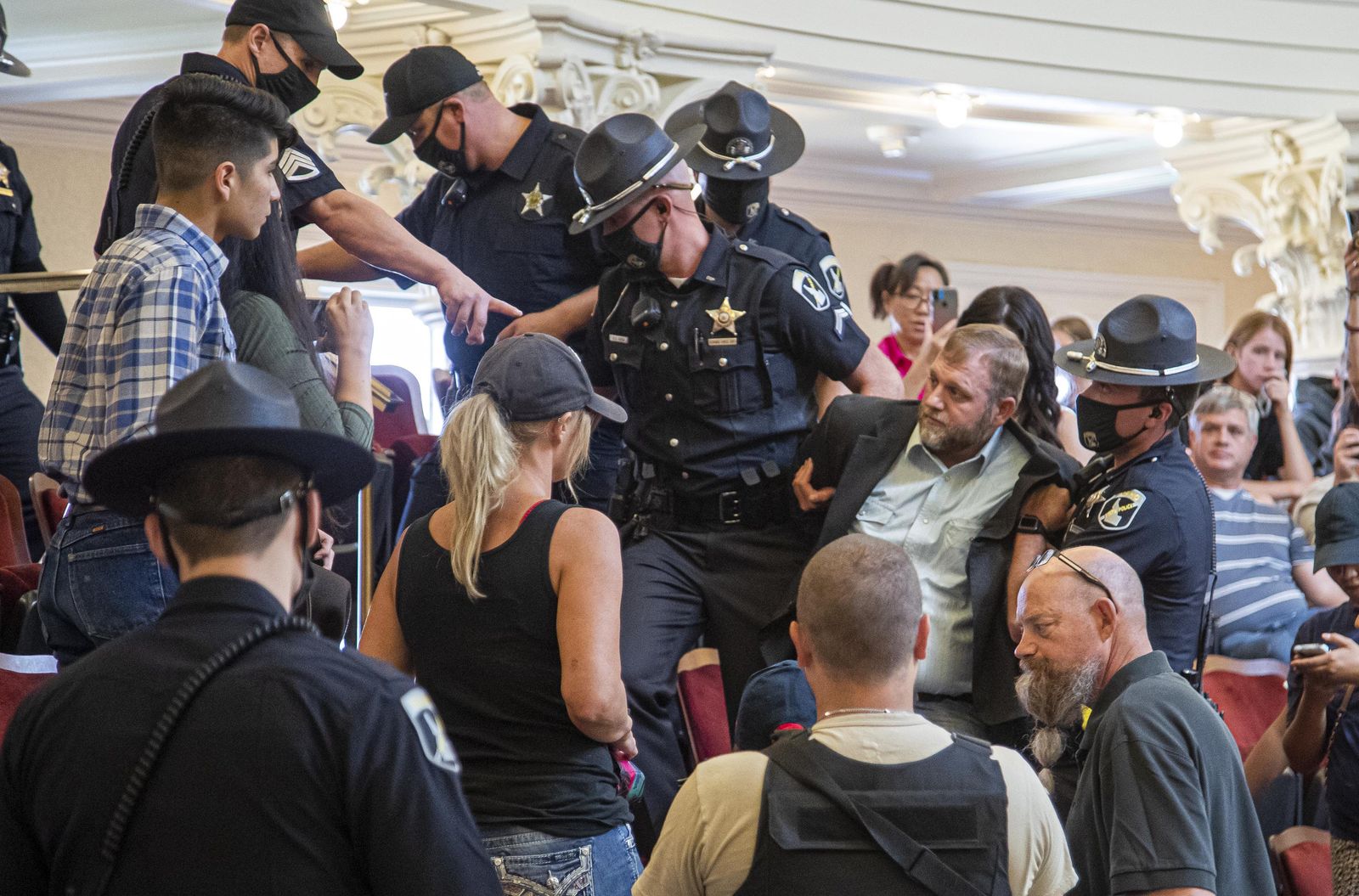 ---
Hundreds of people angry or frustrated over Michigan's coronavirus stay-at-home order protested again outside the state Capitol on May 14, 2020, standing in the rain to call for a loosening of restrictions and for business owners to reopen in defiance of Gov. Gretchen Whitmer. The demonstration was smaller than previous rallies. The Senate canceled session so the Capitol could be closed. The step came weeks after some armed protesters entered the building during a rally. The latest protest was led by Michigan United for Liberty, a conservative activist group that has sued Democratic Gov. Gretchen Whitmer and organized or participated in several rallies since early April.
DAVID EGGERT Associated Press
---
Paul Sancya Associated Press
---
Californians weary of stay-at-home orders that have left millions unemployed staged displays of defiance May 1, 2020, with hundreds of flag-waving protesters gathering at the Capitol and along a famed Southern California beach, while a sparsely populated county on the Oregon border allowed diners back in restaurants and reopened other businesses. While much of the state's population remained behind closed doors to deter the spread of the coronavirus, Gov. Gavin Newsom acknowledged the building anxiety while repeatedly teasing the possibility the state could begin relaxing some aspects of the restrictions next week. "We are all impatient," the governor said during his daily briefing, adding "We have to be really deliberative on how we reopen this economy." Newsom noted the state just passed the grim marks of 50,000 confirmed infections and 2,000 deaths but that hospitalization statistics are heading in a better direction and that has him hopeful. "We can screw all that up. We can set all that back by making bad decisions," he said. "All of that works because people have done an incredible job in their physical distancing." In Sacramento, as police lined steps outside the Capitol, protesters waved signs that said "Defend Freedom" and broke into "U-S-A" chants, most eschewing face masks intended to deter spread of the virus. A small plane circled overhead, displaying a banner carrying an image of Newsom's face and the slogan, "End his tyranny."
MICHAEL R. BLOOD and ADAM BEAM Associated Press
---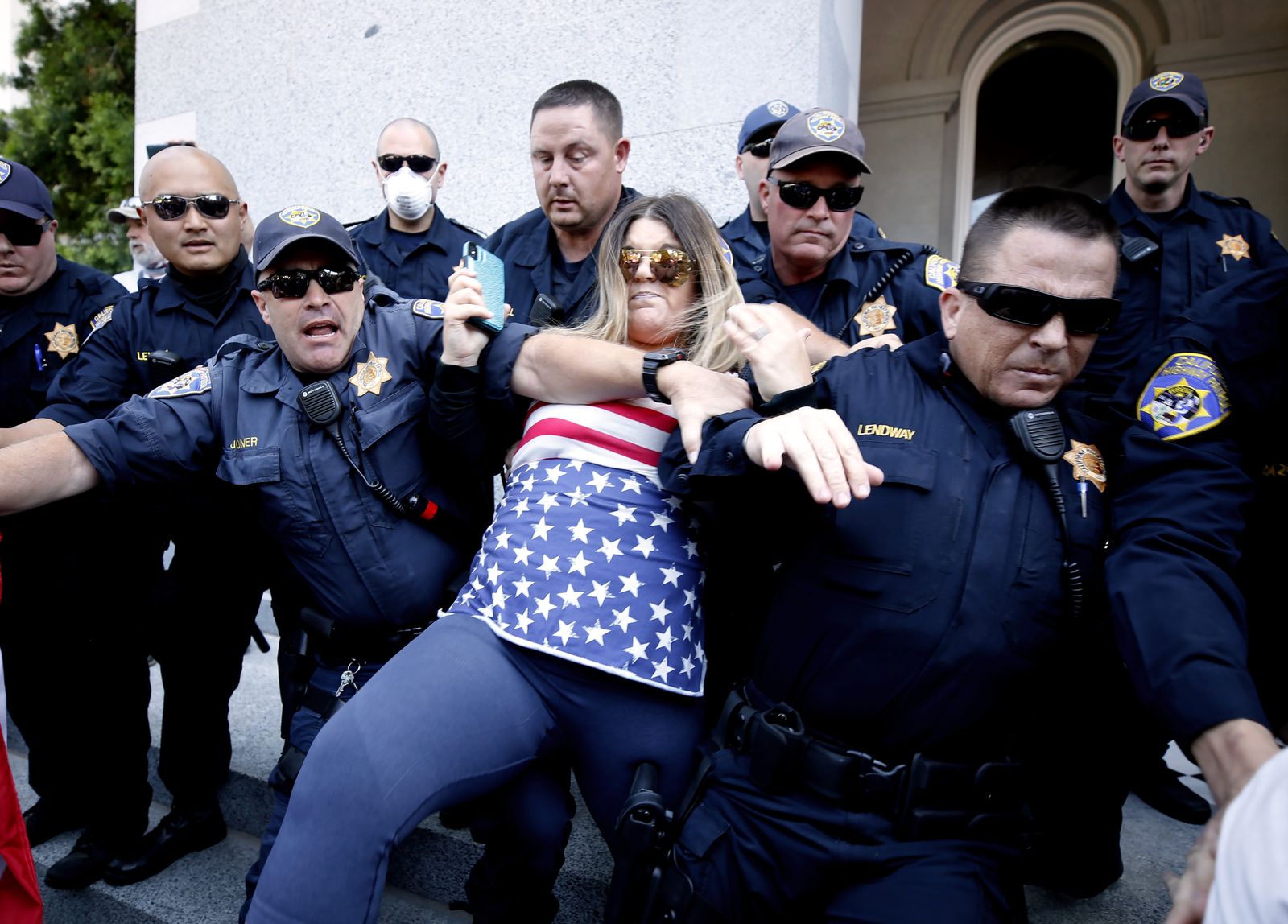 ---
Thousands of flag-waving, honking protesters drove past the Michigan Capitol on April 15, 2020 to show their displeasure with Gov. Gretchen Whitmer's orders to keep people at home and businesses locked during the coronavirus outbreak. As snow fell, others got out of their vehicles and raised signs, one of which read, "Gov. Whitmer We Are Not Prisoners." Another said, "Michigander Against Gretchens Abuses." Hours later, Whitmer shot back, telling reporters that the rally put health at risk. The "Operation Gridlock" protest was organized by the Michigan Conservative Coalition. The ripples were widely felt: Traffic was barely moving for miles in some areas of Lansing.
MIKE HOUSEHOLDER and ED WHITE Associated Press
---
Paul Sancya Associated Press
Recently in Picture story