News > Spokane
Agents not sure who killed Samuel Weaver
Tue., Aug. 25, 1992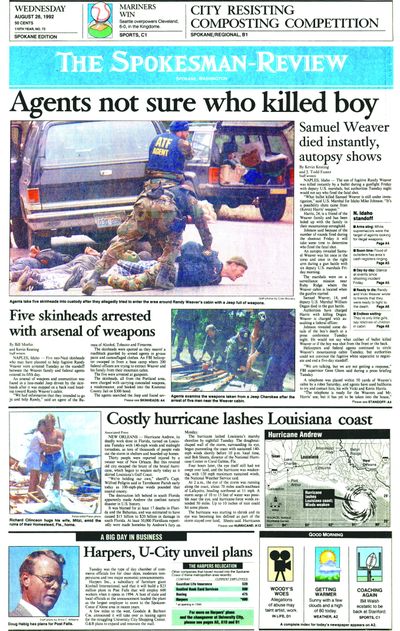 NAPLES, Idaho – The son of fugitive Randy Weaver was killed instantly by a bullet during a gunfight Friday with deputy U.S. marshals, but authorities Tuesday night would not say who fired the fatal shot.
"What bullet killed Samuel Weaver is still under investigation," said U.S. Marshal for Idaho Mike Johnson. "It's a possibility shots came from (Kevin) Harris' weapon."
Harris, 24, is a friend of the Weaver family and has been holed up with the family in their mountaintop stronghold.
Johnson said because of the number of rounds fired during the shootout Friday it will take some time to determine who fired the fatal shot.
An autopsy revealed Samuel Weaver was hit once in the torso and once in the right arm during a gun battle with six deputy U.S. marshals Friday morning.
The marshals were on a surveillance mission near Ruby Ridge where the Weaver cabin is located when the gunfire started.
Samuel Weaver, 14, and deputy U.S. Marshal William Degan died in the gun battle.
Authorities have charged Harris with killing Degan. Weaver is charged with assaulting a federal officer.
Johnson revealed some details of the boy's death at a press conference Tuesday night. He would not say what caliber of bullet killed Weaver or if the boy was shot from the front or the back.
Helicopters and federal agents continued to circle Weaver's mountaintop cabin Tuesday, but authorities could not convince the fugitive white separatist to negotiate and end a five-day standoff.
"We are talking, but we are not getting a response," FBI supervisor Gene Glenn said during a press briefing Tuesday.
A telephone was placed within 50 yards of Weaver's cabin by a robot Saturday, and agents have used bullhorns to try and contact him, his wife Vicki and Kevin Harris.
"The telephone is ready for the Weavers and Mr. Harris' use, but it has yet to be taken into the house," Glenn said, adding that Weaver's two school-age children – Sarah, 16, and Rachel, 10 – were even invited to come out and get the telephone.
"We continue to exhaust every possible means to resolve this matter without further harm to anyone," Glenn said. "We are very serious about a resolution of this matter in a timely and peaceful manner."
Black-clad Idaho State Police and U.S. marshals moved up the mountain just a few yards below Weaver's cabin and waited Tuesday. They could be seen with binoculars from about three-quarters of a mile away.
"We're not going to let it go by just letting them go. But we're not going to push it to the point of losing another life," said Lee Rasmussen, a spokesman for the FBI in Salt Lake City. "We're going to try to avoid that, if he'll cooperate.
"Children are a factor. Whether they are or not, we count them as hostages. I don't know whether an 8-month-old baby can say whether she's in or out."
In addition to their school-age children, the Weavers have an 8-month-old daughter.
In Boston, James Roche, deputy director of the U.S. Marshals Service, said Degan, 42, a highly trained, highly decorated deputy, was not wearing a bulletproof vest when he was shot. But he said a vest would not have stopped the bullet.
"We talked about it before the surveillance operation," said Roche. "Based on the weapons in the house, we decided against it. We know they had semiautomatic weapons. The weapon Marshal Degan was killed by was consistent with an AR-15, a semiautomatic weapon. A vest would not have stopped it."
A wake was held in Quincy, Mass., Tuesday for Degan. His funeral was scheduled for the morning.
Degan was one of six marshals gathering information about Weaver, who has been a fugitive for 20 months after failing to appear in court on a federal firearms charge.
FBI Supervisor Glenn refuted an oft-repeated report that Harris was found dead near Weaver's cabin.
"We have no reason to believe that he (Harris) is other than alive and well and is in the residence," he said.
Harris was involved in a brief gun battle with agents Saturday outside the cabin, but Glenn did not know if Harris had been shot.
Harris' mother, Barb Pierce of Spokane, said she heard rumors about her son's death.
Pierce gathered her family and called a press conference Tuesday to try and persuade authorities through the media to give her some answers and allow her to talk to her son. "I'm desperate at this point. I have been here for five days trying to find out information about my son," she said.
"That's not too much to ask. I don't want to wait two more days for them to say, 'Oh by the way we stumbled over another body. Sorry.'"
Earlier in the day, Pierce and her husband Brian were taken to a nearby mountain to see the cabin for the first time since the siege began.
"At least now I have a picture of what it looks like," she said softly. "It's horrible to sit here an look at that house and not know if he's dead."
Glenn said agents are trying to talk to the Pierce family and squelched other reports that tear gas was dropped on Weaver's cabin Saturday or that agents fired shots at Harris from a helicopter.
Authorities have at least three helicopters – one from Bell belonging to the FBI and two military Hueys – at the staging area below the cabin.
The command post includes at least nine large tents with cots visible inside, six portable toilets and about 75 civilian and military vehicles.
In October 1989, Weaver allegedly sold two sawed-off 12-gauge shotguns to a federal informant. He was indicted more than a year later on charges of possessing illegal firearms.
It was another year before U.S. Alcohol Tobacco and Firearms agents and Boundary County Sheriff Bruce Whitaker could catch Weaver. He and his wife were arrested when they left the cabin for supplies in January 1991.
But Weaver was released the next day and he and his family haven't left the cabin since, federal marshals said. He missed his court date in February 1991, when marshals began watching his cabin.
Local journalism is essential.
Give directly to The Spokesman-Review's Northwest Passages community forums series -- which helps to offset the costs of several reporter and editor positions at the newspaper -- by using the easy options below. Gifts processed in this system are not tax deductible, but are predominately used to help meet the local financial requirements needed to receive national matching-grant funds.
Subscribe now to get breaking news alerts in your email inbox
Get breaking news delivered to your inbox as it happens.
---