News > Nation/World
Surgeon performs liposuction on himself
Sun., Aug. 29, 2004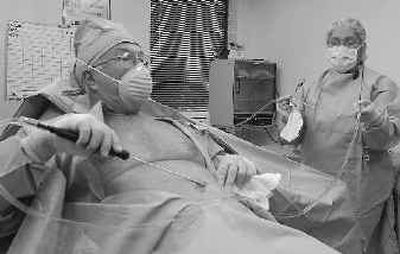 AUSTIN, Texas – An overweight plastic surgeon performed liposuction on himself on camera to promote the potential use of stem cells that can be harvested in such operations.
Dr. Robert Ersek, 66, who conducted the operation with the help of liposuction's French inventor, said he would encourage patients to save their liposuctioned fat from now on. Dr. Yves Gerard Illouz, who was in town for a plastic surgery seminar and who at one point during Ersek's operation advised him on his technique, agreed.
"This will be the future," Illouz said of stem cells. He said that in five years, adult stem cells derived from tissue, such as fat, and other organs will be successful in fighting disease and injuries. Illouz performed the first liposuction in 1977.
Adult stem cells are different from embryonic stem cells, which are controversial and involve the destruction of fertilized human eggs.
"It's unbelievable," said Ersek, who was captured on film by television and newspaper cameras, as well as by a staff member. "I'm the actor, the director and the cinematographer."
After using a local anesthetic to numb his left side, Ersek used a metal wand to suck out the fat. Attached to a long clear tube with a collection bottle at the end, Ersek stuck the wand deep into his abdomen and pushed it from side to side.
Ersek removed about 1 1/2 pounds of fat from his left abdomen, leaving the 5-foot-6 doctor weighing in at about 198 pounds. He said he would leave his right side "as is" for now and be his own before-and-after liposuction ad for his patients.
Local journalism is essential.
Give directly to The Spokesman-Review's Northwest Passages community forums series -- which helps to offset the costs of several reporter and editor positions at the newspaper -- by using the easy options below. Gifts processed in this system are not tax deductible, but are predominately used to help meet the local financial requirements needed to receive national matching-grant funds.
Subscribe now to get breaking news alerts in your email inbox
Get breaking news delivered to your inbox as it happens.
---