Sports
Nash leaving Mavs, will sign with Suns
Fri., July 2, 2004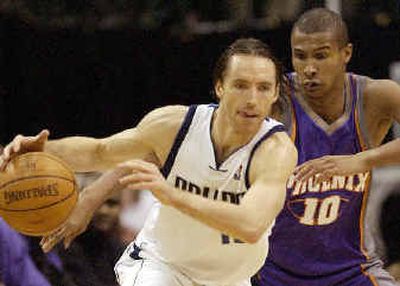 Point guard Steve Nash agreed to a five-year, $65 million deal with the Phoenix Suns on Thursday, leaving the Dallas Mavericks to return to the team that drafted him eight years ago.
The deal includes a "partial guarantee" for a sixth year, Nash's agent Bill Duffy said.
Nash shook hands on the deal with new owner Robert Sarver and Suns chairman Jerry Colangelo at a meeting in Dallas, Duffy said.
NBA rules prohibit Nash from signing the deal until July 14. Teams were allowed to begin talks with free agents late Wednesday.
Nash averaged 14.5 points, 8.8 assists and three rebounds per game last season, when he also recorded his first career triple-double.
He will give Phoenix an experienced playmaker ahead of young Leandro Barbosa. The move almost certainly removes the Suns from the competition for Los Angeles Lakers free agent Kobe Bryant.
Phoenix is $16.3 million under the NBA salary cap, not counting the Nash deal.
Lakers, Krzyzewski talking
Duke's Mike Krzyzewski met with Los Angeles Lakers general manager Mitch Kupchak and was in "serious discussions" with the team about its coaching vacancy.
Krzyzewski, a 57-year-old Hall of Famer, has led the Blue Devils to three national championships in almost a quarter-century at the school.
"Coach K has informed us that the Los Angeles Lakers have contacted him and entered into serious discussions to fill their vacant head coaching position," Duke athletic director Joe Alleva said.
Lakers spokesman John Black said Kupchak met with Krzyzewski. "They talked about our coaching vacancy," he said.
Sources told the New York Daily News that the Lakers have put a five-year, $40-million deal on the table.
Clippers believe they can sign Kobe
The Clippers believe they have a good shot at signing Kobe Bryant and will do whatever possible at landing the plum of the free agent crop.
General manager Elgin Baylor said a meeting has been set up with Bryant, who opted out of his contract two weeks ago to become an unrestricted free agent after playing eight years with the Lakers.
"We wouldn't be wasting our time if we didn't think so," Baylor said when asked if he believes the Clippers have a legitimate chance of signing Bryant.
"It will be soon, I can't tell you exactly when," Baylor said regarding a meeting between the parties. "We intend to talk to Kobe to go through all specifics, see what he has in mind. He's friendly with a couple players here. He likes our team from what I understand from his agent. We're willing to do whatever it takes to get Kobe."
Around the league
Luke Jackson signed a three-year contract with the Cavaliers, who selected the former Oregon star with the 10th overall pick in last week's NBA draft. Financial details of Jackson's deal were not released, but under terms of the NBA's collective bargaining agreement Jackson was in line to sign for three years at $6.37 million.
Karl Malone had arthroscopic surgery on his right knee this week and will decide during the summer if he will return for another season. Malone's agent denied reports the second-leading scorer in NBA history was set on retiring… . The Miami Heat guaranteed forward Malik Allen's contract for next season, picked up the option on center Wang Zhi-Zhi's deal and made a qualifying offer to forward Rasual Butler… . Rodney Rogers declined to exercise an option on the final year of his contract with the New Jersey Nets and became an unrestricted free agent… . New Jersey Nets All-Star guard Jason Kidd had surgery on his left knee.
Local journalism is essential.
Give directly to The Spokesman-Review's Northwest Passages community forums series -- which helps to offset the costs of several reporter and editor positions at the newspaper -- by using the easy options below. Gifts processed in this system are not tax deductible, but are predominately used to help meet the local financial requirements needed to receive national matching-grant funds.
Subscribe to the sports newsletter
Get the day's top sports headlines and breaking news delivered to your inbox by subscribing here.
---