Sports
Lakers headed back to Finals
Tue., June 1, 2004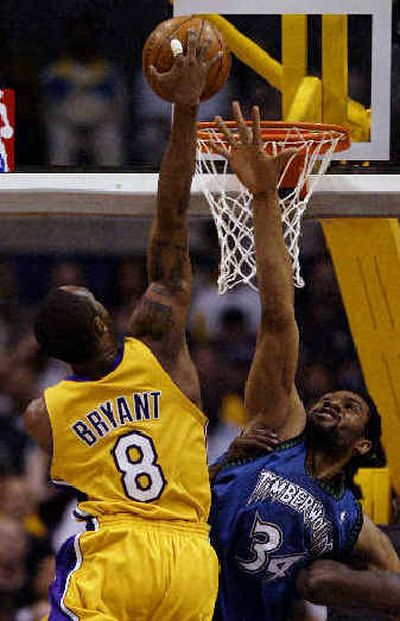 LOS ANGELES — This was why Karl Malone and Gary Payton signed on: The chance to play for a championship with the two guys who know all about it.
Shaquille O'Neal had 25 points and 11 rebounds, and Kobe Bryant scored 20 points in a 96-90 victory over the Minnesota Timberwolves in Game 6 of the Western Conference finals Monday night.
"This is the reason I came over here," said Malone, who will play for his first title in his 19th season. "I love being a part of this team. We've had a lot of struggles, but that's part of the reason you play. You've got to have a struggle to get to where you want to go."
Kareem Rush came from obscurity to hit six 3-pointers for the Lakers, who rallied in the fourth quarter for a win befitting their tumultuous season. They overcame Kevin Garnett, their constant bickering with the referees and O'Neal's horrific 7-for-20 free throw shooting to win the best-of-7 series four games to two.
Their fourth trip to the championship round in five seasons will begin Sunday. Detroit, leading the Eastern Conference finals 3-2, will visit Los Angeles if the Pistons finish off the Indiana Pacers on tonight.
"It's tough to do," Bryant said. "Four trips to the finals — it's remarkable. We're very fortunate."
The Lakers improved to 9-0 at Staples Center in the postseason, but Garnett and the Timberwolves spent most of the game on the verge of an improbable upset.
Unbowed by the Lakers' nine championship banners and intimidating crowd, the Timberwolves played tight defense and made enough free throws to take a lead into the fourth quarter. But Bryant and Rush led a 15-6 run early in the quarter, and Slava Medvedenko added two critical baskets in the final minutes.
Malone and Payton, who joined the Lakers last summer as free agents for significantly less than their market value, joined their teammates in a group hug near the bench before accepting the conference championship trophy.
Garnett — who had eight turnovers and fouled out in the final minute — had 22 points and 17 rebounds for the Timberwolves. Latrell Sprewell scored 27 points as Minnesota nearly extended the best season in franchise history to a Game 7 in Minneapolis.
Instead, the Wolves' first trip to the conference finals ended when it couldn't score enough to overcome the absence of injured All-Star Sam Cassell. The Lakers stole Game 1 in Minnesota and hung on for three home victories despite an impressive series from Garnett, who averaged 23.7 points and 13.5 rebounds.
"I got a taste of the Western Conference finals," Garnett said, "but it's like Spree (Latrell Sprewell) said in the locker room. It doesn't mean anything if you don't win it all… . We've just got to use this as experience and add a couple of pieces and go from there."
Bryant, O'Neal and Garnett all got in first-half foul trouble in a tightly officiated game. O'Neal sat on the bench for 41/2 minutes in the fourth quarter after picking up his fifth foul, and Malone also got five fouls trying to stay with Garnett.
But Rush, the second-year swingman who had 11 points in the entire series, made shot after shot from the perimeter. His 3-pointer with 3:22 to play gave Los Angeles a 10-point lead and sent the crowd into pandemonium.
"He's one of the best shooters on the team," O'Neal said as his young teammate beamed nearby. "I'm the guy that's always on him, and he responded. I didn't have to get on him too much (tonight)."
Though only five players remain from the Lakers' 2000 championship team, the current club has many similarities to the three-time titlists. The Lakers are almost invincible when any of their role players hits outside shots — and Rush splendidly filled the role previously played by Glen Rice, Robert Horry and Rick Fox.
But this series was in doubt until the final minutes of Game 6. After Minnesota won Game 5 to snap the Lakers' streak of 12 straight victories in potential closeout games, Los Angeles looked awfully shaky for most of this homecoming.
As usual, they expended plenty of energy arguing: Payton and Malone got technical fouls, and Bryant got one in his fourth straight game.
The Lakers jumped to a 13-point lead in the first quarter with Garnett out, but Minnesota rallied largely by going 21 for 22 from the line.
The Lakers hurt themselves with foolish defensive ploys and O'Neal's poor free throw shooting — and coach Phil Jackson inexplicably left O'Neal in the game with three fouls late in the first half. Shaq picked up his fourth with 1:01 to play.
Local journalism is essential.
Give directly to The Spokesman-Review's Northwest Passages community forums series -- which helps to offset the costs of several reporter and editor positions at the newspaper -- by using the easy options below. Gifts processed in this system are not tax deductible, but are predominately used to help meet the local financial requirements needed to receive national matching-grant funds.
Subscribe to the sports newsletter
Get the day's top sports headlines and breaking news delivered to your inbox by subscribing here.
---