Sports
So much can go wrong
Tue., June 1, 2004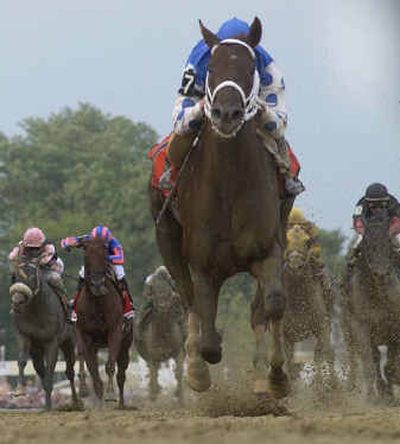 NEW YORK – The Triple Crown is racing's greatest challenge, so it stands to reason that it takes an exceptional horse to sweep the Kentucky Derby, Preakness and Belmont Stakes.
Greatness now awaits Smarty Jones, who Saturday will attempt to end 26 years of Triple torment when the undefeated Derby and Preakness winner takes on a handful of rivals in the 11/2-mile Belmont, the longest and most grueling race in the series.
Since Affirmed became the 11th Triple Crown champion in 1978, nine 3-year-olds have come tantalizingly close, only to fall short in the Belmont. A safety pin may have derailed Spectacular Bid. Silver Charm was hit by fatigue. War Emblem stumbled.
"You need an extra special horse to pull it off, plus you need good fortune, too," says Steve Cauthen, who rode Affirmed to three stirring victories. "But the more Smarty Jones races, the more he's looking like a champion."
The smallish, red chestnut colt has blown away the competition in all eight of his races, and is coming off a record 111/2-length romp in the Preakness. And it appears there is no horse capable of stopping Smarty Jones in the race called "The Test of the Champion."
If he wins, it ends the longest drought between Triple Crown winners. After Citation won it in 1948, a quarter-century passed before Secretariat came through in 1973, topped off by a record-setting 31-length triumph in the Belmont.
Ron Turcotte, who rode Secretariat, boldly proclaimed Smarty can win by 25 lengths. "I feel very confident the horse is being handled just right, and that he's the real thing," he said.
But when it comes to tackling the Belmont, just about anything can happen. So much has gone wrong for so many that there have been 17 near-misses since Sir Barton became the first Triple Crown winner in 1919.
No trainer is more familiar with Triple misfortune than Bob Baffert. Three times since 1997, Baffert had a horse win the Kentucky Derby and Preakness and fail in the Belmont.
Silver Charm tired in the stretch and was beaten by three-quarters of a length by Touch Gold in '97; Real Quiet fell victim to a poor ride by Kent Desormeaux and lost by a nose to Victory Gallop in '98; and War Emblem stumbled at the start and finished eighth two years ago.
After the third try, Baffert tried to find humor in defeat: "The next time I win the Derby," he said, "I'm heading home."
Trainer Bud Delp may have entertained similar thoughts in 1979, when Spectacular Bid appeared a cinch to follow Seattle Slew (1977) and Affirmed ('78) as the third consecutive Triple Crown champion. The Bid came into the Belmont with a 12-race winning streak and was an overwhelming 3-10 favorite. He finished third.
Two days after the race, Delp revealed The Bid had stepped on a safety pin in his stall the morning of the race. However, the colt's undoing likely occurred when jockey Ronnie Franklin got caught up in a speed duel with an 85-1 long shot.
There was a frightening end to the '99 Belmont, when Charismatic broke a bone in his left leg approaching the wire but still finished third. Jockey Chris Antley dismounted just past the finish line and cradled the colt's leg, keeping weight off it until veterinarians arrived.
Last year, trainer Barclay Tagg was uneasy throughout the Triple grind with Funny Cide, the popular New York-bred gelding.
Tagg tried to map out a perfect plan to keep Funny Cide fit, but the horse worked out way too fast a few days before the race, and heavy rains on race day turned the track into a sloppy mess. Funny Cide finished third behind Empire Maker, a horse he had beaten soundly in the Derby.
"I don't care how great a horse is going, they will come apart on you a little bit if every little step doesn't go right," Tagg said.
Smarty Jones' final workout went smoothly at Philadelphia Park on Friday, and now trainer John Servis will spend the next week trying to make sure nothing unusual happens.
"I realize now why there has only been a handful of horses to win the Triple Crown," he said. "It's a very grueling road and we've been on it since January."
So far, Smarty Jones has given Servis no reason to believe he won't join Seattle Slew as the only undefeated Triple Crown winners. Servis is confident, yet well aware of the pitfalls.
"I can't tell you how many times I've run the best horses and gotten beat," Servis said. "Look at War Emblem stumbling at the gate. And Funny Cide. There are so many things that can go wrong."
Local journalism is essential.
Give directly to The Spokesman-Review's Northwest Passages community forums series -- which helps to offset the costs of several reporter and editor positions at the newspaper -- by using the easy options below. Gifts processed in this system are not tax deductible, but are predominately used to help meet the local financial requirements needed to receive national matching-grant funds.
Subscribe to the sports newsletter
Get the day's top sports headlines and breaking news delivered to your inbox by subscribing here.
---