News > Voices
Unconventional leader
Sat., June 12, 2004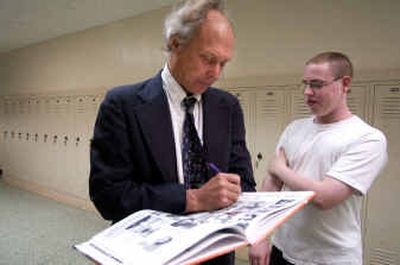 To send off West Valley High School Principal Cleve Penberthy, students organized a surprise assembly. They wrote a song about the 11-year veteran. They dedicated several performances of the spring play to him. "I'm going to miss seeing him walking through the hallway with his hair all over the place carrying his Starbucks," said junior Nick Audet.
The unconventional leader will take another role in the school district next year. Former Centennial Middle School Principal Gene Sementi will take over the high school's top job.
Students said they are sad to see Penberthy go.
"Most kids like Cleve because he's laid back, and he's not that strict," said junior Janelle Britton. "You can relate to him, and he listens to you."
Britton said Penberthy was a regular at her basketball, cross country and track events.
Junior Jackie Bailey, a student in Penberthy's mentorship class, credits the principal for keeping her on track to earn passing grades.
Penberthy, 56, has stressed the importance of fostering personal and respectful relationships between the adults and students in public high schools for years.
"I'm all about trying to make the place a little more humane," he said. "I like to stress that students are unique, idiosyncratic people. I'm about asking kids to be responsible for their actions."
When adults understand their students are complex individuals, they are better able to help them reach their potential, Penberthy said.
Next fall, Penberthy will spend half of his time on district-related projects. Though the specifics are not yet nailed down, he will likely help prepare the district to ensure all students meet the state's new graduation requirements.
He will spend the other half of his time on personal projects.
Penberthy said he's uncertain what he'll do after next year. His contract allows him to return to an administrative position in the district.
Penberthy is a Dartmouth College graduate who has worked in education for 34 years. He started his career as part of a team that built a new school in Amherst, N.H., based on the principles of personalized learning. He later served for 11 years as high school principal and superintendent of schools in Colorado's Telluride School District.
When he and his wife decided to move farther west, they chose the Spokane area in part because they had family in Sandpoint, Penberthy said.
One of Penberthy's first initiatives at West Valley High School was to rearrange the schedule to give teachers time each day to plan lessons and collaborate.
He said he's also proud of the faculty he's hired for the school, which is well over half the staff.
"They're all people with a certain source of passion for doing the right thing for kids," he said.
Penberthy was instrumental in winning the Washington State Achievers scholarships for the school. In 2001, the Bill and Melinda Gates Foundation named West Valley one of 16 schools eligible for 10 years of college scholarships for low-income students interested in attending Washington schools.
"So far 180 kids have benefited from it; that's a life-changing thing," Penberthy said.
Audet recently received word that he'd won one of the scholarships.
"I'll be the first one (to attend college) in what I believe is as far back as our family tree goes," he said. "It's good to start a new tradition."
Audet said Penberthy checked and double-checked the eight essays he wrote for the application.
"He kept helping me tweak them," he said.
The Gates Foundation also gave the high school $400,000 in planning money to transform it into a place where small learning communities foster deeper relationships between teachers and students.
In three years, teachers have created three semi-autonomous academies for ninth- and 10th-graders. The process has been fitful and controversial in the West Valley community, but Penberthy stands proudly by the work.
"We've tackled some tough issues," he said. "We haven't just been dealing with first order change. We've been digging deeper."
Special education teacher Geoff Hensley said Penberthy has taught him a lot about working with others.
"He just kind of put everything out there," Hensley said. "He'd take criticism. He enjoyed a good debate. The biggest thing about Cleve is his loyalty. Whether you agree or disagree, he'll always stand by you."
Local journalism is essential.
Give directly to The Spokesman-Review's Northwest Passages community forums series -- which helps to offset the costs of several reporter and editor positions at the newspaper -- by using the easy options below. Gifts processed in this system are not tax deductible, but are predominately used to help meet the local financial requirements needed to receive national matching-grant funds.
Subscribe now to get breaking news alerts in your email inbox
Get breaking news delivered to your inbox as it happens.
---