News > Spokane
Home stayed open despite deaths, rapes
Sun., June 13, 2004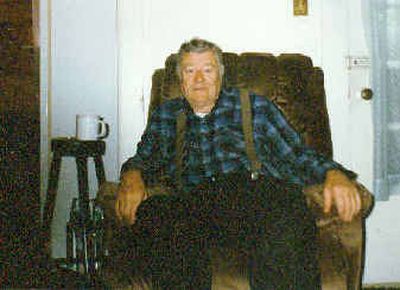 SPRINGDALE, Wash. – In the final days of his life, Herbert Kurtzhall whispered one phrase again and again to the nurses watching over him: "I'm in hell."
The 82-year-old Alzheimer's patient arrived at Spokane's veterans hospital so filthy that a doctor wrote an order for him to be bathed before he was treated. His broken hip had slid into his abdomen. Yellow bruises covered his chest and biceps. A weeping rash had spread across his groin, according to sworn depositions from hospital doctors and nurses.
"It's something I'll remember the rest of my life," said Phillip Kurtzhall, Herbert's son. "My visual of him lying in that hospital bed was pretty horrifying."
Kurtzhall's death on Thanksgiving Day 2001 became a catalyst that would lead to the closure of one of Eastern Washington's most troubled adult family homes.
Hundreds of pages of documents, as well as interviews with the owners of the home, Roger and Flora Mae Sketo, and state officials, portray a home ill-equipped to handle its most serious patients and state investigators reluctant to revoke the license despite the mounting evidence of problems. The case has raised questions about the state's oversight of adult family homes, which operate without federal oversight, little training and few state regulations.
"It's the worst record I have ever seen, not just in terms of the violations, but also in terms of the failure of the state to act," said Alice Dupler, a Gonzaga University law student and former state elder abuse investigator who helped compile the case. "The system did not respond the way it should have. As a result, a lot of people got hurt."
Fifteen years of state records from the Department of Social and Health Services – made available by attorneys for Kurtzhall's estate – show a litany of problems at the Sketo Family Home in tiny Springdale, Wash. Those conditions existed long before Kurtzhall's arrival at the rural farmhouse in the summer of 2001, and they persisted 30 months after his death, a review of the records show.
The records include repeated violations of state statutes, and they document unexpected deaths, rapes, accidental overdoses and chronic mismanagement of medications at the home operated by Roger and Flora Mae Sketo. In May, Kurtzhall's family signed a $300,000 settlement with the home's insurance company.
Stephen Haskell, Kurtzhall's attorney, said it was the largest settlement against an adult family home in Eastern Washington. Haskell said he did not sue the state because he feared DSHS would allow the home to continue to operate, as proof that it was fit to care for mentally and physically disabled clients. The state investigated Kurtzhall's death and issued a $300 fine but did not revoke the home's license.
"Based on the facts we had at the time, we took the appropriate action," said Shirlee Steiner, regional director of the state's Residential Care Services, which oversees the home. To close the home, Steiner said, the state must be able to prove that the residents are in imminent danger of harm.
Instead, social workers continued to send medically fragile clients to the house in Stevens County.
For nearly two and a half years after Kurtzhall's death, the home continued to operate, and the state continued to pay the Sketos to care for physically and mentally disabled wards. State financial records show DSHS paid the Sketos more than $203,000 from 2000 to 2003, or about $50,000 a year.
Roger Sketo, 66, defended his actions in the Kurtzhall case, including his decision not to call an ambulance after Kurtzhall broke his hip.
Instead, Sketo waited several hours after learning of Kurtzhall's injury, until Sketo's son came home to help him transport Kurtzhall to the hospital. In a deposition last year, Sketo said he "wasn't about to pay for an ambulance to be able to get him into the hospital."
In an interview last week, Sketo said he waited at the hospital for several hours after Kurtzhall was admitted.
"I could have dumped him there, but I'm not that type of man," Sketo said. "I just don't mistreat people."
Last winter, an investigator visited the home and found residents lying in bed with coats and flannel shirts piled on them to keep warm. Sketo admitted to turning off the heat to residents' rooms to save money. The investigator also reported the Sketos had temporarily moved one resident to an unlicensed basement room in a home operated by the Sketos' grandson. The state fined the home $8,300. Last month, the Sketos relinquished their license, and the state waived the fine.
Yet today, the Sketos continue to care for one developmentally disabled man, who said he wants to stay at the home. They moved the other residents to the adult family home operated by their grandson, who is appealing his own state fines. Flora Mae Sketo works weekends caring for the men who were removed from her home.
"It's off the charts," said Kary Hyre, the state's long-term care ombudsman, who pressured the state for years to close the home. "You've got their license taken away, and yet all the clients are still there in that family system."
Adult family homes
Attorney: And you have specialty training for residents with mental health problems?
Flora Sketo: I don't know if I do or not. I think I do. Yeah, I'm sure I do.
– From sworn deposition in the Kurtzhall case, March 18, 2003
Today, about 300 homes operate in Eastern Washington, typically charging residents about half the cost of nursing homes. Two state investigators, who are also tasked with responding to complaints at the region's 80 boarding homes, cover all the homes in 11 counties.
Designed as an alternative to institutions, the homes cater to low-income disabled and elderly clients, caring for up to six residents. The clientele are typically a mix of private-pay residents and indigent, medically disabled residents whose care is financed by the state, through DSHS' Disabilities and Long-Term Care Administration.
The state has few requirements. The providers must be literate and have a diploma or GED. They must be 21 years old. They must complete 28 hours of training, though they can operate the home for up to four months as they try to earn a license.
"The training standards are very poor in Washington state," Hyre said. "We've tried to push the department and the industry to improve their training."
In Wisconsin, where Hyre served as a director of programs for people with developmental disabilities, providers must complete a 90-day training program.
"You need people with strong skill sets," he said. "Human beings are the most complicated things we know. You can't learn what you need to know in less than a week."
Roger Sketo, the former marshal of the town of Springdale, had served in the military and completed his GED. His wife, Flora, completed eighth grade, according to depositions. They earned their license in 1988, before the state required providers to have a high school degree.
They operated the adult family home in the pine trees, down a gravel road in rural Stevens County. The home is ringed by a large lawn and a neat garden, which Flora tended with the residents. Flora said she worked hard, feeding, washing and bathing the men, while her husband handled the record-keeping. But she conceded in an interview the medications were complicated and difficult to remember.
By the early 1990s, state caseworkers were routinely sending the Sketos clients with an array of physical ailments and serious mental illnesses, including dementia and schizophrenia.
History of problems
Attorney: When a resident refuses to take their medication, do you write that on the medication log?
Roger Sketo: There's no place to write it on the medication log.
Attorney: Do you note it anywhere?
Sketo: No, not really.
– From sworn deposition in the Kurtzhall case, March 18, 2003
David Thomas Gossi, a 34-year-old developmentally disabled man, moved to the home from Lakeland Village, a state institution near Spokane that recommended the Sketos. His mother said she thought Flora Mae Sketo had a nursing degree.
In July 1990, Roger Sketo brought his body to a local hospital. State reports say Gossi vomited and choked to death on the way to the emergency room, though a nurse on staff that day said the man appeared to have died some time prior.
"It was strange that he was brought in in the back of a van, not an emergency vehicle," the nurse said in an interview last week. "In my opinion, they didn't get him the medical treatment he needed soon enough."
The nurse, who asked not to be named, said Sketo and police instructed her not to examine the body. She said Gossi's body appeared emaciated. An autopsy said the body was "well-developed" and concluded Gossi had died of bronchial pneumonia.
When the nurse offered to contact the family, she said Roger Sketo told her the man had no family.
Gossi's mother, Shirley Thimsen, of Boise, said she heard conflicting stories of her son's death.
"I was told a couple things," Thimsen said. "I was told he died at the hospital. I was told he had died in the car. I was in shock. I was very surprised by his death."
Thimsen said the Sketos never told her that her son was ill.
Four months later, police were called to the home after a 51-year-old male patient reported being raped repeatedly at knifepoint by another male resident. State reports say it was unclear how the resident gained access to a butcher knife or why the rapes went unreported for two months.
While the attacker was jailed, a caseworker from DSHS' Developmental Disabilities returned the victim to the home.
In 1992, Sketo again brought a corpse to a local emergency room. He told a state investigator the resident had a stomachache but no other signs of illness before he collapsed and died. The coroner found the resident had died of an untreated bowel obstruction – an "extremely painful" condition that "should have been obvious," according to a state report. A state investigator said the Sketos had "seriously impaired judgment" but did not fine them.
Throughout the 1990s, state records indicate the Sketos were overwhelmed by their patients' complex medication regimens.
In December 1993, two residents overdosed in separate incidents, and both survived. In one case, an 86-year-old man overdosed on Clozapine, a powerful antipsychotic – and a drug state records indicate he had not been prescribed.
Weeks later, an investigator visited the home and found the medical records in disarray. Medications were in an unlocked cabinet. Various pills lay in a mug, "almost like a candy dish," the investigator wrote. When asked about them, Roger Sketo "grabbed a hand full of the pills and said, 'I know who they are for,' " according to the reports.
The following year, in another inspection, Roger Sketo complained about the complexities of the clients' medication. One client's prescriptions had "been changed so fast and so much that he couldn't keep up (so quit trying)," the investigator wrote.
With each visit, investigators unearthed more concerns.
In 1994, the state discovered the Sketos had used $20,000 of an elderly client's money to build a small apartment in their back yard. The 90-year-old client said he consented to paying for the apartment. He also said he agreed to give the apartment to the Sketos, according to state records.
The investigator worried whether the elderly client was "competent to make such a decision," but again he did not issue a violation or fine.
Apart from the episodic trips to the hospital or calls to police, a picture of the day-to-day life at the home emerges in the state files. Investigators noted the skimpy meals, including gravy over rice for supper, and ramen noodles for lunch.
One client alleged Sketo punched him in the stomach. Others complained of verbal abuse and that Roger Sketo had "a temper … and yells at others."
In an interview last week, Sketo denied he abused residents. But he admitted he sometimes became frustrated. He remembers confronting one disabled man who insulted his wife.
"I said, 'If you were normal, you'd be knocked on your butt,' " he said he told the resident. "But you're not (normal), so I'm not going to."
Problems continued at the home. In 1997 and again in 1999, patients fell at the home and later died of the resulting injuries.
When pressed by investigators, Roger Sketo complained to their supervisors.
"We are human and make mistakes," Sketo wrote. And then, "When the investigators com in and get the care take so upset the caregiver canot take care of the clients in the proper manner, it also gets me upset when someone is badgering my wife to the point where she is crying when I got home."
Sketo complained about the regulations, the state's pay and its investigators. Oversight of the home fell primarily to investigators from DSHS, and its caseworkers from the Division of Developmental Disabilities.
Volunteers from the office long-term care ombudsman, a private nonprofit that investigates elder abuse, also visited the home several times in response to complaints.
Hyre, who heads the statewide ombudsman program, said that DSHS staff warned him last year not to send investigators to the home "because they feared for the safety of our people." Hyre said there had been no specific threats.
By the time Herbert Kurtzhall arrived, the Sketos' state file was more than 100 pages thick.
Too much to handle
Attorney: Did Herbert's Haldol (a dementia medication) ever run out before it was scheduled to be refilled?
Roger Sketo: I didn't know Herbert was on Haldol.
– From sworn deposition in the Kurtzhall case, March 18, 2003
Herbert Kurtzhall spent the last few months of his life searching for his deceased wife. He stumbled into bedrooms and basements in the middle of the night, called her name up and down hallways.
Virginia Kurtzhall, his wife of more than 50 years, had died that spring. But Herbert, his Alzheimer's rapidly progressing, had not given up his search for her.
By July 2001, Phillip Kurtzhall, who lives in Spokane, decided he could no longer care for his ailing father.
Nursing homes were too costly, he said. A developmentally disabled family member had lived at the Sketo home in Springdale, and the care seemed fine, Phillip said. In late July, he left his father at the home. He paid the Sketos $3,000 to take care of his father, a rate of $1,000 a month.
The Sketos said Phillip did not provide a list of his father's medications. Herbert Kurtzhall appeared unkempt and "stunk," Roger Sketo said.
The elderly man fought Flora's attempts to bathe him, he added, and took to sleeping in a chair in the living room, refusing to go to his room.
Yet the Sketos accepted Kurtzhall without a state assessment of his care needs – a statutory requirement – or their capability to handle them.
"He never should have been here," Flora said this week. "He was way too much to handle."
The Sketos said they kept Kurtzhall because they didn't know where else to send him.
Just a single page from the Sketos' records accounts for the final month of Kurtzhall's three-month stay in the home. Lawyers for his estate say the Sketos doctored the medication report – it includes notations indicating they gave him medicine several days after he was hospitalized.
The medication log also contains Flora Sketo's initials indicating she gave Kurtzhall medications, though in her deposition she stated she never gave him any medication.
On the morning of Oct. 15, 2001, Roger Sketo found Kurtzhall in the recliner. Kurtzhall refused to leave the chair and complained of leg pain.
He refused to get up for breakfast, then again at lunch. In late afternoon, Sketo said, he and a disabled resident attempted to lift Kurtzhall so that Flora could wipe urine from his body.
"He couldn't put any weight on the leg," Sketo said. "I told my wife there's something drastically wrong."
Still, the Sketos did not call an ambulance, in part, Sketo reportedly told a state investigator, because Roger "wasn't about to pay for an ambulance." Kurtzhall spent the day in recliner, until the Sketos' son arrived to help lift him into the van.
Medical staff were shocked by Kurtzhall's condition. His clothes were soaked in urine. Abrasions and bruises covered his skin. A nurse said he did not appear to have been bathed "in a very long time." Kurtzhall's attorney said his hip had been broken at least 15 hours before the Sketos took him to the hospital.
"I have seen patients who live alone and have no one to care for them in this extreme state of neglect and poor hygiene," Dr. Melissa Sousley, an emergency room physician at Spokane's Veterans Administration Medical Center, testified in a deposition. "However, patients do not usually appear in this state when they are being cared for in a state-licensed, long-term facility."
Kurtzhall died three weeks later in a nursing home in Tekoa, Wash.
The state fined the Sketos $300 for failing to provide appropriate care to Kurtzhall. In response to the violations, Roger Sketo wrote a half-page Corrective Action plan.
"This problem was corrected on Oct. 15/01," he wrote to state officials. "Client being placed in the VA care facility in Spokans where hopfly he can receive the proper care. Solved the problem."
The state agreed, and the Sketos' license remained in place.
A closure
Roger Sketo: You can't make sure that people don't hurt themselves. It can happen anytime. My responsibility is to keep them safe, fed, warm, clothed and just in general take care of them and keep them safe.
– From sworn deposition in the Kurtzhall case, March 18, 2003
For months, the home continued to operate. The complaints kept coming. An ombudsman cited the lack of nutrition, noting the "watered-down soup" and snacks that consisted only of coffee.
"One resident said he couldn't remember having eaten since the day before," one report said. "Another resident said, 'I think we had something yesterday.' "
In spring of 2003, a state worker cited the Sketos for not having a basic emergency exit plan. Five months later, in November 2003, Roger Sketo said he had been unable to write the plan and was going on vacation.
"My elk hunting trip is my vacation," Sketo wrote to the state worker. "Out of here for the year."
Dupler, the legal intern, flew to Olympia in December to try to persuade state officials to close the home.
"Why didn't they close it?" Dupler said last week. "They knew the history, they knew what was going on. I don't know what happened."
In an investigation last winter, a state worker found residents huddled in their beds in the middle of the day, draped in winter coats and flannel shirts to keep warm. The temperature hovered in the low 60s.
"I'm an old man," one resident told the state worker. "I can't take this cold."
Roger Sketo admitted to shutting off the circuit breaker to the rooms so that residents could not adjust the temperature. He complained that he had paid for central heating in the home, and "he was not going to pay any additional money to heat the home," according to the state report.
The report said one resident was taken to the home operated by Sketo's grandson to perform chores for $40 a month. A lock was installed backward in one door, allowing a resident to be locked into his own room. Another resident weighed only 105 pounds fully clothed, 22 pounds less than the Sketos reported.
The investigator watched Flora give a resident an anti-depressant, even though the medication log showed the resident had already received his medication for the day.
Finally, in February, the state fined the Sketos $8,300. In May, the Sketos closed the home and moved three residents into their grandson's care.
Under state law, even without a license, the Sketos can continue to care for one resident. Roger Sketo said he collects the man's $700-a-month disability payments as compensation. The man is allowed about $25 to $30 a month in spending money, he added.
Flora works weekends at her grandson's adult family home, caring for the same disabled men who once lived in her home.
"I don't know what I'd do if couldn't care for my boys," Flora said last week. "I hope and pray I didn't hurt anybody."
Local journalism is essential.
Give directly to The Spokesman-Review's Northwest Passages community forums series -- which helps to offset the costs of several reporter and editor positions at the newspaper -- by using the easy options below. Gifts processed in this system are not tax deductible, but are predominately used to help meet the local financial requirements needed to receive national matching-grant funds.
Subscribe now to get breaking news alerts in your email inbox
Get breaking news delivered to your inbox as it happens.
---