Sports
It's a blur at Champions meet
Fri., May 7, 2004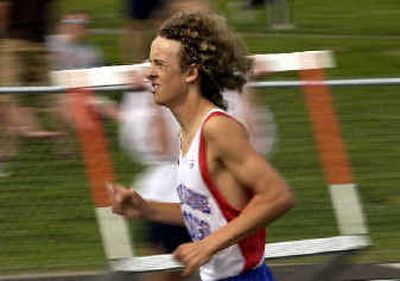 The District I Meet of Champions provided the stage where all high school track and field athletes in North Idaho were on equal footing Thursday afternoon in ideal weather.
From there, though, the fleetest afoot, the strongest throwers and the highest and longest jumpers separated themselves from the pack as 15 meet records fell in the fifth annual meet that more than served its purpose – as a showcase for the top athletes in the region regardless of classification and a tuneup for state-qualifying meets next weekend.
If Post Falls High's new all-weather track wasn't broken in before, it is now.
A couple of underclassmen each broke two meet records.
Kootenai sophomore Darcy Collins, who captured State 1A titles last year in the high jump and 300 intermediate hurdles, eclipsed her own meet mark in the hurdles in a time of 46.43 seconds, .05 faster than last season. In the high jump, she vaulted 5 foot, 4 inches, erasing the previous best by 4 inches. It also topped her career best by an inch.
"It's a lot of fun to have a lot of competition," Collins said of the all-star meet. Her goal at state is to jump 5-5 and break the 1A record.
Bonners Ferry freshman Katie Poston blew away the meet marks in the shot put and discus — records perhaps only she will be able to break the next three years.
Poston threw the shot 41-8, topping the record (36-4¾) by more than 5 feet. Her personal best this season, which is also the school record, is 44-1¾. She heaved the discus 136-11, 7 inches shy of her school record but 13 feet farther than the previous meet mark.
Senior sprint specialists Amy Dyck of Sandpoint and Meagan Garcia of Lake City dueled a final time in the 100 meters. But unlike their showdown last week in the Inland Empire League championships, the race Thursday wasn't a photo finish.
For the second straight time, Garcia knocked off Dyck. Garcia finished in 12.28, .15 ahead of Dyck as the Timberwolves sprinter broke her school record and the meet record, both of which were 12.4.
Garcia took a lead immediately out of the blocks, but Dyck closed on her near the halfway point. That's when Garcia seemingly put it into another gear. They didn't face off in the 200 because Dyck chose not to aggravate her already aching shins and save her legs for the all-important regional meet next week.
The anticipated showdown between Intermountain League sprinters Caleb Cazier of Timberlake and Chris Person of Priest River — both of whom took first and second respectively in the State 3A 400 last year — essentially didn't get out of the blocks.
Both runners have struggled with severely strained hamstrings this season. Person was set to test his while Cazier came to the meet prepared to watch and give his legs one more week of rest.
Perhaps not exercising the best judgment, Cazier entered the 400. And he felt the pain out of the blocks. By the second turn with 200 meters to go, Cazier was laboring and he started to pull up. But he finished the race.
Person, meanwhile, not aware of Cazier's problems, raced as if he felt his friendly rival on his heels as he blazed to a school-record and meet-record time of 49.58, topping Cazier's meet record (49.7). Person's time also was better than his electronic time of 50.25 at state last year.
"He looked smooth," Priest River coach Jared Hughes said. "Right now it's just getting his mental state strong again. Injuries sometimes get in your head. But he was fine today."
Person said the key was not psyching himself out before the race.
Cazier, who said he received the OK to run Thursday from his physical therapist, was more angry that he lost and allowed the pain to distract him than the fact that he may have set himself back a week.
"It threw me out of my own lane," Cazier said of the pain he felt with 200 meters remaining. "It (the leg) wouldn't accept my weight. If I have to overcome it mentally then that's what I've got to do. I will run next week."
Cazier said he never considered dropping out of the race when he stumbled.
"You never (quit) a race you start," said Cazier, who amazingly managed to take second, 1.2 seconds behind Person. "I can't not finish. That's just the way it is for me."
Person was a double winner, cruising to victory in the 200 (22.73).
There were three other double winners. John Willy of Post Falls won the long jump (19-10) and the triple jump (42-4); Breanna Sande of LC captured the 1,600 (5:23.63) and 3,200 (11:32.16); and Taylor Neal of Coeur d'Alene won the 800 in a meet record 1:58.26 and the 1,600 (4:36).
Other top meet-record efforts among the girls were: Sasha Tucker of LC in the 400 (58.91); Lynsie Seltenreich of Kellogg in the 800 (2:23.25); and Gretchen Bailey of Wallace in the long jump (17-3½).
Other top meet-record efforts among the boys were: Dustin Hoogland of Sandpoint in the pole vault (14-2) and Matt Rice of Bonners Ferry in the high jump (6-2 1/2 ).
Local journalism is essential.
Give directly to The Spokesman-Review's Northwest Passages community forums series -- which helps to offset the costs of several reporter and editor positions at the newspaper -- by using the easy options below. Gifts processed in this system are not tax deductible, but are predominately used to help meet the local financial requirements needed to receive national matching-grant funds.
Subscribe to the sports newsletter
Get the day's top sports headlines and breaking news delivered to your inbox by subscribing here.
---