Sports
Berroa signs extension with Royals
Sat., May 8, 2004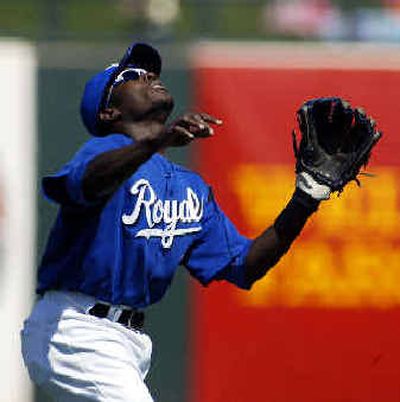 American League rookie of the year Angel Berroa and the Kansas City Royals agreed Friday to an $11 million, four-year contract extension.
The shortstop, who is making $372,500 this season, gets $500,000 in 2005, $2 million in 2006, $3.25 million in 2007 and $4.75 million in 2008. Kansas City has a $5.5 million option for 2009 with a $500,000 buyout.
In April 2002, the Royals signed another of their young players, Mike Sweeney, to $55 million, five-year extension.
"Angel was a key component to our success last season," general manager Allard Baird said. "It was important for us to sign him to a long-term deal as we continue to build this ballclub."
Berroa, 26, hit .287 with 17 homers and 73 RBIs last year. This season, he was hitting .214 with one homer and four RBIs when migraine headaches forced him onto the 15-day disabled list after only 14 games.
Mondesi returning to Dominican Republic
Pirates outfielder Raul Mondesi is returning home to the Dominican Republic for personal reasons.
"He's going to the Dominican Republic to be with his family, and we support that decision," Pirates' general manager David Littlefield said after Friday's 4-0 loss to Los Angeles.
"He's going to assess the situation when he gets to the Dominican Republic, and we'll talk to him on a daily basis," Littlefield added, saying he did not want to comment further.
Prior to Friday's game, the Pirates announced that Mondesi would not be in the starting lineup as scheduled.
Mondesi, signed as a free agent in February, is hitting .283 with two homers and 14 RBIs this season.
• Former Gonzaga University outfielder Jason Bay was activated from the 15-day disabled list and was in the Pittsburgh Pirates' starting lineup against the Dodgers.
Bay, 25, hasn't played since last season after having right shoulder surgery in November. He batted .400 with Triple-A Nashville during a four-game rehab assignment that ended Thursday.
White Sox activate Valentin from DL
The Chicago White Sox recalled former Spokane Indians infielder Jose Valentin from a rehabilitation assignment at AAA Charlotte.
Valentin was put on the 15-day disabled list April 20 with a strained left hamstring. He was batting .271 for the White Sox, and .065 in eight games with Charlotte.
Kelly Dransfeldt was sent to Charlotte to make room on the roster.
Dodgers place Roberts on DL with hamstring injury
The Los Angeles Dodgers placed outfielder Dave Roberts on the 15-day disabled list because of a strained right hamstring.
The move was retroactive to Wednesday.
Roberts, who already missed three games with the injury, is hitting .265 with one home run and nine RBIs. He was tied for the major league lead with 15 stolen bases.
The Dodgers recalled infielder Joe Thurston from Triple-A Las Vegas to replace Roberts on the roster.
• Los Angeles catcher Todd Hundley, out all season while recovering from a back problem, will have surgery Tuesday to repair torn cartilage in his right hip.
Manager Jim Tracy said the two-time All-Star felt discomfort in his hip while rehabilitating from back surgery, and an MRI exam confirmed the injury.
It was not known when Hundley might be able to play again.
Clearing the bases
Chipper Jones had hoped to come off the disabled list Friday, but the Atlanta Braves decided to give his right hamstring another day of rest. Jones remained on the 15-day DL as the Braves began a three-game series against Houston, even though he played a rehab game at Class A Rome on Thursday night. Jones, who hasn't played for the Braves since April 18, went 0 for 4 during his minor league stint but reported no problems with his hamstring. … Third baseman Ty Wigginton returned to the New York Mets after spending two weeks on the disabled list because of an ulcer. To make room for Wigginton on the 25-man roster, the Mets sent outfielder Jeff Duncan to Triple-A Norfolk. … Indians pitcher Jose Jimenez was activated from the 15-day disabled list.
Local journalism is essential.
Give directly to The Spokesman-Review's Northwest Passages community forums series -- which helps to offset the costs of several reporter and editor positions at the newspaper -- by using the easy options below. Gifts processed in this system are not tax deductible, but are predominately used to help meet the local financial requirements needed to receive national matching-grant funds.
Subscribe to the sports newsletter
Get the day's top sports headlines and breaking news delivered to your inbox by subscribing here.
---