Sports
Ferris gets big, big victory
Sun., May 9, 2004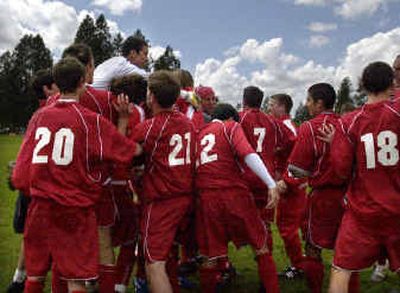 The Ferris Saxons are feeling 10 feet tall, or approximately 3 1/2 feet taller than Cody Wilson.
Wilson, a 6-5 senior forward, scored off a counter play with 7 minutes left Saturday to give Ferris the District 8 4A boys soccer championship with a 1-0 win over host Lewis and Clark at Hart Field.
Wilson gathered in a pass from junior Kyle Yonago, took his long strides down the middle, and scored to the upper-right corner. LC senior goalkeeper Ben Fairchild deflected the shot, but not enough to keep it out of the net.
"It was really close," Wilson said of his 13th goal of the season. "I thought it wasn't going in when I looked up."
"The goal came on a quick counter," said LC coach Kenny Krestian. "There's not a whole lot you can do there. They just caught us on a break. Ben got his hand on it, but it was just unfortunate that he couldn't push it wide rather than in."
Ferris coach Robin Crain had to marvel at his tall season scoring leader.
"With Cody, it takes him some time to get going, but once he gets going there are few guys who can stay with him," said Crain said. "He just outran the defender and knocked it home."
Ferris (13-4) will open state play on Saturday against Big Nine Conference No. 2 Pasco (13-5), tentatively at 1 p.m. at Ferris. Wenatchee defeated Pasco 3-1 in the District 5/6 4A championship match.
LC (15-1) will play Central Valley (13-4) at 4 p.m. Tuesday at Hart in the winner-to-state, loser-out match.
Wenatchee (13-3) will host the LC-CV winner at 1 p.m. Saturday in another state opener.
LC, the two-time defending district champion, had won 43 of its previous 45 matches. Only the last two State 4A champs, Decatur and Richland, had defeated the Tigers during the string.
Krestian couldn't recall the last time LC lost on its home field and endured a shutout. Ferris, in a non-league match during the 2002 season, was the last GSL team to defeat the Tigers.
The Saxons lost to LC 1-0 in last year's district title match. LC defeated Ferris 2-1 in double overtime early in this GSL season.
"We worked harder in the second half this time," said Saxons senior goalkeeper and co-captain Josh Anderson. "The last time we just sat on a one-goal lead and they made us pay for it."
"The first game we played against them, we were close to shutting them out there," Crain said. "When you play them, it's just a matter of knowing where their top three guys are."
One of LC's top three, GSL scoring champion C.J. Moe, hurt his knee on a collision and sat out much of the first half. Krestian said the injury kept Moe from being up to par in the second half.
Ferris had a pair of good scoring chances in the first half. Yonago knocked a header wide with Fairchild coming out of the goal. Fairchild also took a breakaway off the foot of senior Austin Washington.
Anderson estimated that he stopped three tough LC shots during the match. A first-half cross that he had to punch away was his scariest moment.
"This takes a lot of teamwork and staying cool," Anderson said. "We haven't done this for a while. We've kept it close the last few games and finally got it."
The Tigers came up empty midway through the second half on a 3-on-2 play. With 10 minutes left, Ferris attempted a header off a Dan Landry penalty kick, but the shot sailed well right.
Eric Burke and Cody Taff of the Saxons picked up yellow cards for hard tackles soon after Wilson's goal.
"It was a real back-and-forth game, where nobody took a lot of control," Krestian said. "On the whole it was what a district championship should be: 1-0, very tight."
In another district match, Jay Vela scored to the upper-right corner late in the first half, and host Central Valley (13-4) held off Mt. Spokane 1-0 to eliminate the Wildcats (11-7). Vela took a pass from Ryan Sather to record his fifth goal of the playoffs. CV has won eight of nine matches, including a 2-1 decision over Mt. Spokane during the regular season. The Wildcats ended their season by dropping five of seven matches. CV's Tuesday opponent, LC, has outscored the Bears 8-1 during two matches this season.
• Chad Thornton's 17th goal of the season, on a penalty kick early in the first half, allowed Cheney (14-4) to defeat visiting Selah 1-0 in a 3A regional loser-out match. The penalty kick was set up by a hand ball in the goal box. The Blackhawks have won seven of eight matches, the exception being a setback to District 8 4A champion Ferris. Cheney advanced to the double-elimination portion of the tournament and will host Mid-Valley No. 2 West Valley-Yakima at 4 p.m. Tuesday. WV-Yakima edged M-V No. 4 Grandview 3-2… . In another 3A regional opener, Junior Garcia accounted for six goals and three assists as M-V third-seeded Sunnyside rolled to a 13-1 win over visiting West Valley-Spokane. Austin Bauman scored his fourth postseason goal for the Eagles (2-17). Sunnyside will travel to M-V No. 1 Hanford on Tuesday. Hanford topped M-V No. 6 Prosser 6-0.
• Lakeside and Chewelah will determine the sixth seed to the District 7 2A tournament at 4 p.m. Monday at Deer Park. The tourney begins Tuesday with two loser-out matches: the No. 6 at No. 3 Pullman (11-3-1), and No. 5 Deer Park (5-10) at No. 4 Colville (11-5). No. 2 Riverside (9-4) and No. 1 Medical Lake (11-5) have byes until Thursday.
Local journalism is essential.
Give directly to The Spokesman-Review's Northwest Passages community forums series -- which helps to offset the costs of several reporter and editor positions at the newspaper -- by using the easy options below. Gifts processed in this system are not tax deductible, but are predominately used to help meet the local financial requirements needed to receive national matching-grant funds.
Subscribe to the sports newsletter
Get the day's top sports headlines and breaking news delivered to your inbox by subscribing here.
---