Sports
Jackson: Talent not all
Sun., May 9, 2004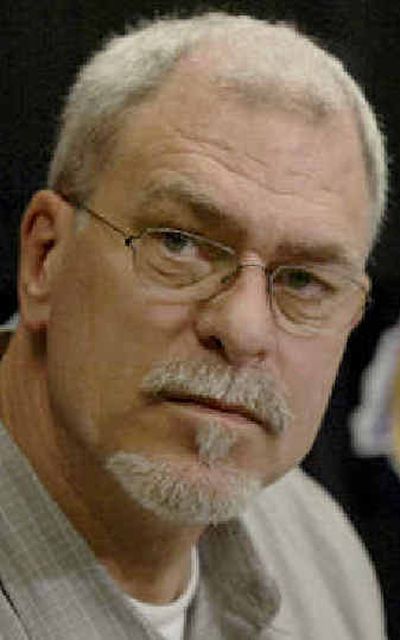 Rich Roberts, former Los Angeles Times sportswriter, ran across a book that contained this 1993 Wall Street Journal quote from Lakers coach Phil Jackson about the team he was coaching at the time, the Chicago Bulls:
"Even with Michael (Jordan), we never saw ourselves as overwhelmingly talented. In fact, I think there is such a thing as having too many good players."
About the team he'd played for, the New York Knicks, Jackson said:
"I've always thought the trade for Dave DeBusschere (from Detroit in 1968) for Walt Bellamy and Howard Komives made champs of the Knicks, even though it probably reduced their overall talent level."
Their next move
"I could be wrong," writes Mike Downey of the Chicago Tribune, "but I believe the San Antonio Spurs will be much more difficult to defeat next season after Karl Malone and Gary Payton both decide to sign with the Spurs to have a shot at an NBA title."
To that, Larry Stewart of the Los Angeles Times posed the question: Would the Spurs want them?
Call it Unpleasantville
James Guillen, 24, a special-education teacher and basketball coach at a middle school in Pleasantville, N.J., presented one of his players, a 13-year-old, with a "Crybaby Award" trophy. Now, Guillen will be getting some special education. School officials, who banned him from coaching at the school again, ordered him to undergo sensitivity training.
Always hustling
Pete Rose might never have been a very good con man. At least that's the implication from a story ESPN's Joe Morgan told at a recent luncheon.
According to the Dallas Morning News, Morgan said Rose had a paper route as a kid, and one day called the district manager, saying he'd been mugged and robbed. When Rose was asked how much he'd lost, he said, "Hold on a minute. Let me count it."
Three are enough
Annika Sorenstam, a recent guest on ESPN, was asked by Kenny Mayne whom she would want in her ideal foursome.
"Madonna, although I don't know if she plays golf," Sorenstam said. "And I'd like to have a good-looking guy, maybe Brad Pitt."
Mayne: "That's only three."
Sorenstam: "That's enough."
Good idea
NASCAR's Robby Gordon, to the Detroit Free Press, on wrecking his car during a race while talking on the radio with crew chief Chris Andrews: "Our conversations have shortened up since then."
Lucky number?
John Elway, on Denver Broncos running back Tatum Bell's wanting to wear No. 7, Elway's retired number: "Tell him if he gets 2,000 yards and scores 25 touchdowns, it's all his."
Local journalism is essential.
Give directly to The Spokesman-Review's Northwest Passages community forums series -- which helps to offset the costs of several reporter and editor positions at the newspaper -- by using the easy options below. Gifts processed in this system are not tax deductible, but are predominately used to help meet the local financial requirements needed to receive national matching-grant funds.
Subscribe to the sports newsletter
Get the day's top sports headlines and breaking news delivered to your inbox by subscribing here.
---