Sports
Red-White … and no blues
Sun., May 9, 2004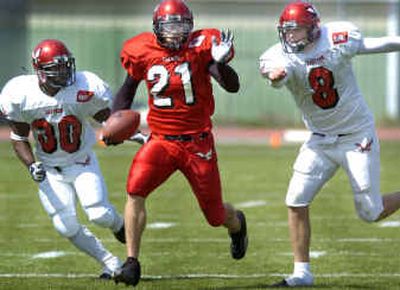 The Red-White Game Saturday afternoon at Woodward Field, which caps four weeks of spring football, seemed pretty routine.
Which is a good thing.
The plan all along for fifth-year coach Paul Wulff and his staff was to fine-tune a team that returns 16 starters and develop more depth.
Mission accomplished.
"Our goal was to establish some depth and have our best and most experienced players get better than they were last year. I think we've done that," Wulff said. "We had some kids really step up. We didn't know if they would because they're young, they haven't had the opportunity before to do that. I really believe every position has somebody challenging to start. We're excited about that."
The No. 1 offense put together a 70-yard scoring drive against the No. 2 defense and the No. 1 defense took a turnover by the No. 2 offense to the end zone.
Now the attention shifts to summer conditioning in preparation for the season opener Sept. 2 at Nicholls State in Thibodeaux, La.
"This team has the ability to do some great things," Wulff said. "But like any team, any season, you have to have some things go your way. We have enough players here that have the opportunity to make things happen for us and we don't need to rely on someone else to do it for us."
Quarterback Erik Meyer, who had a tremendous sophomore season, capped a first-possession 70-yard drive with a 6-yard touchdown run.
"The offense has come a long way," said Meyer, who was voted offensive captain by his teammates. "This is coach (Beau) Baldwin's second year (as offensive coordinator) and he's more comfortable. It's my second year and I'm more comfortable. We lost (two prolific receivers) but we've had a lot of guys step up, it shows we have a lot of depth at receiver. The offensive line has looked good."
Overall, the combined offenses had 292 yards on 61 plays, including 137 yards on the ground.
Darius Washington had 38 yards on four carries and Dezmon Cole 37 on five. Meyer completed 8 of 15 passes for 80 yards but was picked off by wide receiver-turned-safety Brandon Keeler. Eric Kimble and Oregon State transfer Scott Lawson each had three receptions.
"Offensively, we did a better job running the ball," Wulff said. "The wind and conditions weren't conducive to passing the ball… . It got a little sloppy with a lot of penalties but it was a good scrimmage."
The defense had four sacks and three interceptions and pressured the offense into eight penalties.
Freshman starting safety Gregor Smith had two interceptions, returning the first one 59 yards for a touchdown. Starting lineman Harrison Nikolao had five tackles and starting linebacker Joey Cwik four. Backup linemen Garrett Quinn and Jess Trampush each had a sack and knocked down a pass.
"We did a lot of things we've been emphasizing on defense the last four weeks," Wulff said. "They were flying around, getting to the quarterback. The defensive line was putting pressure on the quarterback and the secondary responded by making plays."
"It's the maturity," tackle Brandon Myers said. "All the guys who played positions there last year are there this year. We've got experience and maturity at every position."
Myers, a senior from Tacoma, was voted defensive captain for the second time.
Leadership was something Wulff emphasized.
"Our players are real positive and they have showcased consistency day-in and day-out in practice," he said. "I haven't noticed this kind of leadership in the past couple of years here. We finally have some kids that understand what we want and they're growing up. We've been playing some young kids the last few years and now we are starting to see leadership. We're not really relying on the coaches to get the players going, we've got kids taking ownership and that's one of the good things."
The Eagles were 6-5 last year for their fifth straight winning season, but were only 3-4 in the Big Sky Conference.
"The past three years we've barely been .500," said Meyer, a junior. "There is a lot of pressure going into the season. I'm very confident."
Most of the players plan to spend the summer in Cheney working out.
"We expect everyone to stay," Myers said. "We need to get the team chemistry to click. That's what (championship) teams do."
• In addition to announcing the captains, Wulff handed out some other awards midway through the game. Cwik, a junior from Mead, and Kimble, a junior from Tacoma, are the Eagles of the Year for defense and offense, respectively. … The Most Improved Offensive player is junior receiver Craig McIntyre from West Valley and on defense it's sophomore lineman Mike Wolfe from Rainier, who was moved from tight end.
The top off-season weightlifters were recognized by position. On defense they are cornerback Ryan Phillips, linebacker David Enberg and, Wolfe. On offense it is lineman Matt Alfred, tight end Tim Calhoun, Washington, and Keeler as a wide receiver before being moved to safety in the spring. The special teams leader was punter Ryan Donckers.
Local journalism is essential.
Give directly to The Spokesman-Review's Northwest Passages community forums series -- which helps to offset the costs of several reporter and editor positions at the newspaper -- by using the easy options below. Gifts processed in this system are not tax deductible, but are predominately used to help meet the local financial requirements needed to receive national matching-grant funds.
Subscribe to the sports newsletter
Get the day's top sports headlines and breaking news delivered to your inbox by subscribing here.
---