Sports
Moya making a move toward top ranking
Mon., May 10, 2004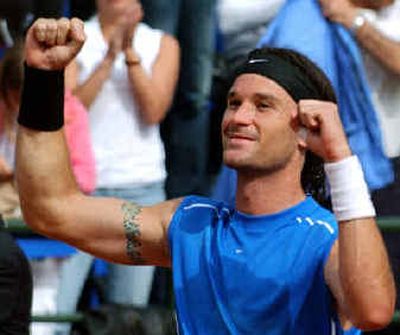 Carlos Moya began the year aiming for a top-eight finish. After winning the Italian Open and reaching a No. 2 ranking, he might have to rethink his goals.
Moya showed his clay-court mastery in Sunday's final against David Nalbandian – a commanding 6-3, 6-3, 6-1 victory highlighted by a dazzling between-the-legs shot. The Spaniard's play was reminiscent of 1998 when he won the French Open.
Shortly after that Roland Garros victory, Moya rose to No. 1 for two weeks in 1999. Now, more than five years later, he's approaching the top again. Moving from fifth to second in the ATP Champions Race, he trails only Roger Federer.
At 4-0 in the final set, Moya hit the ball through his legs on a short hop at the service line, drawing a roar from the crowd and leaving Nalbandian with a stunned look.
German Open
Hobbling on crutches and hoping for the best, Venus Williams knew she couldn't play for the German Open title. Whether she'll be ready for the French Open is uncertain.
Williams pulled out before the German Open final Sunday after twisting her left ankle a day earlier in the semifinals. Her withdrawal handed the title to Amelie Mauresmo.
Local journalism is essential.
Give directly to The Spokesman-Review's Northwest Passages community forums series -- which helps to offset the costs of several reporter and editor positions at the newspaper -- by using the easy options below. Gifts processed in this system are not tax deductible, but are predominately used to help meet the local financial requirements needed to receive national matching-grant funds.
Subscribe to the sports newsletter
Get the day's top sports headlines and breaking news delivered to your inbox by subscribing here.
---