News > Spokane
Bridge
Wed., May 12, 2004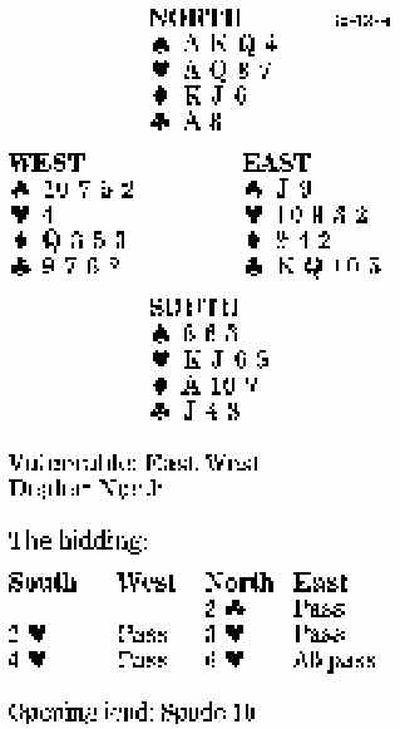 Jacek Pszczola (known to everyone as Pepsi-Cola) was the star on today's deal from last year's Cavendish tournament.
He reached six hearts as South and received a low spade lead from West. He won in dummy, and the obvious move was to draw trumps in case there was a spade ruff looming — but which top honors to use?
Jacek started well when he cashed the heart A-Q. When the four-one split came to light, he played ace and another club, and now the reason became apparent for using dummy's top hearts to draw trump. At this point in the hand, when East returned a trump, Jacek could use his own top trumps as an entry to hand to get the club ruff in dummy. After that he could cross to the diamond ace to play the last trump, giving West a discard problem. West actually kept his spades and threw a diamond. Jacek pitched a spade from dummy and led up to the diamonds to take the rest. Contract made.
At another table declarer started trumps by leading a high honor from each hand. When the bad split came to light, he could play ace and another club, but the third trump had to be won in the dummy. Now South needed to play a diamond to his 10 to try to obtain enough entries to hand for the club ruff. Unlucky, one down!
Bid with the aces
South holds:
| | |
| --- | --- |
| | •8 6 3 |
| | •K J 6 5 |
| | •A 10 7 |
| | •J 4 3 |
| | | | |
| --- | --- | --- | --- |
| South | West | North | East |
| | | 1 • | Pass |
| 1 • | 1 • | Pass | Pass |
| ? | | | |
Answer: Double, a call which on this sequence simply shows cards, rather than being for penalties. You could simply bid two diamonds now, but one no-trump may be a far better spot facing a four-card diamond suit. Let partner describe his hand; don't try to guess what he has.
Local journalism is essential.
Give directly to The Spokesman-Review's Northwest Passages community forums series -- which helps to offset the costs of several reporter and editor positions at the newspaper -- by using the easy options below. Gifts processed in this system are not tax deductible, but are predominately used to help meet the local financial requirements needed to receive national matching-grant funds.
Subscribe to the Coronavirus newsletter
Get the day's latest Coronavirus news delivered to your inbox by subscribing to our newsletter.
---