Sports
Ramirez becomes a U.S. citizen
Wed., May 12, 2004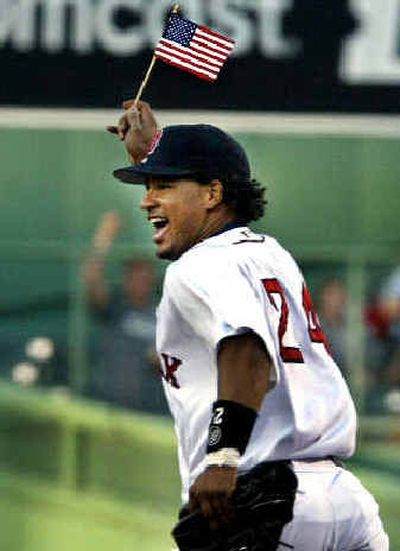 Manny Ramirez led his Red Sox teammates out of the dugout, waving a small American flag on his first full day of U.S. citizenship.
With the flag rippling in the wind, he ran to left field as fans cheered, then went to the seats along the foul line and handed it to a fan.
"I'm very proud to be an American citizen," he said with a big smile before Boston's game against Cleveland.
Ramirez, 31, moved from his native Dominican Republic to New York City when he was 13. His parents and sisters are citizens.
"I was the last one to do it and they were always telling me, 'Hey, you've got to do this,' " he said. "So I just went ahead and did it."
Ramirez had played in all 31 of his team's games before missing Monday night's 8-4 loss to Cleveland to attend a 2-hour ceremony in Miami during which he became a citizen.
"I wasn't nervous," Ramirez said. "There were probably like 2,000 people there (from) all over the world, Costa Rica, Columbia … Jamaica, so everything went fine."
Prior graduates from USC business school
Chicago Cubs pitcher Mark Prior soon can add college graduate to his resume.
Prior is scheduled to receive his bachelor's degree in business from the University of Southern California during graduation Friday.
Prior will speak at the Marshall School of Business ceremony at the Shrine Auditorium.
Marlins financing plan approved
County commissioners gave approval Tuesday to a preliminary $367 million financing plan to build a new stadium for the Florida Marlins.
Miami-Dade County commissioners voted 8-3 in favor of the plan to build a 38,000-seat, retractable roof ballpark next to the Orange Bowl in Miami's Little Havana neighborhood. City commissioners moved to endorse the plan last week.
Despite the approval, the plan still hinges on whether the city can sell the Miami Arena and the parties can secure $30 million from the state to fill a financing gap.
Baseball moves testing to WADA approved lab
Major League Baseball and its players' union are moving their drug testing to a lab in Montreal that is certified by the World Anti-Doping Agency.
Since the start of baseball's drug-testing plan last year, the tests had been collected by Comprehensive Drug Testing of Long Beach, Calif., and the specimens evaluated by Quest Diagnostics of Teterboro, N.J.
Quest will continue to collect the tests, but the evaluations will take place at the INRS-Institut Armand-Frappier Research center.
Tejada leaves game with leg injury
Orioles shortstop Miguel Tejada left the game against the Chicago White Sox in the first inning after straining a muscle in his right shin. He is listed as day-to-day.
Tejada hurt his leg when he extended it to grab a relay throw from left fielder Larry Bigbie. He stood up straight and then hopped on his left leg, trying not to put weight on the right. Trainers came out to look at him, and he hobbled off the field, hopping about the last 25 feet.
Around the horn
The A's activated Mark McLemore from the disabled list and optioned second baseman Frank Menechino to Triple-A Sacramento. … The Royals optioned Mike MacDougal, an All-Star last year, to Triple-A Omaha after he went 0-1 with a 10.80 ERA and one save in five chances. … The White Sox called up Felix Diaz from Triple-A Charlotte. Diaz is 5-0 with a 1.83 ERA in seven games at Charlotte. … The Red Sox optioned right-hander Byung-Hyun Kim to Triple-A Pawtucket, a day after he was removed from the starting rotation because of a second consecutive poor outing.
Local journalism is essential.
Give directly to The Spokesman-Review's Northwest Passages community forums series -- which helps to offset the costs of several reporter and editor positions at the newspaper -- by using the easy options below. Gifts processed in this system are not tax deductible, but are predominately used to help meet the local financial requirements needed to receive national matching-grant funds.
Subscribe to the sports newsletter
Get the day's top sports headlines and breaking news delivered to your inbox by subscribing here.
---