News > Idaho
Singer finally found her voice
Wed., May 12, 2004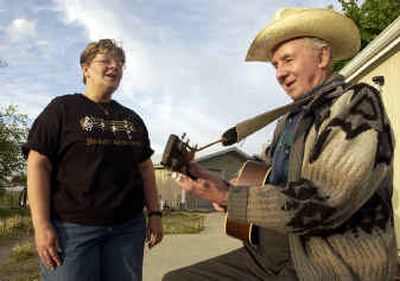 PAULENE HAKALA was so certain she could sing that she belted out tunes in her female bass in private.
"I'm kind of a closet performer," she says sheepishly.
She was a closet performer until the Powder River Saloon's karaoke equipment released the songbird inside her.
Paulene, 42, discovered her talent in the Coeur d'Alene bar in 1999 and others did too, including Slim Dossey, an 85-year-old former singer with Roy Rogers' Sons of the Pioneers.
Now, Slim's son is married to Paulene's mother and Slim and Paulene often perform together. They'll share the stage this Sunday at the Sweet Adelines' Pie a la Mode concert at the Lake City Senior Center at 2 p.m.
Slim was singing his favorites — "Cool Water," "Tumbling Tumbleweeds," "Ace in the Hole" — at the Powder River Saloon when Paulene first stopped by. His voice was rich and warm as coffee with cream.
"I'd go just to hear him," Paulene says.
Friends finally goaded Paulene into performing. She sang the Crash Test Dummies' "Mmmm Mmmm Mmmm Mmmm."
"It was horrible," she says. "I was terrified."
Slim heard potential.
"She should be singing," he says. "Singing makes people happy."
Slim befriended Paulene and she learned about his fascinating past plucking bass for Eddie Arnold; singing on the Grand Ole Opry's Record Hour; and strumming his guitar side by side with Bob Wills and the Famous Texas Playboys, Bonnie Guitar, Spade Cooley and Roy Rogers.
That an inductee into the Western Swing Society Hall of Fame was encouraging her to sing floored Paulene. She was never a fan of country music, but she decided to try singing some of Patsy Cline's songs. She quickly became a fan.
Slim noticed how much she enjoyed performing and asked her to sing a duet with him. He was twice her age, but his voice belonged to a man half his age. His regular performances at Inland Northwest senior centers, hospitals, care centers and more keep his vocal chords strong and healthy.
Paulene invited her mother to hear her sing with Slim.
"Now her mother is her biggest fan," Slim says, chuckling.
Slim's son was in the audience the same night as Paulene's mother.
"They've been together ever since," Paulene says, smiling. "She said, 'He's so nice,' then all of a sudden he's family."
Now, Paulene calls Slim "Papa." They still sing together at the Powder River Saloon. Paulene also sings with Sweet Adelines, which she joined last year.
Sweet Adelines is a women's chorus much like a community band. Members pay $15 a month and attend weekly practices that include vocal training. The chorus performs in competitions all over the world.
Thirty-three women sing with Coeur d'Alene's Sweet Adelines. Paulene felt as if she'd found family.
"I didn't use to have a life," she says. "Now I have Sweet Adelines and that is my life."
She volunteered to help organize the Pie a la Mode concert. Her committee booked the Ron Kieper Jazz Trio from Cheney, Wash., several Sweet Adeline quartets and the juggling kids of Levity in addition to the chorus. Tom Bacon, who owned the Plant Mill in Post Falls, will emcee.
The committee wanted one more act, so Paulene suggested Slim.
"It's very flattering to me," says Slim, whose sense of humor has stayed as fresh as his voice. "I'm mentally alert enough to still do some comedy, make 'em laugh."
He'll sing a few old favorites and a gospel song to show his versatility. He'll also perform with Paulene. His 1950 acoustic guitar — a Martin — will accompany them.
Like Slim, the guitar draws attention because it sounds great and has never needed repair.
"It sounds beautiful," Paulene says, showering Slim with an adoring smile. "I think that guitars grow to match the voice. They're perfect together."
Local journalism is essential.
Give directly to The Spokesman-Review's Northwest Passages community forums series -- which helps to offset the costs of several reporter and editor positions at the newspaper -- by using the easy options below. Gifts processed in this system are not tax deductible, but are predominately used to help meet the local financial requirements needed to receive national matching-grant funds.
Subscribe to the Coronavirus newsletter
Get the day's latest Coronavirus news delivered to your inbox by subscribing to our newsletter.
---