News > Spokane
For students, grant is watershed event
Thu., May 13, 2004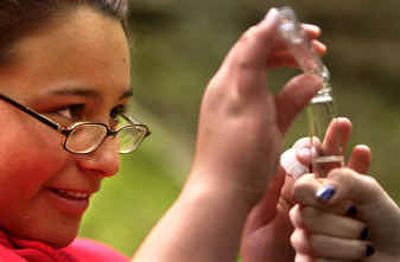 Eighth-grader Allie Lowry rolled her pants legs up, slipped into her friend's flip-flops and waded into Thompson Creek. She carried a thermometer to record the water's temperature.
"Oh, it's not that cold," she said.
A few seconds later, she corrected herself.
"OK, my feet are numb."
About 50 Mountain View Middle School students spent two hours Wednesday plodding through the Newman Lake watershed in the northeastern edge of the Spokane Valley. They collected bugs, measured phosphorous levels and calculated the speed of water flow.
Their work was made possible by a grant the Spokane County engineering division received last year from the Department of Ecology. The five-year, $96,000 grant will allow engineers, volunteers and Washington State University students to gather baseline water quality information about the delicate watershed.
The grant also provides funds to educate those who live in the area about the watershed and its ecological challenges.
Thompson Creek winds down the hillside from Mount Spokane and into Newman Lake. Decades ago, farmers straightened one end of the creek to make room for fields and cattle. Erosion, development and the use of fertilizer have put stress on the creek and the lake.
"We have an excess of phosphorous from a variety of sources," said Marianne Barrentine, a county engineer assigned to Newman Lake. "We want to educate the community so they have a better understanding of what causes problems in the lake, so they can make better choices."
Part of that education is taking place at Mountain View Middle School, where eighth-graders spend a trimester studying water quality, marine life and how the aquifer works.
Wednesday's field trip was a capstone to the unit, allowing the students to apply what they'd learned in a real-world scenario. Though their work will not be integrated into the county's baseline data, the students were able to break into research teams and use scientific instruments to complete their assignments.
"I hope they gain an appreciation for nature and its delicate balance," science teacher Dave Smith said. "I also hope they get a sense of what a scientist might do in real life."
Fourteen-year-old Justin Nicholson learned the intricacies of using a flow meter to measure the water's velocity the hard way. He and his partner, Alex Linsky, had taken four of the five measurements they needed before realizing they were holding the instrument the wrong way.
Still, Linsky said he thought the field trip was valuable. "It's pretty cool," he said. "We get to learn new things about the water and get out of the classroom."
Science teacher Georgi Delgadillo said she's happy to work as a partner with Spokane County on the grant. She had previously written a proposal to the EPA for a similar fieldwork project with no success.
"We really need to get the kids involved with what's going on in their back yard," she said. "Environmental education is so important in the teaching of science. Make it real, they say. You can't get any more real than a day in the creek."
Local journalism is essential.
Give directly to The Spokesman-Review's Northwest Passages community forums series -- which helps to offset the costs of several reporter and editor positions at the newspaper -- by using the easy options below. Gifts processed in this system are not tax deductible, but are predominately used to help meet the local financial requirements needed to receive national matching-grant funds.
Subscribe to the Coronavirus newsletter
Get the day's latest Coronavirus news delivered to your inbox by subscribing to our newsletter.
---