Sports
Garcia makes dashing move
Thu., May 13, 2004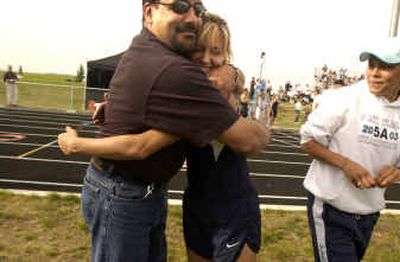 Lake City High track coach Kelly Reed looked at his stopwatch and his decision was made.
Meagan Garcia had just beaten 4A state sprint champion Amy Dyck of Sandpoint for a second straight time in the 100-meter dash last Thursday, proving her win over her friendly rival a week earlier wasn't a fluke. Garcia's time was an expeditious 12.3 seconds, breaking her previous school record.
"That decides it," Reed said to no one in particular but to anybody within the sound of his voice. "She's definitely not in the (800 relay)."
Actually, Reed was probably saying it out loud to convince himself of the decision to take Garcia out of the anchor leg of the 800 relay — a relay that returned three of four of the runners, including Garcia, who zipped to a state title last year — to put her in the 100.
"If I just do the (800 relay) we'll score fewer points," Garcia said. "The relay can still get in the top three without me and I have a chance to get in the top three in the 100. So we should be able to score more team points.
"I really don't look at in terms of individual medals. Right now, (team) points is all that matters. I really don't care about getting a (individual) medal. The team is what matters most to me."
Initially, though, when Reed suggested the possibility of moving Garcia, he thought she wasn't sharing her honest feelings with him.
"He thought I was lying to him," Garcia said.
Now he's convinced he's doing right by her and the team.
"I'm not second guessing — I think it's going to be the best move for the team," Reed said. "We'll get more points out of the two events this way. But it's hard to pull her out of an event she's proven in. That relay would have a tremendous chance to repeat with her. To be able to pull perhaps the best sprinter in the state out of a relay and still have a chance to win it shows you how lucky I am. We're blessed to have the sprinters we have in all of our relays. So if I wasn't convinced that Meagan is completely behind this I wouldn't do it. She was the first to say 'I don't care, put me where I can help the team the most.' "
Last year, the relay-dominant Timberwolves won the state title without one sprinter winning an open event. That could be different next week if Garcia has anything to say about it.
•
Born and raised in CdA, Garcia's year-round, suntan-like complexion comes from her Guatemalan roots. Her father, Juan, came to CdA his senior year in high school as a foreign exchange student from Guatemala, and he never left.
Meagan Garcia has carved her name out as the top sprinter in school history. She will likely graduate with her name attached to six school records, including all the relays.
Her accomplishments are all the more impressive considering she didn't turn out for track until her sophomore year. Or any sport for that matter.
"My freshman year I was lazy," Garcia said with her trademark dimpled smile.
She was running at a meet on the junior varsity team the first third of her sophomore year when she caught her coach's attention.
"The next week she's running on varsity on the (400 relay), and she helped it win a state title by the end of the season," Reed said.
Garcia also played basketball the last three years, earning a letter this year in her lone season on varsity when she spent the majority of the time on the bench.
"I turned out for basketball to try and stay in shape for track," said Garcia, who admits there's not enough evidence to convict her of being a good basketball player. "I have no hand-eye coordination."
That's not needed on the track. Just speed, and Garcia has lots of it.
She's also the leader of the T-Wolves' pack.
"I guess leading has kind of come natural," she said. "I've never been a follower, someone who just sits there and watches everything."
Said Reed: "I don't have to do anything the first 30 minutes of practice. Meg and Natalie (Hammons) are out there leading everybody in warm-ups and stretching. Meg's one of the best leaders I've been around — male or female."
•
Hammons, also a senior, turned out for track for the first time last year. She and Garcia became fast friends in more ways than one. In three of the relays, Hammons, who usually runs the third leg, hands off to Garcia.
With Garcia out of the 800 relay, the Hammons-to-Garcia exchange will occur in just the 400 and 1,600 when the Region I state-qualifying meet is held today and Friday at Lewiston. But the combo will give LC a chance to defend in the 400 and an opportunity to take gold in the 1,600.
"I have a ton of respect for her," said Hammons, who plans to share a dormitory room with Garcia when they go to the University of Idaho next year. "She can make you laugh no matter what's going on — whether you're sad or crying. She makes everybody feel great about themselves.
"She's taught me a lot about track. I had no idea coming into it (last year) if I'd be an asset. But she brought me onto the team with open arms. She pushes everybody to their limit."
Sophomore Sasha Tucker agrees. Tucker will team with Garcia and Hammons in the 400 and 1,600.
"I've looked up to her as a leader since last year," Tucker said. "She's kind of like a coach."
Garcia also has the respect of her male peers.
"If she's not the best sprinter in the state then she's one of the top two or three," T-Wolves senior sprinter Matt Troxel said. "She's proved that the last couple of weeks going head to head with Amy Dyck. She's proven she's the elite sprinter in North Idaho, and I think when she gets to state she'll prove she's the best in the state."
That could very well be true, but it won't be Garcia's focus next week.
"A repeat (state team title) is the only thing I'm thinking about," she said. "We know we can do it again. We just have to make sure everybody gets there and performs."
Spoken just like … well, a natural leader.
Local journalism is essential.
Give directly to The Spokesman-Review's Northwest Passages community forums series -- which helps to offset the costs of several reporter and editor positions at the newspaper -- by using the easy options below. Gifts processed in this system are not tax deductible, but are predominately used to help meet the local financial requirements needed to receive national matching-grant funds.
Subscribe to the sports newsletter
Get the day's top sports headlines and breaking news delivered to your inbox by subscribing here.
---