News > Spokane
That's no litter - it's a doggone crowd
Thu., May 13, 2004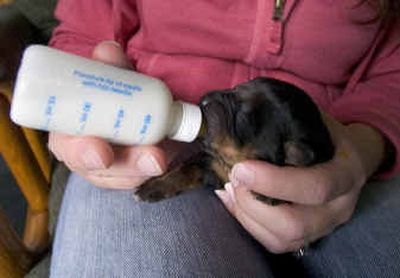 Pongo and Perdita only had a litter of 15 Dalmatian puppies. And that was a Disney cartoon.
Heffe and – mostly – Hanna gave birth to 19 Rottweiler puppies Saturday at a Spokane Valley home. Lucky 19 emerged half-past midnight Sunday after 11 hours of labor.
Although not quite a world record, 19 is an extremely large litter.
"I felt so bad for her," said Ashley Rudolph, 25, a Spokane Community College student and mother of two.
Rudolph's husband helped extract the pups when the mother got tired.
"Toward the end, she wouldn't even stand up anymore," Rudolph said.
Hanna was a friendly stray puppy who liked Rudolph's house near Havana, so the couple took her in this summer. Hanna was bred with another Rottweiler owned by their friends. The mother-to-be went into labor exactly 60 days later.
The first four came out, all perfect. Two hours went by.
"We're thinking she's done, and she starts having more," Rudolph said.
Four more emerged, and they just kept coming.
"After 11 puppies I called the vet," she said. Rudolph was told the average litter size for the breed was eight. "I was thinking about '101 Dalmatians' at that time."
For the first 10, they wrote down the puppies' time of birth and sex.
"Then we were just like, 'Whatever.' We stopped writing everything down. It was insane."
One puppy born halfway through labor was stillborn. Another died in Rudolph's hands.
"That one just tore me up," she said. "I cried so bad."
Rudolph weighed them each with a 16-ounce meat scale. They ranged from 10 ounces to more than a pound.
The remaining 17 puppies have Rudolph and her husband on a round-the-clock feeding schedule that has disrupted studying, cleaning and cooking, Rudolph said. Her 10-month-old daughter, Sara, and 3 ½ year-old-son, Evan, have been enamored with their new roommates.
The new canine family took over the computer room, which Rudolph cleared out and put down a kiddie swimming pool lined with indoor-outdoor carpet for feedings. Each puppy has been assigned to a group based on size. They're organized by different-colored ribbons tied around their necks.
To give Hanna a break, the puppies are kept under a heat lamp in a blanket-lined ice chest and a plastic container. The couple feed the puppies that get nudged out and lost in the mess, Rudolph said.
Hanna's been to the vet a few times for her continued bleeding, which was slowing Wednesday.
"We're actually hurting because of all the vet bills," Rudolph said.
And they'll need to redo their computer room, because the carpet is ruined with stains, she said. Hanna missed the world record by four. The Web site for Guinness World Records said three dogs have given birth to 23 puppies each, an American foxhound in 1944, a St. Bernard in 1975, and a Great Dane in 1987.
Veterinarian Vernon Streeter of Five Mile Pet Clinic said 19 is impressive.
"In 12 years, I've never dealt with a litter of that size," Streeter said. And in his dad's 40 years of veterinarian practice, he'd never heard of a litter this size. "That would raise his eyebrows, too."
Local journalism is essential.
Give directly to The Spokesman-Review's Northwest Passages community forums series -- which helps to offset the costs of several reporter and editor positions at the newspaper -- by using the easy options below. Gifts processed in this system are not tax deductible, but are predominately used to help meet the local financial requirements needed to receive national matching-grant funds.
Subscribe to the Coronavirus newsletter
Get the day's latest Coronavirus news delivered to your inbox by subscribing to our newsletter.
---