Sports
Too little, too late for Seattle
Thu., May 13, 2004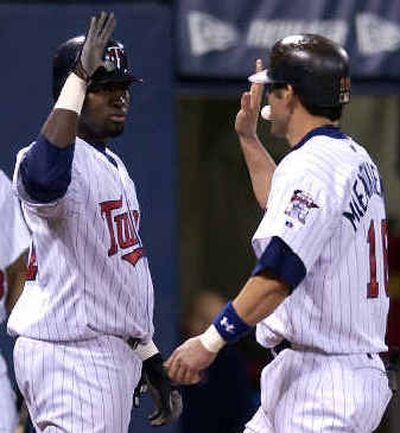 MINNEAPOLIS — Brad Radke gave the Minnesota Twins just what they needed.
Radke took a shutout into the ninth inning, and the Twins held on after Edgar Martinez's 300th home run to beat the Seattle Mariners 4-3 Wednesday night.
Doug Mientkiewicz hit a two-run homer in the third to back Radke (3-2), who allowed consecutive singles starting the ninth before Martinez's three-run shot that barely cleared the big wall in right.
"A lot of times a home run is actually a rally killer in that situation," Mariners manager Bob Melvin said. "But we'll take runs any way we can get them."
Melvin's fear turned out to be true: Joe Nathan got three quick outs for his ninth save in 10 tries.
"I was ready for it … but it's definitely a game I didn't want in," Nathan said. "I'd rather see Brad finish it."
Radke gave up 10 hits, struck out four and walked one. Though he has given up four runs in his last 22 innings, Twins manager Ron Gardenhire was sorry he didn't get Nathan in there sooner.
"That was my fault," Gardenhire said. "I feel terrible about that, because he didn't deserve to give up any runs tonight, I didn't think."
Radke gave the bullpen a nice rest. The Twins went to extra innings in four of their previous seven.
Freddy Garcia (1-2), one of few Mariners who are off to a strong start, gave up four runs, three earned, and seven hits in 71/3 innings. After walking two and striking out four, Garcia's ERA is 2.34.
"Freddy pitched great again," Melvin said. "The changeup to Mientkiewicz was really the only bad pitch he made."
Seattle (12-21), which has won at least 91 games in each of its last four seasons, lost its fourth in a row and dropped 10 1/2 games behind Anaheim.
"We have to find a way to push across some runs," Melvin said.
Martinez's home run was the lone bright spot.
"It's more enjoyable when you get a win," the 41-year-old designated hitter said. "It's something I'll look at later, and I'm sure I'm going to enjoy it more. Right now, having a slow start and not winning kind of upsets the whole deal."
Said Radke: "He could be in his wheelchair and still be a great hitter. He had a good approach to that at-bat and you've got to tip your hat to him."
Garcia hit Torii Hunter leading off the second, and Jacque Jones reached when substitute second baseman Jolbert Cabrera fumbled his grounder. Run-scoring singles by Michael Cuddyer and Matthew LeCroy — Minnesota's first two picks in the 1997 draft — put the Twins up 2-0.
Cristian Guzman, batting .390 with seven runs in nine games as the No. 2 hitter, singled to begin the third. Mientkiewicz's homer, caught by a fan in the first row of the upper deck, stretched the lead to 4-0.
After Ichiro Suzuki and Cabrera began the game with singles, Radke picked Cabrera off first base — by faking a throw to third with that move rarely seems to work for anyone.
Radke retired 13 out of 14 at one point, with Dan Wilson's one-out single in the seventh the only blemish. Rich Aurilia grounded into the second of Seattle's two double plays immediately after that.
"Would've been nice if he would've finished the thing," Mientkiewicz said. "That's still a good hitting team. Holding them down as long as he did was impressive, because they can do some damage in a hurry."
Local journalism is essential.
Give directly to The Spokesman-Review's Northwest Passages community forums series -- which helps to offset the costs of several reporter and editor positions at the newspaper -- by using the easy options below. Gifts processed in this system are not tax deductible, but are predominately used to help meet the local financial requirements needed to receive national matching-grant funds.
Subscribe to the sports newsletter
Get the day's top sports headlines and breaking news delivered to your inbox by subscribing here.
---