News > Spokane
WSP briefly closes I-90 exit
Thu., May 13, 2004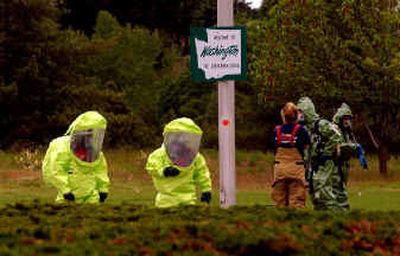 Acrid white smoke wafted from the parking lot of the Washington State Patrol port of entry on Interstate 90 Wednesday afternoon.
As a precaution, the weigh station, a highway on-ramp and the nearby Centennial Trail were closed for several hours.
Shortly after noon, fire crews were called to deal with an unknown green, gritty substance that was smoking. It was described as smelling sulfurous. The substance was eventually determined to be a small pile of fertilizer, said Brad Hudson, spokesman for the patrol.
A truck apparently stopped in the parking lot behind the weigh station and spilled some fertilizer—a pile approximately 5 feet wide and 1 inch deep—and some time later another truck dripped fuel on top of the pile, Hudson said. The WSP was still going through its logs to try and determine the truck responsible for the spill Wednesday.
"No one recalls a leaking truck," Hudson said of the port of entry staff.
Firefighters from Spokane and Spokane Valley suited up in gear used to deal with hazardous materials. A sample of the substance was analyzed by the state Department of Ecology, Hudson said.
As a precaution, the Stateline Interstate-90 on-ramp headed toward Spokane was closed for nearly three hours. Traffic was re-routed down Wellesley Avenue. The weigh station was evacuated. WSP troopers also closed a nearby portion of the Centennial Trail.
Everything re-opened about 3 p.m. Wednesday.
Local journalism is essential.
Give directly to The Spokesman-Review's Northwest Passages community forums series -- which helps to offset the costs of several reporter and editor positions at the newspaper -- by using the easy options below. Gifts processed in this system are not tax deductible, but are predominately used to help meet the local financial requirements needed to receive national matching-grant funds.
Subscribe to the Coronavirus newsletter
Get the day's latest Coronavirus news delivered to your inbox by subscribing to our newsletter.
---