News > Spokane
Golf courses going green
Mon., May 17, 2004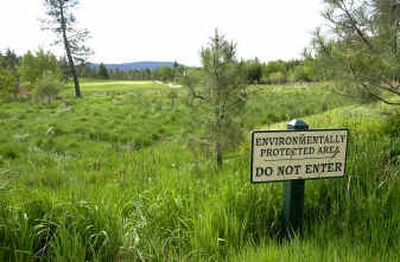 WORLEY, Idaho – At the Circling Raven Golf Club, even the term "birdie" can be ambiguous.
Did a golfer just beat par?
Or did course superintendent Brian Woster just identify a songbird?
"That's a male pheasant . . . and that's meadowlark," said Woster, slowing down his golf cart to listen to a raucous cackle echoing over the greens, followed by a flutey whistle.
The 620-acre golf course near Worley provides habitat for more than club-swinging humans. A moose calf likes to lounge on the fairway, and a herd of elk uses the 14th and 16th holes during the winter months. At night, stealthy porcupines strip the bark from young pine trees.
The Circling Raven golf course is owned by the Coeur d'Alene Tribe. Last month, it joined Audubon International's Cooperative Sanctuary System, a program designed to make golf courses more environmentally friendly. Nationally, about 500 golf courses participate.
"It helps us overcome the stigma that golf courses dump chemicals onto the ground without concern for the environment," Woster said.
Audubon and the U.S. Golf Association developed the sanctuary program in the late 1980s, amid concerns that golf courses were gobbling up wildlife habitat and leaving sterile tracts of manicured lawn in their wake.
"They got a lot of scrutiny in the public and the media for the loss of wildlife habitat and the heavy use of pesticides and water," said Peter Bronski, staff ecologist with Audubon International in New York.
The sanctuary program encourages golf courses to enhance habitat and go easy on the lawn chemicals. Two years ago, Audubon conducted a survey to measure the program's effectiveness. Participating courses increased their wildlife habitat by an average of 22 acres, Bronski said, and reduced water use by about 1.9 million gallons annually at each course. Pesticide application also dropped.
In Bellevue, Wash., a golf course in the sanctuary program restored spawning streams for salmon, Bronski said. A Florida course set aside several acres of habitat for rare tortoises.
In addition to Circling Raven, Idaho has two other certified courses – Crane Creek Country Club and Shadow Valley Golf Course, both in Boise. The Coeur d'Alene Resort Golf Course has been a member in the past, Bronski said.
Woster was familiar with the sanctuary program from his previous work at an Iowa golf course. He and Golf Director David Christenson thought it was a good fit for Circling Raven.
"It falls in line with the tribe's tradition to live in harmony with the land," Christenson said.
Construction of the course took two years and three months, largely because Florida architect Gene Bates designed it around extensive wetlands and a stream corridor. Boardwalks cross boggy areas, and signs warn golfers to stay out of environmentally sensitive zones.
Part of Circling Raven's habitat-friendly environment comes from sheer size, Christenson said. At 620 acres, it's about four times the size of a standard golf course. Only 100 acres of the course is groomed turf grass. The rest is woods and native grasslands.
"The only hole you can see is the one you are playing," said Bob Bostwick, spokesman for the tribe's Coeur d'Alene Casino. "It's a magical place."
Woster is especially proud of the course's native grasses, planted on former Kentucky bluegrass fields. By late summer, the grasses will put on a vivid display of purple and bronze seed heads, a stunning contrast to the course's emerald greens, he said. Aesthetics aside, native grasses are drought resistant and attractive to ground-nesting birds. "We've seen an increase in pheasants and grouse since the grasses went in," he said.
Woster also put up 17 bird houses on the course this spring. Five show signs of nesting activity; he's hoping for blue birds. Golfers probably won't even notice the bat boxes attached to the back of the restrooms. Or realize that bales of sunken barley straw keep green scum from forming on the golf course's ponds. "They give off a compound that reduces the algae," Woster said.
A few deer carcasses from cougar kills have even turned up on remote areas of the course. But the elusive predator hasn't been spotted during the golf season, when human activity increases at Circling Raven, according to Woster.
Woster likes the Audubon program, because it doesn't ignore business needs, he said. Golf courses are judged by the quality of their turf. Deciding how many weeds to tolerate, and when to spray, is a constant balancing act for the maintenance department.
Co-existing with nature is also a balancing act. Right now, Circling Raven is a little too friendly for beavers, in Woster's view. The enterprising critters built five dams along a small stretch of stream, denuding the bank of cottonwoods.
"One of our challenges is how to save the trees," he said. "You can't harvest fur-bearing animals on the reservation without a special permit."
He may apply for that permit. Or, he might compromise by wrapping tree trunks on one side of the stream bank with chicken wire, and leaving the rest for the beavers.
Eventually, Circling Raven's clubhouse will feature a display on the sanctuary program. The golf course has finished the program's environmental planning stage. Woster hopes to certify the course in several other areas as well, including wildlife habitat management, chemical use reduction and water conservation.
After 20-plus years in the golf industry, "I know you can impact the environment by not being careful," he said.
Local journalism is essential.
Give directly to The Spokesman-Review's Northwest Passages community forums series -- which helps to offset the costs of several reporter and editor positions at the newspaper -- by using the easy options below. Gifts processed in this system are not tax deductible, but are predominately used to help meet the local financial requirements needed to receive national matching-grant funds.
Subscribe to the Coronavirus newsletter
Get the day's latest Coronavirus news delivered to your inbox by subscribing to our newsletter.
---