Sports
Home cookin' disadvantage
Mon., May 17, 2004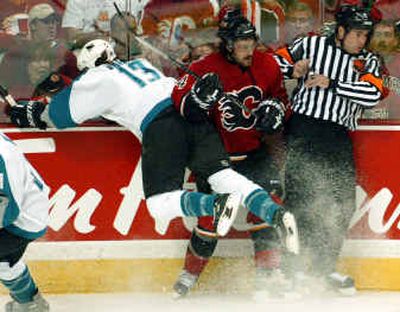 CALGARY, Alberta – If the San Jose Sharks can just figure out how to overcome the home-ice nightmare in the Western Conference finals, Mike Rathje believes they're ready to put this series away.
Rathje's first goal of the playoffs started San Jose's four-goal second period and Evgeni Nabokov made 27 saves in the Sharks' 4-2 victory over the Flames in Game 4 Sunday, evening the series at two games apiece.
The road team has won all four games in the conference finals, which is bad news for the Sharks: They'll be back home for Game 5 tonight in the Shark Tank, where San Jose has lost three straight playoff games overall.
But after an impressive effort from nearly all of the Sharks, particularly on defense, momentum actually might mean something in this topsy-turvy series.
"We're going to go home, get some rest and do exactly the same things we did here," Rathje said after the Sharks wrapped up their second straight win in front of the Flames' intimidating Saddledome crowd. "We know how to win at home – really."
Rathje, still sporting a nasty black eye from his fight with Chris Simon in Game 3, scored on a long slap shot and later added an assist as San Jose jumped all over Calgary in a phenomenal second-period effort. Rathje normally isn't an offensive catalyst, but the defenseman's injury seemed to provide just the motivation he needed.
"This is the playoffs, and that kind of (goonery), it doesn't work," Rathje said. "We've had adversity all year, and we've kept going. That's not going to stop us."
Captain Patrick Marleau snapped his scoring slump with a goal and an assist.
Game 6 is back in Calgary on Wednesday night.
Nabokov allowed just two goals in Calgary after yielding eight in the first two games of San Jose's first trip to the conference finals. He was nearly perfect in Game 4, allowing only a strange deflection goal and Simon's score during a two-man advantage with 39.7 seconds left.
"We can say right now that we do have momentum, but we all know how that can change," Nabokov said. "If you're not working hard for even two minutes, it's gone."
Jarome Iginla scored early for the Flames, who lost their composure in the second period. Miikka Kiprusoff, the Flames' playoff savior in the early rounds, made just 12 saves and allowed two terrible goals before giving way to Roman Turek in the third period.
But the Flames have been here before: Their previous two playoff series against Vancouver and Detroit also were tied heading into Game 5, and the young team handled the pressure splendidly.
"This one is behind us," Iginla said. "It's a best-of-3 series now, and we've won both of our best-of-threes this season. We've always found a way to get out of this, and we'll try to do it again."
Calgary returned home four days ago with a two-game lead and an excellent shot at the franchise's first trip to the Stanley Cup finals in 15 years. But the Sharks gutted out a 3-0 victory in Game 3 – and just as San Jose came unraveled in Game 2, the Flames lost it in Game 4.
The Sharks capitalized on a 4-on-2 rush for their first goal early in the second period. Kiprusoff fanned on Rathje's long slap shot, the first of several misplays by the Sharks' former backup goalie.
Calgary scored midway through the second period when Iginla's pass was deflected between Nabokov's legs – but instead of deflating, the Sharks answered with two goals in the next 2:08.
Local journalism is essential.
Give directly to The Spokesman-Review's Northwest Passages community forums series -- which helps to offset the costs of several reporter and editor positions at the newspaper -- by using the easy options below. Gifts processed in this system are not tax deductible, but are predominately used to help meet the local financial requirements needed to receive national matching-grant funds.
Subscribe to the sports newsletter
Get the day's top sports headlines and breaking news delivered to your inbox by subscribing here.
---