Sports
Shootin' for top 10
Tue., May 18, 2004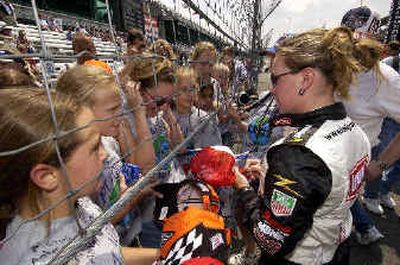 INDIANAPOLIS — Two weeks from the race that could change her life found Kelley Racing driver Sarah Fisher basking in an Indy 500 qualifying high.
"This has been a relaxing month," she said. "I've had so much fun. I don't think I've ever had this much fun in the month of May."
Welcome to the silver lining of the slow-as-you-didn't-want-to-go Indy 500 qualifying runs that left Fisher and teammate Scott Sharp ahead of only the frustrated Foyt family among first-day qualifiers.
No matter. Her speed of 215.771 mph got her in the field – inside of row seven – for the May 30 event. In a season in which she's yet to race, why quibble.
"We've been working a lot on race setup," Fisher said. "I want a comfortable car. I want to be able to go out there and put the hammer down on race day and hopefully be in the top 10 at the end of 500 miles. That's my goal. We got in the field. We've got step one accomplished."
Fisher's best in four previous Indy 500s is 24th. But with Kelley Racing and Bryant Heating & Cooling providing the best equipment of her career, more is expected.
"We're going to give her a great car," Sharp said. "She's going to make the most of it. Hopefully, it turns into something so we can add more races for her this year."
Fisher had no qualifying worries. Twenty-two drivers made the field Saturday, four more Sunday. That left seven spots and only two more driver-car combinations available, although Speedway officials still hope to fill the 33-car field.
"We would have been a lot more stressed out about qualifying and a lot more focused on qualifying if there had been more cars," Fisher said. "Who knows what would have happened if we had been more focused on qualifying. But this has blessed us with time for the race setup, and that's great for us."
Fisher, who hasn't raced since last fall, needs all the extra time she can get. She missed the first three races because of a lack of sponsorship money, and didn't start working with her team until this month.
"It's been tough," she said. "It takes time for a team to jell and it's tough to jell in 30 days. We're doing our best in the time allotted."
If that best is good enough for a top-10 finish, it might generate enough additional funding to race the rest of the season (her deal with Kelley is only for the Indy 500). Fisher, however, said a good finish isn't necessarily a cure-all.
But it would be a nice start.
Local journalism is essential.
Give directly to The Spokesman-Review's Northwest Passages community forums series -- which helps to offset the costs of several reporter and editor positions at the newspaper -- by using the easy options below. Gifts processed in this system are not tax deductible, but are predominately used to help meet the local financial requirements needed to receive national matching-grant funds.
Subscribe to the sports newsletter
Get the day's top sports headlines and breaking news delivered to your inbox by subscribing here.
---