News > Spokane
Local miracle hits the airwaves
Mon., May 24, 2004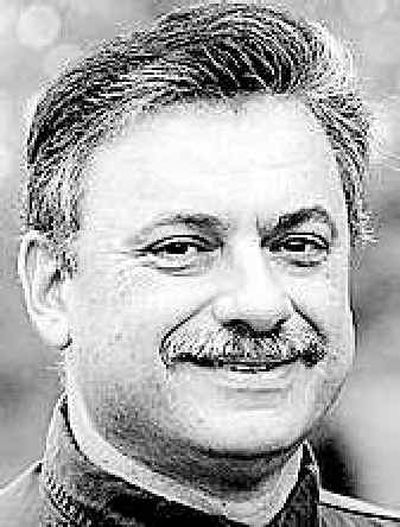 Dunno what you think about guardian angels and miracles. But Shawn and Stacey Vogel made a good case for both last Monday on PAX-TV. I was channel surfing when I heard the Vogels' hometown mentioned: "Rathdrum, Idaho." Interested, I learned of their young son Joey's miraculous survival from a 25-foot fall onto concrete. The Vogels re-created the scene for "It's A Miracle" and narrator Roma "Touched by an Angel" Downey. Seems Joey fell through an upstairs window while playing with brother, Tommy. The parents rushed the semiconscious child to Kootenai Medical Center, expecting the worst, only to have the ER doc pronounce the child fit. Then came the shocker. Joey told his parents his grandfather had caught him and said, "You're welcome." That's Grandpa Tommy, as in Shawn's father who'd died years before Joey was born. (Cue old "Twilight Zone" theme.) Bottom line? Whoever made the catch earns a gold glove – and his wings.
I need a vacation
At armories across Idaho on May 14, tension was thick as Guardsmen grilled top brass and Pentagon officials in Boise via video link about their deployment to Iraq this summer. How was the military going to take care of their families, they asked? Noting that a youth program only accepted children 10 and older, one soldier told Gen. John Kane: "That leaves out five of my seven children." As comrades at the Post Falls armory and Gov. Dirk Kempthorne listened, sobered by the fact that a father of seven was being sent off to war, Kane responded: "Seven children … that's quite a handful." "Actually, sir," the National Guardsman deadpanned, "I get deployed. It's my wife that has to stay here." Eatcher heart out, Jay Leno.
Real men wear pink
Tired of the guff he was taking from me and local GOPoohbah Bob Nonini for wearing pink into the S-R office, K-Co. commish Rick Currie summoned a receptionist. He: "Whaddaya think of the way I'm dressed." She: "You mean the pink shirt? It looks great." Me: Uncle … After reading that folically impaired hubby, Mike, would set his hair on fire if need be to draw attention to an issue (if he's elected to the state House of Reps), Darsey Gridley deadpanned: "It would be a small fire." Ouch! … Repub Sheriff Rocky Watson reported only one primary expense of $675 for (drum roll, puh-leez) – campaign key chains. You can do that when you're running unopposed.
Poet's corner
"They need to send an SOS/To help a crew that's in distress,/For it is clear as it can be/The Mariners are lost at sea" – The Bard of Sherman Avenue ("Shipwreck") … And: "When you want a harbor on your land,/Those doggone permits tie your hand,/And you don't need one anyway –/Just dig at dawn on Mother's Day" – The Bard of Sherman Avenue ("River Dredging").
Huckleberries
On her show last Monday, KQNTalkmistress Laurie Roth used an expression I hadn't heard in awhile to describe potential first daughter Alexandra Kerry, a filmmaker who attended the Cannes Film Festival in a see-through dress: "She's a carpenter's dream." Believe it or not, they were using that old putdown before I came of age … Overheard, a group of teen girls after seeing the movie "Troy": "There were no boobs – just butts. And Brad Pitt's butt was perfect" … I'd loved to have been a fly on the wall Thursday when Duane Hagadone summoned K-Co. commish Rick Currie to his office for a little, ahem, chat. And a sweet trip to a candy shop on the good ship Lola-pop? … "If I knew I had to drive so far for so little, I would have rethought buying a place there" – an old duffer wearing apparel with a Black Rock development logo to a table of the same at Brix restaurant in CdA. Berry Picker: "Guess when the elite buy million-dollar houses, they don't check out the community first. Sorry we are such a disappointment down here in Whoville" … Talkmeister Dick Haugen and I will be kibitzing about local primary elections at 8:15 this morning on KVNI-AM (1080) … Bumpersnicker (on Dodge Colt van with BVANDG vanity plate): "What would Xena do?" … Last week, 40 people, each with a descriptive word written on paper attached to a rose, visited City Hall, one at a time. They included ex-administrator Ken Thompson and ex-police chief Dave Scates, who now has a handlebar mustache down to there. Their purpose? Each called on City Administrator Wendy Hague to wish her a happy 40th. Who was – for lack of a better word – overwhelmed.
Parting shot
Head bailiff Gomer Davis and his K-Co courthouse playmates are hard to please. They had Dave Dolan lined up for two days of jury duty last week – although the reporter and author has lived in Israel for decades. And Dave had little time between speaking engagements to visit his parents in Coeur d'Alene and the rest of his family. Seems Dave renews his driver's license here periodically and keeps a local address for business purposes. And that's how they nabbed him. Seems the bailiffs had been trying to get Dave for some time. Fortunately, he received a bye when a trial was canceled. Remember this next time you're trying to think up some lame excuse to avoid jury duty.
Local journalism is essential.
Give directly to The Spokesman-Review's Northwest Passages community forums series -- which helps to offset the costs of several reporter and editor positions at the newspaper -- by using the easy options below. Gifts processed in this system are not tax deductible, but are predominately used to help meet the local financial requirements needed to receive national matching-grant funds.
Subscribe to the Coronavirus newsletter
Get the day's latest Coronavirus news delivered to your inbox by subscribing to our newsletter.
---