Sports
Cup finalists unsung
Tue., May 25, 2004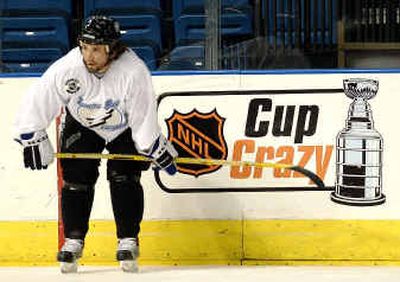 TAMPA, Fla. – Their aggressive styles are so similar, their coaches so alike, their players so interchangeable, the Tampa Bay Lightning probably could swap jerseys with the Calgary Flames midway through the Stanley Cup final without the casual fan realizing it.
The two modest-market franchises usually begin a season with few expectations and end it with meager accomplishments. They possess stars – Jarome Iginla in Calgary, Nikolai Khabibulin in Tampa – but are populated mostly with not-so-recognizable players who don't worry about fending off autograph seekers when they go out to dinner.
Question: Martin St. Louis and Cory Stillman are the top two scorers for which team? Answer: Tampa Bay, but they were teammates in Calgary a couple of years ago.
And while one team is based in southern Alberta, where hockey is a way of life, and the other is in south central Florida, where football is the only passion, even St. Louis is struggling to grasp what is happening.
"Who would have thought we would be here now?" he said Monday before tonight's Game 1 in Tampa.
Not Flames goalie Miika Kiprusoff.
"I knew this was a good team, but I didn't think we were going to be in the Stanley Cup finals," he said.
Obviously, not many others did, either. But thanks to a mini-revolution that has seen the proponents of take-no-risks, trap-'til-you-drop hockey cast aside just at the time of the year when they normally thrive, the Lightning and Flames really, truly will play for the Cup.
The Lightning and Flames, despite having exactly zero Stanley Cup appearances between them the preceding 14 seasons, are threatening to shove the league, kicking and screaming, into an entirely new era. One where the only offense isn't a good defense. Where the neutral zone is a place where offense begins, not where it ends. Where breakaways are encouraged, not something to be denied. Where odd-man rushes occur every other shift, not every other game.
For a change, this final may not be the offense-free flameout so many other recent ones have been.
"Some teams may think of other ways of doing it," Lightning coach John Tortorella said Monday. "But we go about it this way. Calgary also likes to chase things down and pretty much go straight ahead. For these two teams to get here, does it change anything? That's not for us to decide, but I think it's going to be a hell of a series, with both teams going straight ahead."
"A lot has been made about the small markets and (the series being) good for hockey, with a Canadian team and all that, but you know what?" Calgary coach Darryl Sutter said. "The reason these teams have some success is they are fun teams, exciting teams. And that will make the finals a good series because it will be an exciting series."
Local journalism is essential.
Give directly to The Spokesman-Review's Northwest Passages community forums series -- which helps to offset the costs of several reporter and editor positions at the newspaper -- by using the easy options below. Gifts processed in this system are not tax deductible, but are predominately used to help meet the local financial requirements needed to receive national matching-grant funds.
Subscribe to the sports newsletter
Get the day's top sports headlines and breaking news delivered to your inbox by subscribing here.
---