Sports
Frenchman bids Agassi fond adieu
Tue., May 25, 2004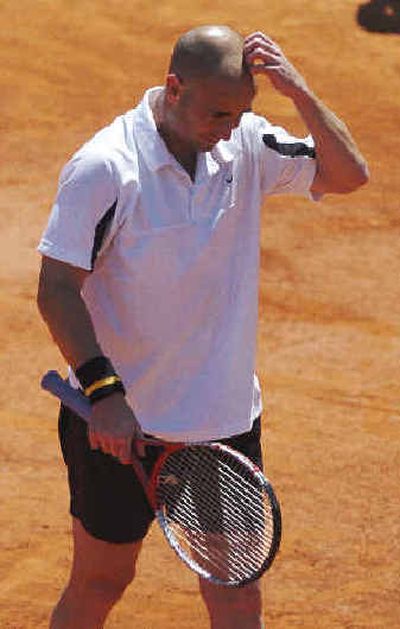 PARIS – Four days before the start of the French Open, Andre Agassi was out on center court as dusk approached, hustling to get his game going on the dusty clay.
Agassi seemed frustrated: He cursed, he scolded himself. After one poor stroke, he pounded a ball into the last row of the upper deck. If there was a consolation, it was this: Hey, it's only practice.
He was back on that court Monday for his first-round match, and this time, each shoddy shot counted. And they just kept coming, adding up to one of the biggest upsets in Grand Slam history.
Agassi, the owner of eight major titles and ranked No. 1 just last year, lost 6-4, 7-6 (4), 6-3 to France's Jerome Haehnel, a career minor leaguer ranked 271st and making his tour debut after playing the qualifying rounds.
When it ended, Agassi gathered his two racket bags, slung a white warmup jacket over his shoulder, then shuffled off toward the locker room. He didn't acknowledge the fans' applause.
Was this their last chance to see the 34-year-old Agassi at the French Open?
"Hard to say. You want to come back, but you just don't know," the oldest man in the tournament said. "It's a year away. That's a long time for me right now. Chances get less every year, for sure."
"It's a shocking result. It shows every player's as good as the top on any given day," 27th-seeded Vince Spadea said after erasing nine match points against another French qualifier, Florent Serra, to win 7-5, 1-6, 4-6, 7-6 (7), 9-7.
Spadea, who trailed 5-1 in the fifth set, could have faced Agassi in the third round. Andy Roddick, a 7-6 (5), 6-4, 7-5 winner over Todd Martin, was slated to meet Agassi in the quarterfinals. Then again, Roddick probably wasn't looking too far ahead, knowing he'd lost his first match here the past two years.
Also out on the first day was Jan-Michael Gambill of Spokane, who fell to Alex Corretja of Spain 6-1, 4-6, 6-3, 6-2.
"It's definitely nice to get a win here and not walk away from this place feeling disappointed after the first day," said the second-seeded Roddick, whose record-setting serve loses some of its oomph on clay.
Agassi, seeded sixth here this year, is certainly not at the top of his game on the red surface, especially with merely one match on it all year – a loss last week to a qualifier ranked 339th. He limits his tennis travel these days, for fitness and for family time.
"At this stage of my career, I can't go around grinding, trying to get in matches, at the risk of expending the energies I do have," said Agassi, whose career record is 799-247. "The difficulty is that you come out to clay, and if something's a little bit off, people can exploit it."
Still, Monday's result was stunning because of how lopsided it was, where and when it happened (Agassi's earliest defeat at a major since 1998), and the opponent. In recent history, it ranks with Pete Sampras' loss to George Bastl at Wimbledon in 2002, and Lleyton Hewitt's loss to Ivo Karlovic there a year ago.
Of the 31 seeded players who completed matches, four others were eliminated, including 2003 Wimbledon finalist Mark Philippoussis, who lost to Luis Horna, a winner against Roger Federer in last year's first round.
Defending women's champion Justine Henin-Hardenne, back after six weeks off with a viral infection, struggled a bit against Sandrine Testud before winning 6-4, 6-4. She trailed 2-0 and double-faulted eight times.
With success elusive and money short, Haehnel considered quitting tennis this winter.
"For somebody like me, who has never been on the real circuit, it was amazing to play against him today," said Haehnel, 23, who doesn't have a coach and doesn't travel much because he hates to fly. "He's my favorite player."
Haehnel was swinging freely from the start, but a sluggish Agassi sprayed balls for 39 unforced errors, 21 more than Haehnel.
Local journalism is essential.
Give directly to The Spokesman-Review's Northwest Passages community forums series -- which helps to offset the costs of several reporter and editor positions at the newspaper -- by using the easy options below. Gifts processed in this system are not tax deductible, but are predominately used to help meet the local financial requirements needed to receive national matching-grant funds.
Subscribe to the sports newsletter
Get the day's top sports headlines and breaking news delivered to your inbox by subscribing here.
---