NO HEADLINE
Tue., May 25, 2004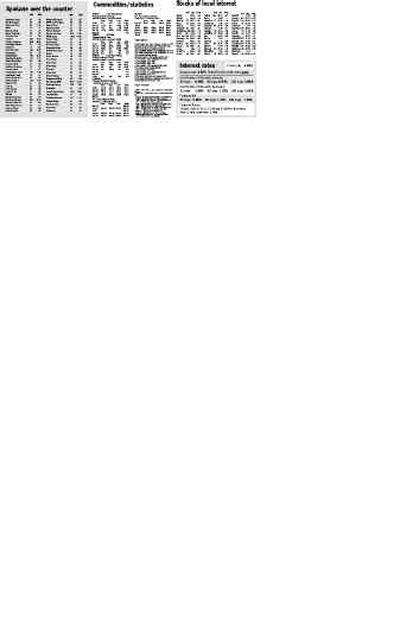 Teens rule on "American Idol" this season, with 16-year-old Diana DeGarmo and 19-year-old Fantasia Barrino the youngest contestants ever to make it to the finals.
Tonight, the two will sing their hearts out, battling for a spot alongside previous winners Kelly Clarkson and Ruben Studdard — not to mention a lucrative recording deal.
The winner — the youngster who gets the most votes from viewers — will then be announced on Wednesday, during a two-hour live broadcast from the Kodak Theatre in Los Angeles.
During this third season of the wildly popular talent competition, there's been much controversy over the voting system, with many arguing that the most talented contestants were the ones getting the boot.
Not anymore. DeGarmo and Barrino possess some of the strongest pipes — and star quality — in the competition.
DeGarmo will perform first tonight, since Barrino won a coin toss and elected to go second. The singer who ends up on top will record the single "I Believe," co-written by first-season castoff Tamyra Gray.
To give more fans a chance to participate, producers will extend the voting period — which gets under way immediately following Tuesday's show — from two hours to four.
Here's an inside look at the challengers and how they stack up.
Diana DeGarmo
Although only 16, DeGarmo was no stranger to the spotlight before getting picked for "American Idol."
A veteran on the teen pageant circuit, the bubbly blond from the Atlanta suburb of Snellville, Ga., was crowned Miss Teen Georgia 2002. And last year, she was a finalist on the NBC show "America's Most Talented Kid."
The belter — known for shouting "Come on, y'all" to the "Idol" crowds during her numbers — learned how to be poised in front of audiences at the tender age of 9, when she performed karaoke at local restaurants.
"People would think they were playing the CD or radio," said family friend Alicia Stephens. "People would come out of the back room of the restaurant and they couldn't believe this little girl was standing there singing."
DeGarmo's trip to the finals hasn't been without its share of heartache. She has not only endured criticism about her talent, but also about her figure, which doesn't conform to Hollywood's stick-thin standards.
But she has taken it all in stride.
"I'm not perfect, and nobody is," she says. "At home, I worked out four times a week with a trainer, bodybuilding and weightlifting. Since I've been on the show, I haven't had time for that."
Her success in the competition also meant the high-school junior had to miss her prom — not that she minded. She was too busy winning over acid-tongued judge Simon Cowell, against all odds.
He initially said she was "too young" to win, and called her performances robotic. Now he predicts she'll finish on top.
Whatever happens, DeGarmo — who idolizes Patsy Cline and Celine Dion — will never stop singing.
"I will fulfill my dream of being a recognized professional singer," she says, adding that she'll "live every moment of life to the fullest and, of course, buy me an awesome race car and house on the beach!"
Fantasia Barrino
This favorite of the judges — whom they've compared with Aretha Franklin — narrowly missed being ousted two weeks ago, but she wasn't worried.
The High Point, N.C., resident and her family believe her success is written in the stars, that hitting it big is her destiny.
"It was prophesied at age 5 that she would go to the nation," said her grandmother, Addie Collins. "That time has come."
And even if she doesn't walk away with the "American Idol" title on Wednesday, Barrino has already proved she's a winner.
Legendary record executive Clive Davis, who was a guest judge last week, told the raspy-voiced powerhouse she could bank on a future in the music biz.
"If this was no competition and I saw you in a basement in Kansas City and you performed like that, I would sign you right now," Davis said after watching her sing her second song, "Fool in Love."
Judge Randy ("Yo, dawg") Jackson echoed Davis' sentiment and called Barrino's rendition of "Summertime" the best performance of all three seasons.
Nothing could stop Barrino, who dropped out of high school in her junior year, from chasing her dreams — not even becoming a single mom to a 2-year-old girl.
With the help of family and friends, she has been able to keep her goals in sight.
"We just prayed her up out of low self-esteem," said her grandmother. "She is growing in grace. 'American Idol' has helped her character."
Now Barrino — who honed her stage skills singing gospel at her close-knit community church — names "having my child" as the proudest moment in her life so far.
Fame is already knocking, and she's getting used to it.
"Everybody is going crazy," said Barrino, who has also become known for her trademark happy dance after hearing feedback from the judges.
"I had to change my phone number because people are calling and saying, 'Hi, I'm Tom. I went to kindergarten with you.' "
Local journalism is essential.
Give directly to The Spokesman-Review's Northwest Passages community forums series -- which helps to offset the costs of several reporter and editor positions at the newspaper -- by using the easy options below. Gifts processed in this system are not tax deductible, but are predominately used to help meet the local financial requirements needed to receive national matching-grant funds.
Subscribe to the Coronavirus newsletter
Get the day's latest Coronavirus news delivered to your inbox by subscribing to our newsletter.
---