News > Spokane
Poker contest for 'everyman'
Tue., May 25, 2004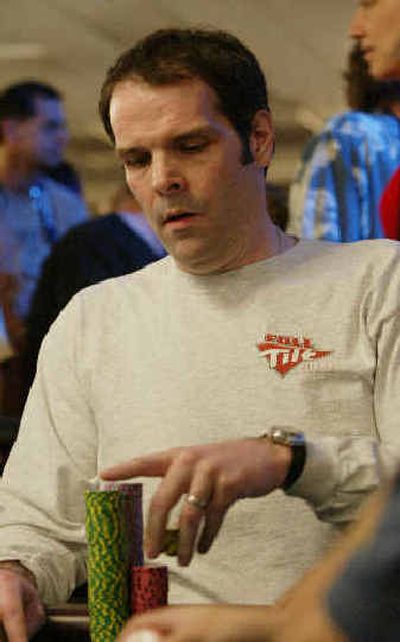 LAS VEGAS – The best poker player in the world quickly does the math and doesn't like his odds at this week's World Series of Poker.
Thanks to a poker craze created by TV, the Internet and last year's remarkable storybook victory by a young unknown, a staggering 2,576 people are competing this time for a record $5 million first prize.
"When I started playing in 1987, I had a vision that if you became one of the top players you could expect to win the championship," said Howard Lederer, 40, a man with a lead-piercing stare and a number-crunching mind that have led others to regard him as the best in the game. "Even if I'm the favorite, I'm still 200-to-1."
The days of several hundred pros and a smattering of amateurs competing in the grandest of poker events are over. Everybody from "Spider-Man" actor Tobey Maguire to a former Oklahoma beauty queen was betting on being crowned the next poker king on Friday in the 35th annual World Series of Poker at Binion's Horseshoe Hotel & Casino.
"It's everyman's tournament," said World Series co-director Matt Savage.
Last year, 839 men and women played in the No-Limit Texas Hold'Em event, in which players are dealt two cards each and make the best poker hand they can using those plus five additional common cards that are turned face up on the table. An aptly named accountant from Spring Hill, Tenn., Chris Moneymaker, won the top prize of $2.5 million.
Moneymaker was considered "Dead Money" in poker circles, someone destined to lose early. Instead, his Cinderella story is credited with transforming the game.
Moneymaker advanced to the finals after paying $40 in a qualifying Internet event. For those who do not get lucky in the satellite tournaments on the Internet or at Binion's leading up to the World Series, the buy-in fee is $10,000.
ESPN covered the finals in 2003 and has been replaying Moneymaker's performance again and again. This year the network plans to air 22 hours of coverage.
Local journalism is essential.
Give directly to The Spokesman-Review's Northwest Passages community forums series -- which helps to offset the costs of several reporter and editor positions at the newspaper -- by using the easy options below. Gifts processed in this system are not tax deductible, but are predominately used to help meet the local financial requirements needed to receive national matching-grant funds.
Subscribe to the Coronavirus newsletter
Get the day's latest Coronavirus news delivered to your inbox by subscribing to our newsletter.
---