Sports
Denver continues its winning ways
Sun., April 10, 2005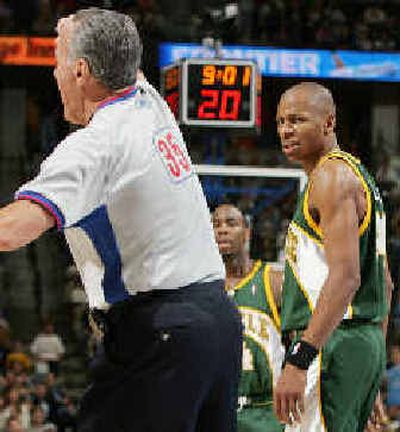 DENVER – During the All-Star break, Nuggets coach George Karl set a goal of winning 20 games to close out the season.
Now that the Nuggets have reached that mark, Karl has his sights on a new target.
"I think we should re-establish the goal of trying to reach 50 wins," Karl said. "I think a 50-win season would be an incredible season, and it's feasible."
It certainly should be the way the Nuggets have been playing.
Denver moved a step closer to reaching the playoffs for the second straight season, beating the Seattle SuperSonics 121-105 Saturday night for their seventh straight win.
Carmelo Anthony had 24 points, Earl Boykins added 23, and Andre Miller had 14 points and a season-high 17 assists to help the Nuggets shoot 57 percent. Denver has won 21 of 23 games for the franchise's best stretch since going 27-2 in the 1973-74 ABA season, and has its most wins (45) since going 54-28 in 1987-88.
The Nuggets can thank Karl for the run.
Uninspired and ineffective under Jeff Bzdelik and Michael Cooper, the Nuggets have responded to Karl's my-way-or-else approach, knowing they have to play hard or they'll end up watching.
Denver is 28-6, including 15-1 at home, since Karl took over as coach Jan. 28, moving from 11th in the Western Conference to seventh, with a chance to catch Houston for sixth.
The win over Seattle, combined with Minnesota's loss to Atlanta, means the Nuggets need one win or another Timberwolves' loss to clinch consecutive playoff appearances for the first time since 1994-95.
"We have confidence. George has put a lot of confidence in us," said Anthony, who was 8-for-17 from field. "He motivates us and makes us play the game the way it should be played."
Ray Allen had 32 points and Ronald Murray 20 for Seattle, which has lost four straight — all with a chance to clinch its first division title since 1998, when Karl was still coach.
Injuries have had plenty to do with Seattle's slump.
All-Star forward Rashard Lewis missed his sixth straight game (foot), forward Vladimir Radmanovic (leg) sat out his 12th straight (leg) and guard Antonio Daniels (knee) missed his second straight. On top of that, Danny Fortson didn't make the trip because of a sore shoulder.
That left the Sonics with nine players in uniform and not much chance to keep up with the revved-up Nuggets.
"I don't know what it is, but something good is going to come out of the injuries," said Allen, who hit five 3-pointers. "A lot of guys have to step up and provide valuable minutes for us and just be strong."
Denver used its depth advantage early.
Pushing the pace at every chance, Denver had a 12-point lead in the first 6 minutes and continued to pour it on. The Nuggets were up 41-25 in the first quarter after hitting 14-of-19 shots, and had the lead at 22 points 3 minutes into the second.
It was so out of hand by midway through the quarter that Karl spent about a minute yelling out instructions while holding a little girl, who was part of a skit during a timeout.
"I think getting off to that great start gave us the confidence to win the game," Karl said.
It still wasn't as easy as it should have been.
Using a zone defense to slow the game, Seattle whittled the lead to 68-54 by halftime, then got it to 75-67 midway through the third quarter. The Sonics were still down just 97-88 after Murray beat the buzzer with a 3-pointer from just inside halfcourt, but couldn't get any closer, in part because of foul trouble.
Seattle had six players with at least four fouls and Allen had to go out with 9 minutes left in the fourth quarter after getting his fifth foul – and a technical to go with it. The Nuggets took advantage with an 8-0 run to go up 110-92 and pulled away from there, hitting 9 of 12 free throws in the final quarter.
"The guys came out in the second half fired up, they didn't like how they were playing in the first half," Sonics coach Nate McMillan said. "We tried to make it a game, but it's hard to make it a game when a team is going to the free throw line as much as they did tonight."
Local journalism is essential.
Give directly to The Spokesman-Review's Northwest Passages community forums series -- which helps to offset the costs of several reporter and editor positions at the newspaper -- by using the easy options below. Gifts processed in this system are not tax deductible, but are predominately used to help meet the local financial requirements needed to receive national matching-grant funds.
Subscribe to the sports newsletter
Get the day's top sports headlines and breaking news delivered to your inbox by subscribing here.
---