News > Business
Ford stock plummets
Tue., April 12, 2005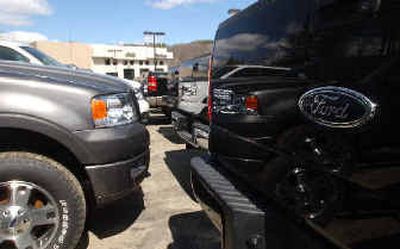 DETROIT — Investors punished Ford Motor Co. on Monday, sending its stock to the lowest level in more than a year, after the nation's second largest automaker warned that profits will fall short of expectations this year and next.
"In case we thought the many difficulties that have afflicted General Motors in 2005 were unique to that company, Ford made it clear there is trouble brewing in Dearborn too," Credit Suisse First Boston analyst Chris Ceraso said Monday in a research note.
Ford shares fell 59 cents, or 5.4 percent, to close at $10.44 in trading Monday on the New York Stock Exchange. Before Monday, Ford had been trading in a 52-week range of $10.94 to $16.48.
Dearborn-based Ford lowered its full-year profit forecast Friday to $1.25 to $1.50 per share from $1.75 to $1.95 per share. Analysts surveyed by Thomson Financial had been expecting full-year earnings of $1.64 per share. Ford also said it doesn't expect to reach its goal of $7 billion in pretax profits by 2006.
GM shares took an even harder fall last month after the world's largest automaker lowered its full-year earnings forecast by 80 percent to $1 to $2 per share. GM's shares fell again Monday, declining 25 cents to $29.25.
Both automakers blame escalating health care costs and the high price of steel and crude oil for their continuing problems. Some analysts also have faulted the companies' vehicle lineups, such as aging truck portfolios that are having trouble competing with new offerings from Asian automakers.
Fitch Ratings, which revised its outlook on Ford from stable to negative Monday, said Ford faces significant pricing competition as both U.S. and Asian automakers raise incentives. At the same time, consumer demand for profitable sport utility vehicles is fading. Standard & Poor's also has lowered its outlook on Ford from stable to negative.
Ford's U.S. sales are down 4 percent for the year.
Local journalism is essential.
Give directly to The Spokesman-Review's Northwest Passages community forums series -- which helps to offset the costs of several reporter and editor positions at the newspaper -- by using the easy options below. Gifts processed in this system are not tax deductible, but are predominately used to help meet the local financial requirements needed to receive national matching-grant funds.
Subscribe now to get breaking news alerts in your email inbox
Get breaking news delivered to your inbox as it happens.
---