Sports
Cougs get defensive
Sun., April 17, 2005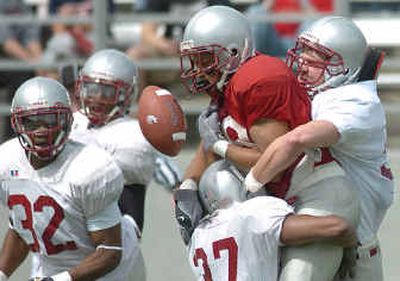 PULLMAN – There were no highlight-reel runs or offensive fireworks for the 1,500 fans or so who filed into Martin Stadium for the final day of Washington State's spring football session.
Unlike the first two scrimmages this year, defense found a way to control much of Saturday's scrimmage, formerly called the Crimson and Gray game. And while that pleased head coach Bill Doba, he exited the spring session realizing that his team still has a ways to go before it's ready for the season's opening kickoff on Sept. 1 against Idaho.
"You never get everything accomplished. But we got quite a bit done, to be honest with you," he said. "I think there's talent. But when you go against each other, either our defense isn't very good and the offense is good or vice versa. It just depends on the day. But we'll find out against Idaho."
As Doba had planned, the final scrimmage bore a striking resemblance to the earlier versions in format if not in the results. First, second and third units took turns on the field with no set teams aligned against one another.
For the second consecutive Saturday, the Cougars were able to work on a four-minute, kill-the-clock drill as well as a two-minute drill. And WSU capped off the session with multiple overtime periods, with the defense having its best day of the spring coming out victorious in just about every one of those drills.
"We made some mistakes, but I think we played with a lot of emotion today," said senior defensive end Adam Braidwood, who totaled four sacks in the scrimmage. "We proved we can be a big-play defense like (we were) in the past.
"A lot of the stuff we've been working on came together today."
Cornerback Tyron Brackenridge made perhaps the most impressive individual play, intercepting a pass from fourth-string quarterback Cole Morgan and going 64 yards for a score. On offense, running back Jerome Harrison, the team's most impressive individual player over the course of the spring, scored twice on runs from 6 and 4 yards out.
Punter Kyle Basler also impressed the crowd with kicks of 54, 55 and 56 yards, aided by a strong tailwind.
"Overall I was really pleased with our progress and I really like the attitude of this ballclub," Doba said. "Spring ball is super important. People act like you don't need it, but spring is when you teach fundamentals."
Even with the defense having its day under the warm spring sun on Saturday, the offensive units were clearly more impressive over the course of the 15 practices and scrimmages, a welcome change after last year's off-season workouts, when first downs were a rarity – not to mention touchdowns.
As a result, both Doba and his players have reason to look forward to the new season as they step away from the gridiron until fall practices begin in the first week of August.
"Most of the spring we did well," senior center Nick Mihlhauser said. "We had the whole offense in and we found some key players to fill some spots. Now we'll just be getting ready for the season."
Notes
Defensive tackle Ropati Pitoitua, a sure-fire starter this fall and a possible breakthrough star for WSU, strained his right medial collateral ligament during the scrimmage. It's serious enough that it appears Pitoitua will be out of action for 4 to 6 weeks, but the timing of the injury means it should have little effect on his preparations for the 2005 season. … Wide receiver Marty Martin also suffered a slight concussion and a neck strain after making a reception, but head trainer Bill Drake said it doesn't appear to be anything serious. … Cornerback Alex Teems sat out the scrimmage – as he has for all the previous scrimmages this spring – to protect a sore neck. Teems is slotted to be the Cougars' top cornerback. … Defensive end Adam West sat out the day with a hamstring injury.
Local journalism is essential.
Give directly to The Spokesman-Review's Northwest Passages community forums series -- which helps to offset the costs of several reporter and editor positions at the newspaper -- by using the easy options below. Gifts processed in this system are not tax deductible, but are predominately used to help meet the local financial requirements needed to receive national matching-grant funds.
Subscribe to the sports newsletter
Get the day's top sports headlines and breaking news delivered to your inbox by subscribing here.
---