Sports
Meche, M"s rebound, top White Sox
Mon., April 18, 2005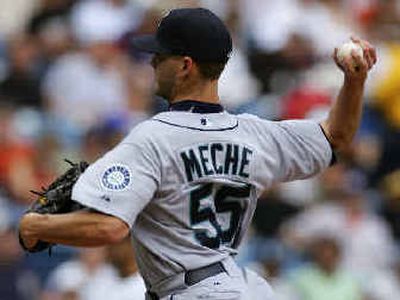 CHICAGO – Gil Meche finally had a strong outing and helped the Seattle Mariners end a long losing streak.
Hit hard in his first two starts, Meche limited Chicago to three runs and five hits in 6 2/3 innings as Seattle ended an eight-game losing streak against the White Sox with a 5-4 win Sunday.
"It was only one outing, but compared (to the previous ones) it was definitely comforting to know I could get into the seventh inning," Meche said "I felt good with my fastball."
Meche (1-0) was lucky to get no-decisions in his first two starts. He gave up four runs in 4 1/3 innings to Minnesota on April 5, and then allowed five runs in 3 2/3 innings to Texas on April 10.
The White Sox threatened several times, and scored three runs in the third when Carl Everett hit a two-run homer. But Meche pitched his team into position to win, thanks to the Mariners' three-run rally in the fifth.
Manager Mike Hargrove gave Meche an extra day of rest before Sunday's start.
"Coming off his last outing, his arm tightened up on him," Hargrove said. "We probably could have gone longer with him in the game, but it turned a little cooler as his outing went along and he was up to 99 pitches."
Seattle's Ichiro Suzuki and Raul Ibanez homered, Adrian Beltre had a tiebreaking two-run single, and Randy Winn had three singles.
Eddie Guardado gave up two hits and a sacrifice fly in the ninth, but got the final three outs for his third save in four chances. Seattle catcher Miguel Olivo helped get the final out, throwing out pinch-runner Willie Harris who was trying to steal second.
"You take it any way you can," said Guardado, recovering from the flu. "I heard the seams come by. I was quick to the plate if he did steal, to give Olivo a chance to throw him out, and he did and it worked out."
Chicago's Freddy Garcia (1-1) gave up five runs on nine hits in seven innings, and suffered his first day loss since Sept. 7, 2003, when he pitched for the Mariners. Garcia was 10-0 in 12 day starts entering Sunday's game.
"I don't think I had good command," Garcia said. "I wasn't locating my pitches where I want."
The time of day had nothing to do with that, Garcia added.
"You got to go out there and pitch day games or night games or whatever," he said. "I still have got to do my job. That's the rotation. I pitch every five days. I'm not looking to pitch day games."
Trailing 3-2 in the fifth, Seattle scored three runs to take the lead for good. Winn singled to open the inning and advanced to second on a wild pitch. After a grounder moved Winn to third, Olivo drove him in with a single to left, but was thrown out trying to advance to second.
The Mariners then loaded the bases on a single and two walks, and Beltre followed with his two run single to right-center.
"He does what the good ones do," Hargrove said. "He comes through in the clutch. He doesn't always succeed, but it's a comfortable feeling with him because you know you're going to get a good at-bat."
Aaron Rowand doubled to open the ninth against Guardado, moved to third on Joe Crede's infield single with one out and scored on Juan Uribe's sacrifice fly.
Despite the loss, the White Sox have won their first four series this season.
In each series, Chicago has won the first two games before dropping the third.
Suzuki led off the game with a homer to right-center field for the 13th leadoff homer of his career. Ibanez added a solo shot to center two outs later to give Seattle a 2-0 lead.
Garcia then retired 10 straight until Winn's single in the fifth.
The White Sox took the lead with three runs in the third. Uribe led off the inning with a double, then scored on a single by Tadahito Iguchi before Carl Everett homered to right field.
Local journalism is essential.
Give directly to The Spokesman-Review's Northwest Passages community forums series -- which helps to offset the costs of several reporter and editor positions at the newspaper -- by using the easy options below. Gifts processed in this system are not tax deductible, but are predominately used to help meet the local financial requirements needed to receive national matching-grant funds.
Subscribe to the sports newsletter
Get the day's top sports headlines and breaking news delivered to your inbox by subscribing here.
---